Jewish man arrested in connection with "spate of anti-Jewish hate crimes."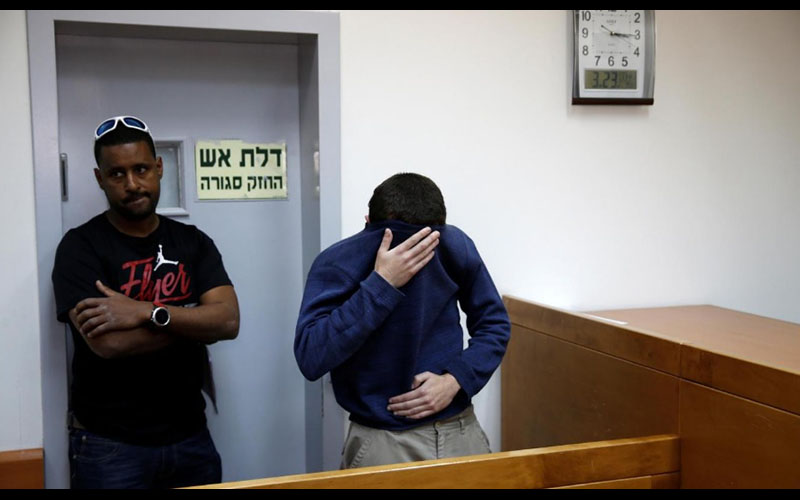 A Jewish man based in Israel has been arrested in connection with the "spate of anti-Jewish hate crimes" consisting of telephone and bomb threats against Jewish community centers across the U.S.—incidents which were used by Jewish organizations to claim an "increase in anti-Semitism" of late.
New York Times, "Jewish Center Bomb Threat Suspect Is Arrested in Israel", 23 Mar 2017:

The teenager accused of making bomb threats against Jewish community centers hid his face before the start of a court hearing in Israel. His name has not been released. Credit Baz Ratner/Reuters

JERUSALEM — A monthslong wave of bomb threats against Jewish institutions in the United States that prompted evacuations, heightened security and fears of rising anti-Semitism gave way to an unexpected twist on Thursday. The person responsible for many of the threats, law enforcement officials said, was half a world away, in Israel, a Jewish teenager.

An intensive investigation spanning multiple countries culminated on Thursday in the arrest of the 18-year-old suspect, who holds dual Israeli and American citizenship, and his father. The teenager's lawyer said he had a brain tumor that could affect his behavior.

The surge in threats over the past few months — well over 100 sent to Jewish community centers, schools and museums since the start of the year — coincided with an increase in hate crimes against a number of groups, from scrawled swastikas to homicides, feeding worries about a new era of bigotry. American and Israeli officials refused to say how many of those threats the suspect was accused of making. And some recent anti-Semitic acts were apparently committed by others, like threats against Jewish centers for which a Missouri man was charged, and the vandalizing of Jewish cemeteries.

But officials made it clear that they considered the teenager, who lived in the Ashkelon area of southern Israel, to be the primary source of the threats, though they did not offer a motive. "This is the guy we are talking about," an Israeli police spokesman, Micky Rosenfeld, said.

The suspect made threats to sites in Australia and New Zealand, as well as in the United States, and to at least one commercial airline flight, prompting an emergency landing, Mr. Rosenfeld said.

A judge ordered the suspect, who has not been charged, held until at least March 30 and ordered a medical examination. His father was ordered held for eight days, on suspicion that he might have been aware of the threats, or even been involved.
Haaretz, "Israeli Cybercrime Police Arrest Israeli-American Teen for 'Hundreds' of Bomb Threats Against Jewish Centers Worldwide ", 23 Mar 2017:

Arrest of Jewish teen partly based on FBI information ■ Bitcoin account discovered on computer, leading to suspicions payment involved in some calls ■ Defense attorney: Medical condition may have affected teen's cognitive functioning.