Scotland's ban on fracking poses something of a dilemma for nationalists. While it is indisputable that fracking is environmentally destructive, it is also the case that the destruction can be mitigated some in that the process can be turned off such that it is not an endless source of pollution; and it can be turned on when, for example, Russia threatens to withhold oil supply for not yielding to its political pressure as an oil supplier; which it aspires to do and that's why Russian Active Measures has a certifiable presence in anti-fracking movements, including that of Scotland.
BBC, "Scottish government backs ban on fracking", 3 Oct 2017:

The Scottish government has announced an "effective ban" on fracking.

Energy Minister Paul Wheelhouse told MSPs that the practice "cannot and will not take place in Scotland".

He said an existing moratorium on the technique, which has been in place since 2015, would continue "indefinitely" after a consultation showed "overwhelming" opposition.

The government will seek Holyrood's endorsement for the ban in a vote following the October recess.

But with only the Conservatives now opposed to a ban, the vote is likely to be a formality.

The move was welcomed by environmental groups but has been slammed by Ineos, operators of the huge Grangemouth petrochemical plant, which holds fracking exploration licences across 700 square miles of the country.

Scotland and fracking: how did we get here?

The Scottish government has previously imposed a similar block on underground coal gasification (UCG) - a separate technique used to extract gas from coal seams deep underground - on environmental grounds.

It followed the introduction of a moratorium on both fracking and UCG in 2015, which saw a series of expert reports published on the potential health, environmental and economic impact of the controversial techniques, as well as a public consultation being carried out.

Mr Wheelhouse said the consultation came back with "overwhelming" opposition to fracking, with 99% of the 60,000 respondents supporting a ban. He said this showed that "there is no social licence for unconventional oil and gas to be taken forward at this time".

The move comes almost exactly a year on from the UK government giving the go-ahead to horizontal fracking in Lancashire.

Shale gas is currently processed in Scotland at a site in Grangemouth, having been shipped in from abroad, but cannot be extracted from beneath Scottish soil under the current moratorium, which is enforced through planning regulations.

Mr Wheelhouse said local authorities would be instructed to continue this moratorium "indefinitely" - calling this "action sufficient to effectively ban the development of unconventional oil and gas extraction in Scotland".

He said: "The decision I am announcing today means that fracking cannot and will not take place in Scotland."

Mr Wheelhouse's announcement was welcomed by environmental groups, with Friends of the Earth Scotland and WWF Scotland both hailing a victory for campaigners.

WWF Scotland official Sam Gardner said it was "excellent news", saying "the climate science is clear" that fossil fuels should be "left in the ground".

Mary Church from Friends of the Earth Scotland said it was a "huge win for the anti-fracking movement" which would be "warmly welcomed across the country and around the world".
'Poor decision'

However Ineos said the move could see "large numbers of Scottish workers leaving the country to find work".

Tom Pickering, operations director of Ineos Shale, said: "It is a sad day for those of us who believe in evidence-led decision making. The Scottish government has turned its back on a potential manufacturing and jobs renaissance and lessened Scottish academia's place in the world by ignoring its findings."

Ken Cronin of UK Onshore Oil and Gas also said it was a "poor decision", which ignored "extensive independent research" and was "based on dogma not evidence or geopolitical reality".

And the GMB Scotland trade union said the move was "mired in dishonesty" and "an abandonment of the national interest", saying Scotland would now be dependent on gas shipped in from "the likes of Qatar and Russia".

The Scottish Conservatives also said Scotland would miss out on a "much needed economic boost" and high-skilled jobs as a result of the decision.

Tory MSP Dean Lockhart said ministers had ignored scientific and economic evidence to take a "short-sighted and economically damaging decision which is nothing more than a bid to appease the green elements of the pro-independence movement".

However Labour MSP Claudia Beamish said the move did not go far enough, arguing that ministers were merely extending the existing moratorium which "could be overturned at any point at the whim of a minister".
'Legally shaky'

Ms Beamish has a member's bill tabled at Holyrood calling for a "full legal ban", but Mr Wheelhouse said this would not be needed until his proposals.

The Scottish Greens said the announcement was "a step in the right direction". However, they also wanted a more permanent ban, with MSP Mark Ruskell saying the moratorium was "legally shaky" and open to challenge.

This was also echoed by Friends of the Earth Scotland, with Ms Church saying ministers should "go further than relying on planning powers" and "instead commit to passing a law to ban the fracking industry for good".

Scottish Lib Dem MSP Liam McArthur welcomed the decision, saying that ministers had taken the "scenic route" but had ultimately decided "effectively to ban fracking".

MSPs have previously voted to support a ban on fracking, but SNP members abstained from that vote.
What is fracking and why is it controversial?


- Fracking is the process of drilling down into the earth before a high-pressure water mixture is directed at the rock to release the gas inside.
- The extensive use of fracking in the US, where it has revolutionised the energy industry, has prompted environmental concerns.
- The first is that fracking uses huge amounts of water that must be transported to the fracking site, at significant environmental cost.
- The second is the worry that potentially carcinogenic chemicals used may escape and contaminate groundwater around the fracking site.
- But the industry suggests fracking of shale gas could contribute significantly to the UK's future energy needs

find out more…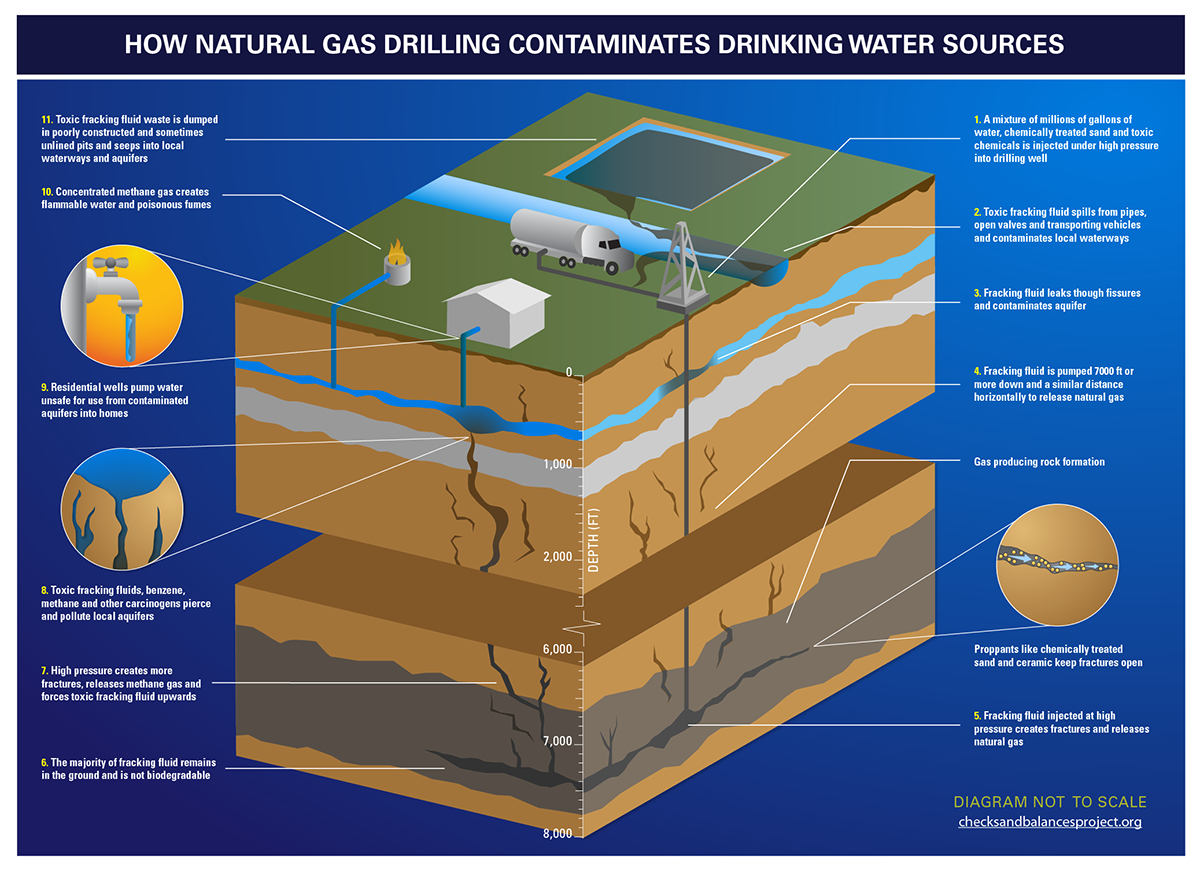 Occupy.com, "Demanding Outright Ban, Broad Alliance In Scotland Escalates Anti-Fracking Movement", 2 Feb 2015:

Scotland's government under the Scottish National Party recently announced a moratorium on fracking. The Radical Independence Campaign responded by repeating its call for an outright ban on all forms of unconventional fuel extraction. Using new powers devolved to Scotland since the independence referendum last fall, the moratorium is just one example of the political transformation currently underway here.

The SNP is predicted to win 42 of Scotland's 59 seat at the 2015 U.K. general election – an eight-fold increase that would make it Britain's third largest party. Pollsters give the party a 42% chance of joining a U.K. coalition government. Combined with the #GreenSurge, it's safe to say that the era of British two-party rule appears to be ending.

The SNP is moving progressively in other ways as well, for instance in its call for a U.K.-wide end to austerity measures. If it joins a U.K. coalition government this spring, large-scale changes could be afoot regarding the party's anti-nuclear stance and its staunch support for Scottish independence. But the SNP is still a broad church, with reports saying some of its top voices still favor fracking.

Nonetheless, the rise in SNP polling, and its moratorium decision, is inextricably linked to Scotland's people-led movements. Organizations like the Radical Independence Campaign (RIC), Women for Independence and Green Yes have continued to gain support post-referendum; the progressive movements are selling out conferences and continuing to hold Yes-stalls on street corners, public meetings and mass events.

A recent RIC anti-fracking conference welcomed the January moratorium cautiously, with a proviso that citizens must hold the Scottish National Party to its promise for a full and inclusive public discussion. A serious concern was raised that the moratorium didn't include the relatively unknown practices of Underground Coal Gasification (UCG), Coal-bed Methane, and fracking under the sea. The conference called for a ban on all these industries and shared direct action strategies to combat them – including lessons learned by the "Lock the Gate" movement in Australia.

Currently there are plans for UCG to take place in Kincardine, southeast Scotland. The process involves converting coal into gas while it's under the ground and inaccessible for mining. Oxygen, steam and other chemicals are pumped through boreholes under high pressure to make the coal seam explode, releasing methane and other gases that industry attempts to capture.

UCG, which remains less common than fracking, was conducted in the former USSR and more recently experimented in Queensland, Australia on three sites. Two of the tests have been shut down, including at Cougar Energy plant in Kingaroy, where there's been extensive ecological contamination.

On the other hand, with the Coal-bed Methane process, water is pumped out of the coal seam to make fractures and cavities so gas can be released. The vast amount of water drawn out has high levels of toxins, from its close proximity to the coal face. Other risks include its high emissions of methane, a potent greenhouse gas.

The anti-frack conference also highlighted New York State's recent decision to ban hydraulic fracturing. The move in December by New York Gov. Andrew Cuomo happened as a result of wide ranging public consultation in combination with a massive, sustained protest movement, said Professor Andrew Watterson. An internationally acclaimed expert on public health, Watterson concluded that "as a health professional, we need to push for a ban."

Scotland's governing party will soon announce a timeframe for the consultation. In the meantime, people are being encouraged to write submissions about the dangers of tapping unconventional fuels, to pressure the consultation to adopt the precautionary principle on the issue, and to visit local political representatives with petitions at all levels to ban fracking as part of a Broad Alliance of Scottish anti-fracking groups.

To counter the industry's efforts to prevent a ban, Radical Independence Campaign and others are reaching out to ally movements that joined them in the referendum push, as they attempt to galvanize public opposition to fracking through street stalls, meetings, protests and educational events like anti-fracking film nights.

The conference also focused on the crucial role played by community campaigns in fighting unconventional fossil fuel extraction. The opening session heard about Falkirk, where Dart Energy plans to commence work on Coal-bed Methane. In opposition, local residents defined a Community Charter to assert what they feel should be protected as community assets. Features the group chose to preserve include a clean environment, future generations, food security and trustworthy elected representatives.

The charter has already been adopted by four communities, and is gaining momentum. Maria Montinaro from Concerned Citizens of Falkirk explained that the charter was easy to replicate: all a place needs to do is define its own assets, and it can adopt the charter.

Mary Church from Scottish Friends of the Earth told the audience that Scotland already has world-leading legislation to tackle climate change and is a global leader in renewables. "Opening up a new frontier of fossil fuels is completely irresponsible," she said. And with a Green Surge sweeping the U.K. ahead of May elections, her opinion appears to reflect the majority.