New arrest in the case of Charlene Downes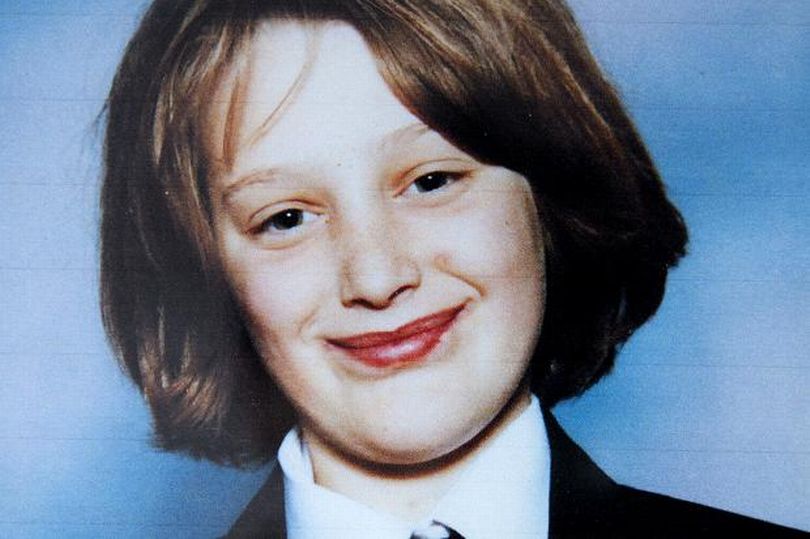 Charlene Downes
On Tuesday, Lancashire Police announced that a 51 year old man has been arrested in connection with the murder of Charlene Downes:
Man arrested in Charlene murder investigation

A man has this morning (Tuesday, August 1st) been arrested on suspicion of the murder of Blackpool teenager Charlene Downes.

The man, aged 51, who lived in Blackpool at the time of Charlene's disappearance, is currently in custody.

Charlene (pictured) was just 14 years old when she was last seen in Blackpool on Saturday November 1st 2003.

A £100,000 reward remains on offer for information leading to the conviction of her killer or killers.

The investigation is one of the largest and longest running in the history of Lancashire Constabulary.
The arrest is reported, with some of the history of the case, in both the Sun and in the Daily Mail. That in itself is a great advance on the media's initial handling of the case, which bore all the usual editorial hallmarks of cowardice and inverted racism.
A 51-year-old man was today arrested over the murder of a 14-year-old girl feared to have been chopped up for kebab meat in 2003.

Schoolgirl Charlene Downes was last seen 14 years ago after disappearing from her home in Blackpool, Lancashire.

No trace of her has ever been found but claims have been made that her body was chopped up and went 'into kebabs' at a takeaway in the seaside resort.

Last month her parents, Karen and Robert, vowed to sue Lancashire Police after learning crucial CCTV footage of her last movements was sat in archives for 12 years.

But yesterday the force finally announced a major breakout in the case - one of their longest investigations - after arresting a man on suspicion of her murder.

… Charlene's murder investigation has been dogged by problems ever since in launched.

A 2007 murder trial collapsed because of police errors and the IPCC watchdog ruled the force's blunders mean the killer may never be found.

Last year a cold case team revisited the investigation and discovered CCTV footage of Charlene walking with her sister Rebecca on the day she vanished.

It was finally released on the 13th anniversary of her disappearance in November and again for a fresh appeal on the BBC's Crimewatch Live Roadshow.

A few weeks ago, her mother said if it had been shown closer to the time she vanished it could have led to vital evidence from witnesses.

… On November 1, 2003 at around 3.35pm Charlene was seen on CCTV crossing the road in the town centre.

At 7.15pm, her mother gave Charlene a kiss after bumping into her and her daughter said she was going to the arcade but would not be late. She met her friend and they walked towards the Carousel bar on North Pier.

At 9.03pm Charlene is allegedly spotted on CCTV outside a Blackpool bar with a woman wearing a black coat.

On November 2, Charlene's family reported her as missing when she failed to come home.

But it was not until 2006 that police advised Charlene's family that she was murdered and that the case was no longer a missing person enquiry.

In 2007, Funny Boyz kebab worker Ilyad Albattikhi was acquitted of Charlene's murder and his co-defendant Mohammed Reveshi was acquitted of helping dispose of her body.

But a planned retrial in 2008 was dropped due to lack of evidence and the forensic blunders. The two men were paid almost £250,000 each in compensation.

Covert recordings in which someone was apparently heard to say Charlene's body had 'gone into kebabs' were later found to be flawed due to their handling.

The quality of the covert recordings was criticised during the trial by defence barristers as 'poor' with confidence 'low' in the accuracy of the transcriptions.

A review by the IPCC concluded the investigating team were guilty of a strategic and tactical failure in the management of the material. 

Two officers later faced disciplinary proceedings over the case, but they sued the force claiming they were scapegoated for their bosses' failings.

In 2011, officers investigating Charlene's appearance discover at least 60 schoolgirls were groomed for sex at takeaways in Blackpool.

Like the infamous Rochdale child abuse scandal, it is feared they were groomed in exchange for food, alcohol and cigarettes. They believe Charlene was involved.

In 2014, a Crimewatch appeal was issued and cops revealed a £100,000 reward for information.

On June 27 last year, Lancashire Police investigating Charlene's murder arrested two men on suspicion of historic sex offences - although not specifically against Charlene.

Officers from Lancashire Police have taken more than 4,800 witness statements and followed 10,500 lines of inquiry but the case remains unsolved.
Charlene remains the most high profile of all the victims of what has become known euphemistically as "Asian grooming". Her case became a significant cause for the BNP, and for nationalists generally. As yet neither the BNP website nor Nick Griffin's British Unity site, nor even Britain First has covered the arrest, but if charges are laid they surely will.
The age of the arrested man tells us that he is neither of the two original suspects. One hopes that, at last, Lancashire Police can redeem themselves and bring closure for Charlene's family.