Coalition building among the alt right:
Article currently running at
Alternative Right and Alt-Right: "Only the Alt-Right Can Save the Jews" by Colin Liddell:

Especially during the period in which Netanyahu has dominated its politics (1996-the present), Israel has become increasingly and blatantly ethnonationalist—the very antithesis of what are supposed to be contemporary "Western values" according to the position supported by the Jewish lobby in the West. This more overtly ethnonationalist tendency is driven by demographic shifts within Israel, as well as concerns about terrorism and territorial consolidation. But it also happened because America enjoyed for much of that period a relatively unchallenged hegemony (following the collapse of the Soviet Union), allowing Israel to take liberties it couldn't take in the 1970s and 80s, and which it will find difficult to take in the more Russian-dominated Middle East that is now emerging.

This means, however, that there is now a blatantly exposed moral contradiction at the heart of Israeli position, as it is increasingly recognised that the "Western democratic values" that Jewish organisations promote in the West ("open borders" and anti-nationalism) would in fact destroy Israel, if implemented there. This is something that the Left and the BDS movement clearly understand, and accordingly they attempt to hold Israel to the same values that the Jewish lobby promotes in the West.

Surprisingly, the main weakness of Israel has turned out to be its enormous donative and media might, which has allowed it to put itself in this ultimately untenable position through short-termist moral manipulations.

Israel has had enormous "moral power"—i.e. the ability to distort moral arguments in its favour—but moral power, let us be clear, is not the same as morality. Moral power is the ability to twist morality, and is therefore in a sense its exact opposite. Without broad-based strength, this is a major problem and indeed ultimately a weakness. Israel can constantly propagandise, bribe, and trick others, but in so doing it ultimately ends up tricking itself. More importantly, its reliance on such perverse "moral power" means that it avoids grounding itself in a true, sustainable morality that is suitable for its situation.

That situation, to be precise, is a situation of conquest, either in its own name or as part of a greater entity, namely the global West—or it is nothing (emphasis added). With that as the foundational premise, there are two possible true moralities for the state of Israel to adopt:

Complete Juche-style self-reliance, justified by constant vigilance and strength. Essentially this would see Israel morphing into a Yiddish version of North Korea or 18th-century Prussia, and relying on its nuclear arsenal and a culture of extreme militarism, to be the unloved catalyst of ever-increasing Islamic unity. End result, a perpetual regional Cold War, in which Israel would face increasing diplomatic isolation and where one major misstep could see its end, possibly in a nuclear war.

Israel as a true outpost of the the West, and thus supported by an undeceived West. But this would have to be a stronger, more expansionary, and anti-Islamic West, cleansed of the Leftist ideologies that the Jews have overwhelmingly supported in the past, and where Israel and the Jews fully supported Westerm ethno- and racio-centrism that echoed that of Israel itself. In such a West, Jews would no longer be seen as traitors, endeavouring to undermine the greater civilisation of which they were a part, but as defending that which defended them. This arrangement could only be achieved through what are essentially Alt-Right ideas of race realism, civilisational hierarchy, and (((culturism))) (brackets added).

There are many choices open to Israel. Choosing to avoid a true moral basis to the state of Israel means continued reliance on trickery and subterfuge, but this ultimately weakens the state of Israel and dooms it to a zombie existence of being a false and soulless state.

But the more moral choices are also hard. The first of the two mentioned above clearly has heavy social costs and would require a constant state of tension and alarm that the Jewish people seem temperamentally unsuited for. There would be extreme brittleness in all that. Indeed the present Israeli state is developing partly along these lines, and is showing some of these dangerous stresses and strains.

The second moral choice is perhaps the best one, the most natural, and also the easiest, although that too has deep costs. This is mainly because it would require World Jewry to start behaving in quite different ways from those that have defined it. But if the effort were made honestly and sincerely, this would have the best chance of reconciling Israel with the West, and thus securing the future of Israel, as part of a more assertive and ethnocentric Western civilisation, holding Islam in check.

However, most of the trends now underway are clearly working against this, creating the conditions of growing Israeli isolation, long-term weakness, and ultimate destruction.

In short, only the Alt-Right can save Israel. One wonders how that undeniable truth sits with the most perspicacious among the Jews.
It's called Jewing the Whites by first guilt tripping and advocating coalitions of non-or anti Whites against Whites, calling liberalism of their would-be White Left union/national boundaries "the left" and prohibiting Whites from doing the same thing as the anti White coalitions (organizing/unionizing) as that would be "racist" for Whites, if Whites did it. Further, the YKW misrepresent Leftism in a Cartesian way, as if it is not accountable to reality, "just mere constructs", appeal to White penchant for objectivism (rational blindness to, or denial of, self interest and accountability), as if compassion is only for people beyond their borders/group boundaries (golden rule/ Christianity) - i.e., that is the Problem - "leftist culture of critique" that does not recognize or allow for a White left, its unionized boundaries, the being of White peoplehood. Reaction - right wing, objectivism, Cartesianism, scientism, idealism, religion and most of all, Christianity; search for pure warrant and avoidance of tainted and incomplete warrant in social accountability. Solution - "The Alt Right" ...Whites join and merge with Jews in Zionist supremacist imperialism: "The Left" is the enemy now, all those people who see this reality of the 7 niches that Jewish interests control and what the right wing sell outs have done by selling out to them.
By contrast, we are almost certainly going to need our own left nationalist coalitions, particularly left ethno national coalitions with Asians against the YKW, their right wing cohorts, including Alt Right, Muslims and blacks.
The Israeli conquest of Palestine: by contrast to Colin Liddell's characterization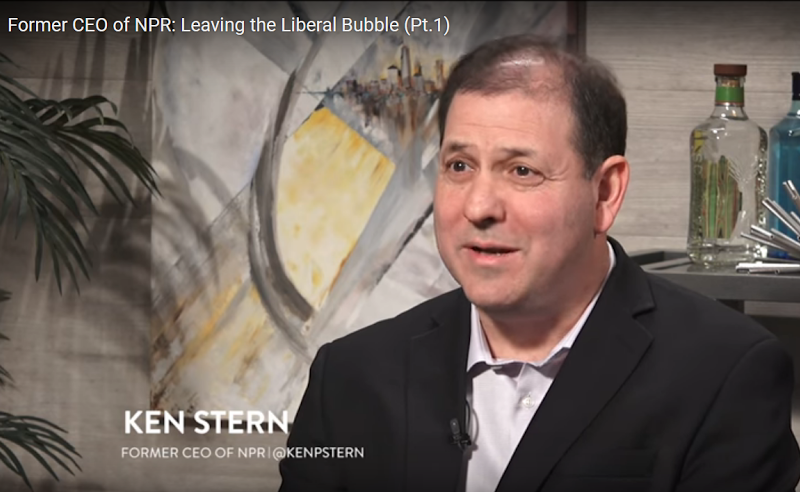 (((Ken Stern))) Leaves (((NPR))) and "the left",
Part 1
CEO (((Ken Stern))) Leaves (((NPR))) and "the left" and learns to love the Right ...wonder why? (((could it be that seven secured power niches have already been secured for his people and now he has to help them quell any leftist organization against their hegemony?))) .....could it be that he is going to propose as "the solution" that the sufficiently mixed demographics of America should all be nice now, and keep mixing (((he goes on to note the "egregious" problem of gerrymandering in Part 2 - as that "would not allow for dialogue.")))
Cohencidentally, the former (((NPR))) (National Public Radio) CEO Ken Stern has a similar "awakening" as David Mamet....
"He left the liberal bubble and learned how to survive" -
Ken Stern (Former CEO of NPR) joins Dave to discuss his new book -

"Republican Like Me:

How I Left the Liberal Bubble and Learned to Love the Right"

...defining what liberal means to him, intolerance of viewpoints and lack of diversity of thought on the left, his journey from left to right, his evolution on the gun control debate, and more.

Stay tuned for Part 2 of Dave's interview with Ken Stern coming tomorrow and the full interview airing Friday 12/22.

WATCH - "The Left is No Longer Liberal": https://www.youtube.com/watch?v=Tq86B...

The Rubin Report

Published on Dec 20, 2017
Says that the Trump supporters were good to her, it was Hillary trolls who disrespected her.

Rubin Report, Red Pill Black (Candace Owens), On Her Journey from Left to Right"

"Red Pill" is her handle, and she defends Kayne West: "He was accused of having a mental disorder for supporting Donald Trump, so he went to Trump Tower for a photo op, to say 'no, I meant it and I don't have a mental disorder.' People don't understand him (West) .. if you can understand Kayne West then you can understand Donald Trump….

It's about being anti-PC.

It's outrageous that Taylor swift won that award.

Beyonce should have won and he was just being honest."