Riots in Poland after Murder of Polish Man by Arab Immigrants
Reddit, "Yesterday a POLISH man accidentally hit a Kebab takeaway with a firework. THE OWNERS RAN OUT AND STABBED HIM TO DEATH BECAUSE ISLAM. Today BASED POLES are taking a stand and tearing down the takeaway brick by brick. SHOW THEM SOME LOVE!!HIGH ENERGY (youtube.com)
JewishPress, "Riots in Poland after Murder of Polish Man by Arab Immigrants", 2 Jan 2016:

Riots erupted in Elk, north-eastern Poland, following to the murder of a local resident on New Year's Eve, PAP reported.

According to PAP, on Saturday night, December 31, between 10 and 11 PM, a 21-year-old local resident named Daniel allegedly threw a firecracker at an Elk café called Kebab Prince. The café is owned by a local entrepreneur, and managed by immigrants from Tunisia, Algeria and Morocco. The café staff ran out at Daniel and, according to reports, stabbed him twice, which resulted in his death. The attackers were later arrested in connection with the stabbing murder.


Kebab Prince

On Sunday, January 1, according to police, the café building was surrounded by between 200 and 300 locals shouting Nazi slogans. They threw firecrackers and stones into the place, knocked down the glass window, destroyed the equipment inside and eventually set fire to the premises.

When police arrived at the location, the rioters began throwing stones at the officers, damaging several police cars. Next, the angry mob moved on to a second café belonging to the same owner, which they also burned down.

By Sunday evening a few dozen people were arrested in connection with the riots.

Elk Mayor Tomas Andrukevich appealed to local residents to remain calm and to honor the memory of the murdered man.

Before World War II, the Elk (then Lyck) and its surroundings were almost 95% Lutheran. After the majority German population was expelled, the majority religion in Elk became Roman Catholicism.

Lyck was the city where the first-ever weekly newspaper in Hebrew, HaMagid was founded in 1856 by Rabbi Eliezer Lipmann Silbermann. The paper eventually moved to Berlin. The local Jewish population was being persecuted even before the Nazis took power in 1933. In 1932, local pharmacist Leo Frankenstein was attacked – a hand grenade was thrown into his home. The wave of anti-Semitic attacks intensified after 1933 and many local merchants and intellectuals of Jewish descent were arrested. During Kristallnacht, Jewish shops and synagogue were plundered and destroyed in Lyck. Many Jews fled Lyck, some getting as far away as Shanghai. Of the Jews who stayed, 80 were murdered in German-Polish death camps.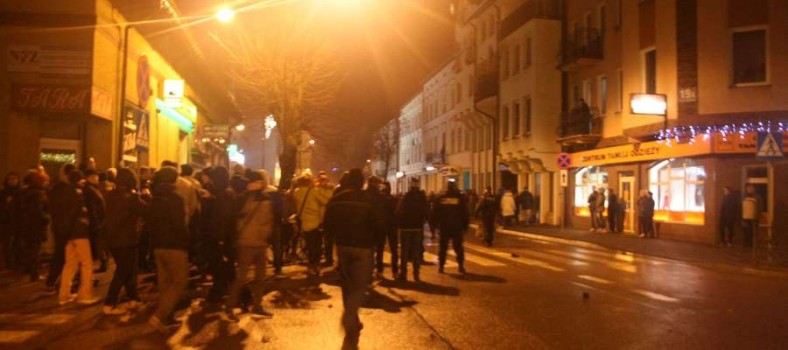 Clouds Over Europe, "More than 250 rioters SMASH kebab shop after 'group of Arab men stab young local to death"
At least 25 people were detained in the Polish town of Elk on Sunday after they smashed up a kebab diner and clashed with police, throwing firecrackers and stones. Up to 300 people took part in a rally after a Pole was allegedly killed by men of Arab descent.