Metropolitan Police report:
As well as #LondonBridge officers have also responsed to an incident in #BoroughMarket. We have armed police at the scenes.
The first incident is reported to have involved a white van mounting the pavement at the south end of London Bridge and striking a number of pedestrians, perhaps five or six. One report states that three men then jumped out of the van and began attacking people with knives. One man may have been led away in cuffs. There are dozens of police and ambulance vehicles at the scene. Victims reported to be receiving CPR.
The second incident is at nearby Borough Market, and again involves knife attacks, possibly on diners in a restaurant.
Gunfire - probably from the police - has been reported from both scenes.
It is too early for anything definitive yet. The media are scrambling for witness stories:
One terrified woman said she was at a restaurant and police swarmed on the area.

She said police were firing weapons. "We had to run," "There was loads of shooting."

Officers were seen dragging startled diners and revellers out of restaurants and bars and telling them to run.

A witness named Martin said: "There's been about eight of them stabbed. I ran up to see if they were all right but people were already with them. I was bloody terrified

"I thought is that real? If we had of been on the other side of the road, it could have been us."
But reliable information can only come from the police, when they are in a position to supply it - which may be an hour or two yet.
More from the Met:
Officers have then responded to reports of stabbings in #BoroughMarket. Armed officers responded and shots have been fired. 2/3
And now (23.45 hrs) a third incident:
Officers are now responding to an incident in the #Vauxhall area. 3/3
Vauxhall is some distance from London Bridge, so it can't be surviving perps from the other attacks. Always assuming, of course, that this one is real, terror-wise, and not just an accident or one of the ubiquitous black-on-black stabbings that has got included by dint of all the confusion.
The advice being given right now to the unfortunates caught up in the attacks: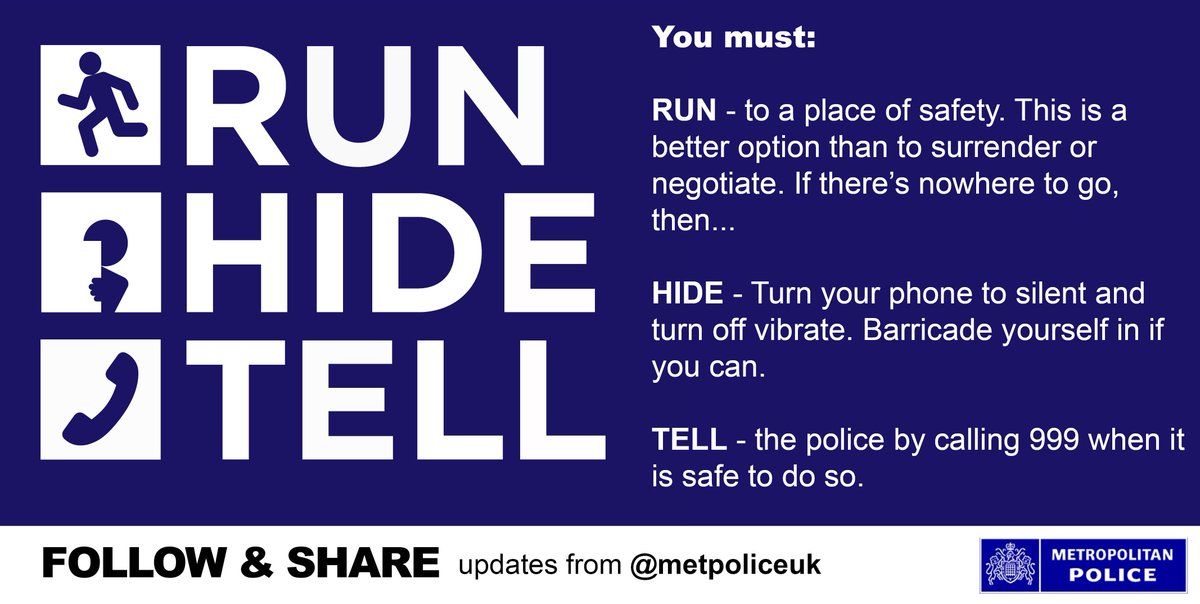 Update at 00.45 hrs: The Met makes the following request:
Pls continue to avoid #LondonBridge #BoroughMarket to allow the emergency services to deal with the ongoing incidents
... from which is it is reasonable to conclude that the Vauxhall shout was a false alarm.
00.52 hours: Yep:
The incident at #Vauxhall is a stabbing and is not connect to the incidents at #LondonBridge & #BoroughMarket
The other two have been formally declared terror incidents.