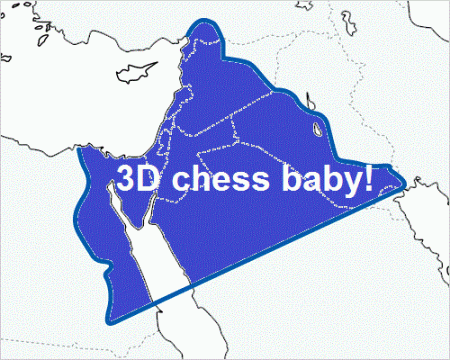 The satisfied working-hypothesis for ethno-nationalists in answer to the question as to why Isil and the terroristic chaos of the middle east cannot be brought under control is because Israel does not want that. Terror and chaos function provisionally to overthrow stable regimes which, as rational actors in and about Israel, can be of still greater threat to Israel in its project to secure "its realm" around Israel - in its aspiration for "Greater Israel."

The Israeli's Operation Clean Break is a plan that set-about to secure this "realm" with the aid of U.S. military. In marketing a theoretical false polemic between "neo-cons" and "paleocons" (the latter being the theoretical underpinning of the "Alt-Right"), Jewish interests have orchestrated American media, politicians and public to this end.
The project first took care of Sadaam Hussein - a rational actor, his was a more secular and civically ordered regime, which was building a powerful basis for an Iraqi nation insubordinate and defiant of Israeli control of the region.
On the other hand the Saudis have already been bought-off, and act as a conduit for jihadists, munitions, chaos, propaganda and military alliance that Israel seeks to deploy in this plan - at the moment especially against Iran, as its liberalization toward rational actor status in the Iran Deal has been a great threat to greater Israel; and has provided Israel great incentive to get behind Trump for his initial stated motivation in running for President - to undo the Iran Deal.
The implication now is that Israel is aiding and abetting terroristic chaos - Isil is particularly useful to attack the stable Left Nationalist regime of Bashar al-Assad.
News Week, "Israeli Defense Minister: 'I Prefer ISIS to Iran on Our Borders", 20 January 2016:

Israel's Defense Minister Moshe Yaalon said on Tuesday that if he had to choose between the Islamic State militant group (ISIS) and Iran on the country's borders, he would "choose ISIS" every time.

In comments made at the Institute for National Security Studies' (INSS) conference in Tel Aviv, Yaalon said that if the regime of Syrian President Bashar al-Assad were to fall, he would prefer the militant group to control territory on Israel's northern border rather than an Iranian proxy such as the Lebanese Shiite militant group Hezbollah.

He reasoned that Iran has superior capabilities to the radical Islamist group, who are being pegged back by the U.S.-led coalition in Iraq and Syria.

"In Syria, if the choice is between Iran and the Islamic State, I choose the Islamic State. They don't have the capabilities that Iran has," he said. "Our greatest enemy is the Iranian regime that has declared war on us. Iran tried to open a terror front against us on the Golan Heights."

He continued that Iran has a "terror infrastructure in place in five continents," listing Asia, Africa, Europe and both Americas.

ISIS is much weaker financially and militarily than Tehran and, with everyone against the militant group, they will fall, he said.

"We believe ISIS will be eventually defeated territorially after the blows it has been suffering, and in light of the attacks on its oil reserves," he added.

Last year, Hezbollah operatives conducted a number of border attacks against Israeli targets while key Hezbollah commander Samir Kuntar was assassinated in a December air strike in the Syrian capital, Damascus, that the group blamed on Israel. The group receives funding and logistical support from the Iranian military.

Last week, international sanctions were lifted on Iran's ailing economy after Tehran met all of the conditions as part of a landmark nuclear deal signed with world powers last July.
The terror and chaos that Israel and Jewish interests aid and abet have been extended to other nations, to Europe, with the aim of presenting Israel and its diaspora by contrast, as your friend and ally against Islamic terror. But you will be allowed by their auspices to defend only "western civilization" - "civilization" meaning that which falls under their Noahide, Abrahamic law - Judeo-Christian and Islamic comprador rule.
"Clean Break" motives are also evident in Nuland and Kagan's impetuous instigation and regime changing presence in the Ukrainian conflict - with Russia, like the US and Saudi, already being compliant with Israel, there would be a motive to see to-it that rogue anti-Semitic Ukrainian nationalism is brought under Jewish control.
There is good reason to believe that like Saudi, The U.S. and the Russian Federation, that Turkey is compliant and complicit with Israeli motives as well. Interesting connections show between Trump-Flynn-Turkey-Russia and Israel.
In the case of Libya, while there were other nefarious actors as well - notably Sarkozy and American paleocons - Clean Break motives were once again evident in aiding and abetting the overthrow of the stable and rationally acting regime of Gaddafi, with similar results in the chaos of the overthrow. That being populations from the middle-east, north and sub-Saharan Africa have been surging into Europe - desperate populations, frequently disillusioned and hostile dissenters from efforts in rational nationalism such as Gaddafi's - the Manchester terrorist was one such type from Libya and was apparently equipped with Isil theory and training.
The Nice terrorist having been from Tunisia also ties into this mindset.
Times of Israel, "Ya'alon: I would prefer Islamic State to Iran in Syria", 20 January 2017:

Defense minister says jihadists don't 'have capabilities' of Islamic Republic, which he brands Israel's 'greatest enemy'

Defense Minister Moshe Ya'alon said Tuesday (January 19, 2016) that Iran poses a greater threat than the Islamic State, and that if the Syrian regime were to fall, Israel would prefer that IS was in control of the territory than an Iranian proxy.

"In Syria, if the choice is between Iran and the Islamic State, I choose the Islamic State. They don't have the capabilities that Iran has," Ya'alon told a conference held by the Institute of National Security Studies in Tel Aviv.

"Our greatest enemy is the Iranian regime that has declared war on us," the defense minister said of the threats facing Israel.

"Iran tried to open a terror front against us on the Golan Heights," he said in reference to efforts by Iranian proxy Hezbollah to plan attacks on Israel.

With its nuclear deal and recent lifting of sanctions, Tehran "has escaped international isolation" and become a "central player" in Syria, he continued. Both the US and Russia are treating Iran as "part of the solution" to the Syrian civil war, Ya'alon said.

"Iran determines future of Syria and if it leads to perpetuation, Iranian hegemony in Syria will be huge challenge for Israel," he said.

The defense minister also characterized the conflict in Syria and Iraq as the "height of the clash of civilizations."

"Many in the West refuse to acknowledge this — won't even say 'radical Islam,'" Ya'alon said. "Of course not every Muslim is a terrorist, but most terrorists in the world today are Muslim. We can't ignore that."

Turning to the situation in Israel, Ya'alon maintained that Gaza's ruler Hamas, which has fought Israel on three occasions in recent years, was deterred and was not seeking an escalation. "Our presence prevents Hamas or IS takeover of Palestinian areas," he said.

The defense minister dismissed international efforts to push a peace agreement.

"The international community's efforts will not lead to progress — these security plans would lead to attacks at Ben Gurion Airport," he said, as he questioned the world's apparent disproportionate focus on Israel.

"Europe is still talking about us when they have much more pressing problems like refugees."