Solstice in the Deep of European Rebirth

Our emergent qualities as people (the qualitative whole being greater than the sum of its parts), what resonates in our psyche, stirring it to respond as such to that which is genetically close, vital and essential, regenerative not only of our kin, but the fauna, creatures and to take the emergent to an extreme, even of inanimate objects of our natural habitat, is a profound matter.
And how do we pursue consideration of these matters? Our co-evolution provides what we call "internal relation", that is, rule structures that are evolved symbiotically or come about equiprimordially from the same circumstances, concerns, affordances and limitations.
Those episodic manifestations which suggest the origin of that symbiosis, that which is most essential to reconstructing the pattern of our people, of the aeons, have normally been called upon as sacred - because these episodes reveal what is that deep, that important to our fitness as a physical, biological and human system, we institutionalize the practice of the sacred episode as it manifests - at our best, never losing site of its organic source, what it is doing, and its re-emergent truth at our service - not as a nightmarish fateful return to the hideous limitation of patterns but of a replenishment from the essence of our patterns as we set about the next spiral upward.
The comfortable (optimum unused potentiality for change in maintenance of homeostatic function) default mindset is established and delimited by the parameters of our personal interests amidst our folk and their interests - however, since both we as humans, and the human ecological systems of which we are a part are far more complex to maintain than systems of creatures which rely on mood signals, the reconstruction of our human ecological systems inevitably relies upon hermeneutics to aid in the reconstruction of its authentic scope.
Science and nature can strongly indicate what we should do; but irrespective of that, there is a difference (especially with Europeans, complex as we are), between what IS and what is apparently suggested by science as opposed to what might be suggested through philosophy - the complexities, varieties, and yes, contradictions that can and will challenge us with choices beyond scientistic explanation.
Even so, there are not only profound reasons to be rigorously concerned for the emergent (as GW is), there are also practical reasons - in following its resonance, we are guided directly with what has shown naturally fit for our well being through the ages; and we have the innocence of positively identifying with what we "love" as it is close, vital, a necessary part of us, as opposed to asserting discrimination against others and being subject to the charge of being anti-this or anti-that, of gross indifference, arbitrary cruelty, double standards, supremacism and "racism."
Finally, the circumstance which has GW riveted on this starting point does not mean that is not my starting point as well, since there is no choice for anyone not deceiving themselves with some Cartesian mind game. But that does not mean that looking at the more protracted form and speculative breadth of our systems along with the means by which they are understood and reconstructed is contradictory to their authentic well being, insufficiently deep and closed to what is - on the contrary; and there are great advantages in this deliberation, taking the form of substantial accountability, coherence, warrant and agency in human ecology.
Stonehenge, the prehistoric monument located in Wiltshire, is carefully aligned on a sight-line that points to the winter solstice sunset (opposed to New Grange, which points to the winter solstice sunrise, and the Goseck circle, which is aligned to both the sunset and sunrise).

Archaeologists believe it was constructed from 3000 BC to 2000 BC and it is thought that the winter solstice was actually more important to the people who constructed Stonehenge than the Summer solstice.

The winter solstice was a time when cattle was slaughtered (so the animals would not have to be fed during the winter) and the majority of wine and beer was finally fermented.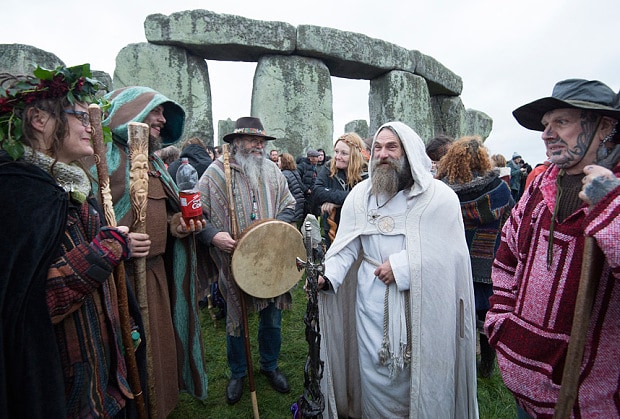 These larpers could have used deeper scientific bearing (Photo: Eddie Mullholand).
They showed up a day early for the solstice in 2009.
For the discerning Euro-folk pagan, the winter solstice is due to occur this year on December 21rst.