We Told You So: Trump Panders to Israel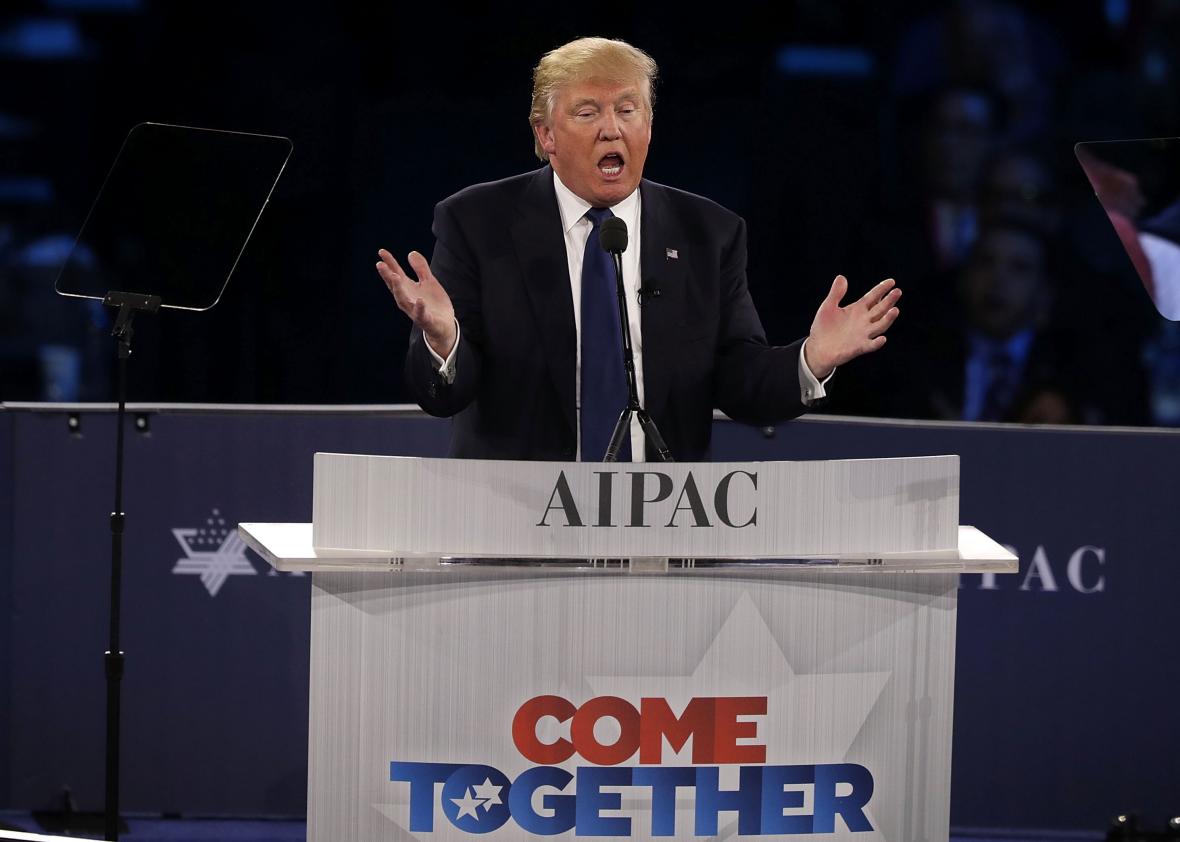 (Photo: Joshua Roberts—Reuters)
With his address to AIPAC, Trump lost the characteristic equivocalness in his manner of speaking: he brought-out his trump card - unequivocal pandering to Israel ..as we knew he would.
From his talks to "the international press" regarding Jewish concerns prior to his speech and through his speech, he was unequivocal.
1) He was unequivocal in his denunciation of "racism and anti-Semitism."
2) He was unequivocal in his prioritization for Israel's security; their borders and identity as a Jewish state for Jewish people.
3) He was unequivocal not only in his denunciation of the Iran deal, but in saying that it must be reversed; and, in asserting that Iran's nuclear weapon's program must be stopped, he intimated that he is not averse to Israel's coveted hawkish solution to dealings with Iran.
4) His unequivocal closer - for those familiar with salesmanship, the closing line of a pitch must "close" (confirm) the deal: Trump proudly asserted that he was "about to become a grandfather of a Jewish child." Asserting his blood-ties in commitment to Jewish interests.

White Nationalists may be correct that he is the best option in buying them some time. At least he makes noises as if he is going to do something about closing U.S. borders and that he would sympathize with closing the borders of Europe as well.
But toward that end, we are having to take the word of a man who brags about his negotiating skills following these avowals to Israel and Jewish interests.
AIPAC might cooperate to some extent with our domestic issues, including our security, OUR WHITE BORDERS FOR OUR WHITE PEOPLES - U.S., Europe and elsewhere - but only to the extent that coincides with Israeli and Jewish interests more broadly; and to the extent that Trump's and other regimes would (very incorrectly) treat Jews as if they are White; a specially protected White minority among our lands.
That is a highly suspect deal.
And in exchange for that deal come an array of foreign policies - our side, opponent side distinctions - even more suspect.
About the only consolation to be offered to those who favor Trump in the interest of European peoples is that at least in what she speaks and intends, viz. in her antagonism of Whites, Hillary is even worse. Her rhetoric is even more out of the liberal, P.C., anti-White mold: her disregard for White boundaries more brazen, her commitment to Israel as "rock solid, unwavering, enduring and forever" as ever (as emphatic, in fact), and her war-hawkishness even more flagrant. Every bit as much as Trump shored-up his pro-Israel, pro-Jewish-line..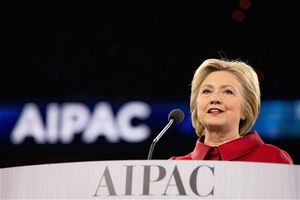 Hillary shored-up her Neo-Con Credentials.
(AP Photo/Andrew Harnik)