A key reason Islam imposed on ethnonationals is comprador utility to right-wingers: Trump/Razak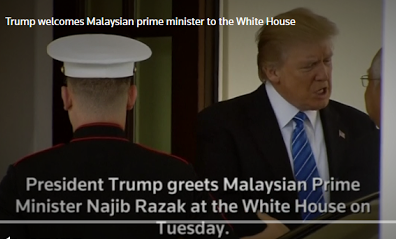 The YKW and right wing collude with Islam.
Malaysian Prime Minister Najib Razak is the comprador of compradors.
In what is going on a decade of the got-up (((paleoconservatism)) of the ((("alt-right"))), one of the key reasons its Jewish conception has fashioned "the left" as the grand-enemy is because left nationalism, its syndicalism, is a grand adversary of Abrahamism - especially the Islamic variant, a universalizing credo which prohibits ethnonational unionizations. Islam, as instituted by comprador imams, functions thereby as feudalist thuggery on behalf of Jewry and complicit right wingers - who make deals with the Islamic comprador (a middleman slave driver/enforcer upon the local population, killing them where they interfere) to exploit the labor and resources of would-be sovereign ethnostates.
Reuters, "Trump, Malaysia's Najib skirt round U.S. probe into 1MDB scandal", 12 Sept 2017:

WASHINGTON (Reuters) - U.S. President Donald Trump welcomed Malaysian Prime Minister Najib Razak to the White House on Tuesday, praising his country for investing in the United States while steering clear of an American investigation into a Malaysian corruption scandal.

The visit is important for Najib, who faces elections next year and wants to signal he is still welcome at the White House despite a criminal probe by the U.S. Justice Department into a state fund called 1Malaysia Development Berhad (1MDB).

Flanked by top advisers in the Cabinet Room, Najib told Trump that Malaysia Airlines would buy 25 Boeing 737 jets and eight 787 Dreamliners, and would probably add another 25 737s in the near future - a deal he said would be worth more than $10 billion within five years.

Najib said Malaysia's Employees Provident Fund, a major pension fund, wanted to spend $3 billion to $4 billion on U.S. infrastructure development.

Najib enjoyed close ties with Trump's predecessor, Barack Obama, playing golf in Hawaii in 2014, but relations cooled over human rights issues as well as the 1MDB scandal.

Najib founded the fund, which is facing money laundering probes in at least six countries including the United States, Switzerland and Singapore. He denies wrongdoing.

The U.S. Justice Department has said more than $4.5 billion was misappropriated from 1MDB by high-level officials of the fund and their associates, according to dozens of civil lawsuits it filed last year.

The Justice Department sued to seize some $1.7 billion in assets it said were bought with misappropriated 1MDB funds, but asked for a stay on its civil lawsuits in August because it was conducting a related criminal probe.

The White House had said it would not comment on the Justice Department investigation but a senior U.S. official acknowledged it was unusual to meet with Najib while 1MDB was under regulatory scrutiny.

"It's a weird situation, no doubt," the official said, explaining that the administration has prioritized developing relations with Southeast Asia to counter "huge gains" China has made in the region.