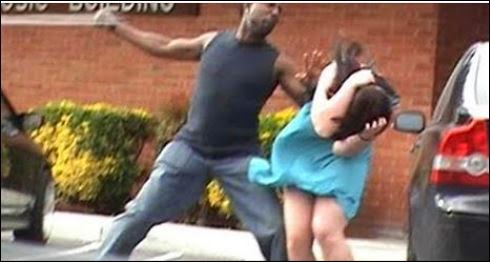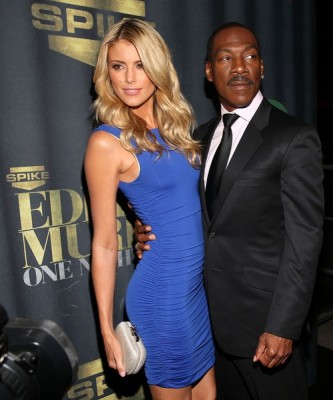 Maybe she should be "sifted-out", or maybe the naturalistic fallacy is cuck narrative itself.
- that nature can and OUGHT to take care of these matters unmediated by cultural (social rules) intervention.
Thank you for your understanding and support, acru ballist. I realize that unfortunately a huge percentage of Whites are used to this Jewish viral symbiosis - it seems at this point as if it is almost written into the genetic code of a huge percentage, now expressed as the Trump voter and Alternative Right - wherein Whites become more and more assimilated to Jews themselves - inasmuch as they remain HuWhite, compliantly accepting their role of being cows to breed stock that blacks and Jews can, in turn, breed with at their discretion.
But I think that this argument veers in the direction of passive naturalistic fallacy:
acru ballist: Maybe, this is evolution of the White People. A sifting out of the weak-minded, the 'mud-sharks', the gullible, the order-takers. Is the parasite controlling this process? It definitely does not need the strong, healthy and rebellious.
A naturalistic fallacy that Jews and Jew advocates like Brett Stevens would want us to accept as prescription - good right wing dolts, "nature" decides what is exactly good and true for us, unmediated by human, cultural intervention. At one time, when mudharkery was a rarity, I might have been more susceptible to arguments that it was me who isn't being naturally tough enough, but then, as it became commonplace and you began to see women who could not be considered merely something for the scrap-heep, the idea of merely letting "nature" weed out those without loyalty, judgement, intelligence, whatever it is that they are supposed to lack became more obviously an insufficient position to take.
...
Continuing with my response to Stevens article, next he goes on to say:
Brett Stevens: Whether or not Jews are a symptom of this problem, they are not its source.
DanielS: One can and should say that they are not the only source, but one should also add that they are a predominant source of our problems who should clearly be looked upon as another people and NOT among our "friends", to say the least.
Brett Stevens: Even more, whipping people up in a fury against them fails because it both distracts us from the actual cause, and inspires people to do ignoble things like genocide. We do not need to kill those who might appear to be our enemies; we need to fix ourselves, which includes excluding everyone else.
DanielS: I never said that it was our objective to genocide Jews or anyone else. Our objective is separatism from them and other non-European peoples, and sovereignty. That implies fixing our own problems for ourselves, thank you very much. We just need the Jews to butt-out.
Brett Stevens: It is the same way with the African-Americans. Some wish to blame them, but the actual cause is diversity, which in fact gets more deadly if it involves "nice" groups because then your people hybridize with them, erasing the original population. This type of soft genocide leaves behind a civilization capable of none of the great acts of the old.
DanielS: As I have said in many places, "Diversity" has been a Jewish red cape: because in a straight forward sense it would mean that different people co-exist in respect of each other maintaining their differences. However, in light of the Jewish marketing campaign of "Diversity" and the reaction to the reality of it in Jewish practice - which means imposition of alien integration against those goyim looking to maintain their difference - Jewish media disingenuously altercasts rights of display to suckers like Pat Buchanan who would argue against "Diversity" and, in effect, for integration (as opposed to "the sewer of multiculturalism and diversity" we should all speak English, be Christians, etc). Integration used to be the straight forward Jewish agenda back in the 60's and 70's but now they hide that agenda behind "diversity" and get Whites to react against diversity and into integration.
As far as the "nice" blacks go, I have long argued that the Uncle Tom and the Oreo are more dangerous than the ghetto thug in the long run because the thug is didactic whereas the Oreo and Uncle Tom, in "being so nice", open the gates for the pattern, which is more the thug and destructive to Whites. As far as this leaving behind a less capable populace, well, your Jewish friends would know, that's why they have imposed "diversity" and integration on our patterns while prohibiting it in Israel and among their more orthodox diaspora.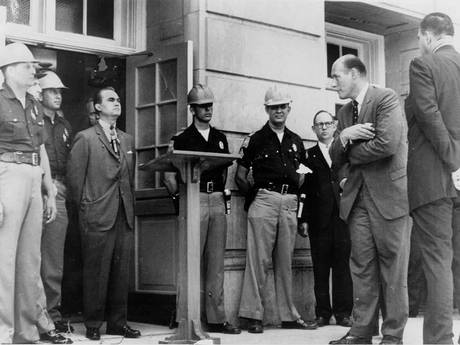 Katzenbach imposing integration upon Whites, in the days before that agenda was hidden behind the Jewish red cape of "diversity."
...and yes, just as we can "blame" (i.e., recognize) in Jews their inborn biological behaviors, uncaring and exploitative of our people to an extreme, and thus see the need to discriminate against them and separate from them, so too can we "blame" (i.e., recognize) in blacks an inborn lack of impulse control, along with an inborn tendency to aggression and hyper-assertiveness - translating to group predatory behavior as expressed typically in this episode in South Africa; and hence the need for "artificial selection", i.e., cultural rules of discriminatory separatism.
If you notice, at the beginning of this clip, the woman and her son were completely relaxed, had inculcated and cultivated no instinctual rules in vigilance for the inborn pattern of predation that would manifest in that moment: the anti-apartheid conditioning had worked that far to their detriment.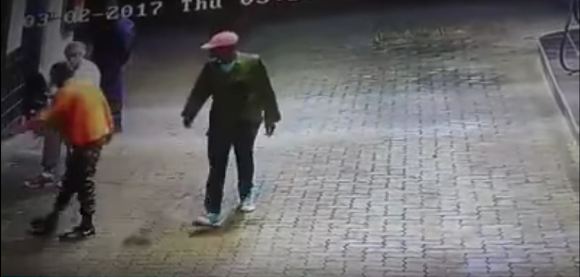 Predators sensing prey.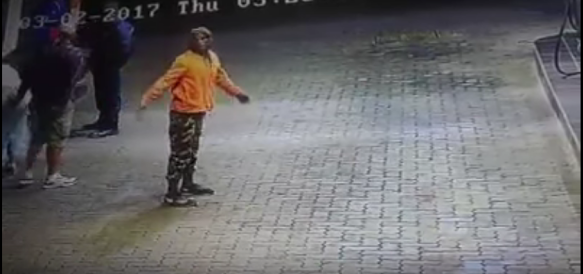 Predator signaling to pack that the coast is clear for the attack. White woman's son can now be seen in left of screen.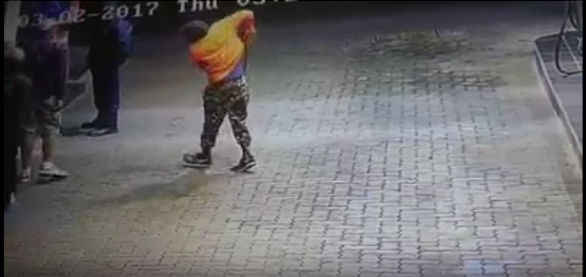 Predator pulls-out his weapon.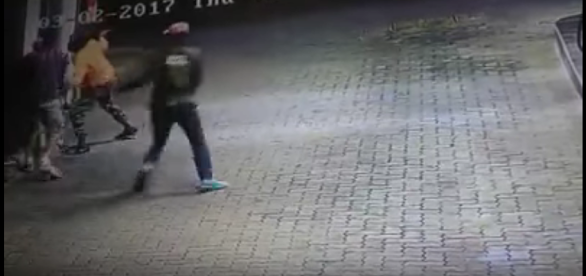 They start to attack the mother.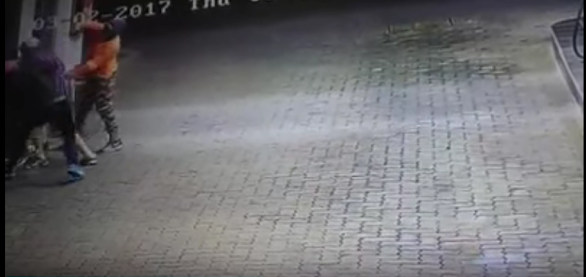 When the son tries to protect her, they try to hold him and aim for the back of his neck.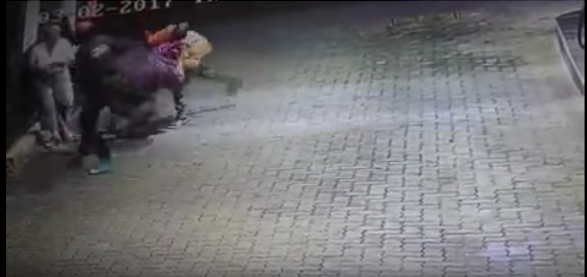 While they hold the mother, the son begins to put up a valiant fight.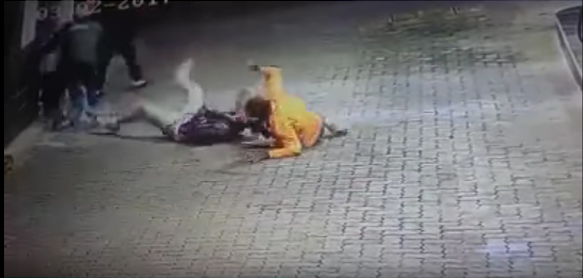 Outnumbered, they are subject to more beating before escaping (this time).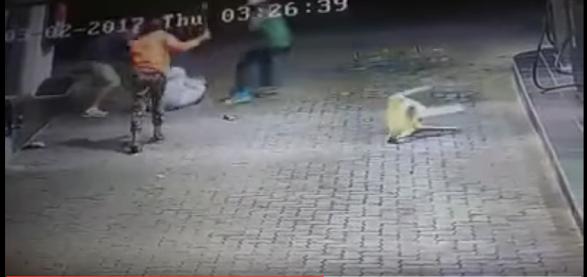 White man and his mother subject to the natural state of black predation.