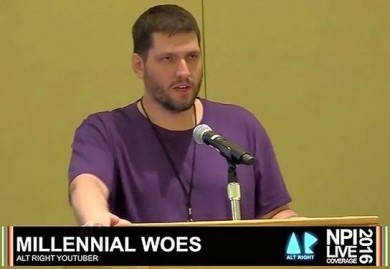 Mirror, 9 Jan 2017: "Racist vlogger who became global YouTube sensation unmasked"
...etc., so the headline and the hit piece reads.
On 5 June '15, Millennial Woes came to Majority Rights and left a comment * insisting that his link be removed from this site because I, DanielS, would not accept his friend, The Truth Will Live, a.k.a. (((Ruth))), as a part of our struggle, let alone as having a place to define our terms. I consider his position in her regard to have been naive at best, but probably more like an unsavory deal with the tentosphere. I really don't approve of this defense of the Jewish tent of the tentosphere. In addition, his going along with the Alt-Right's attribution of "THE Left" as the enemy is unacceptable; finally, he is annoying in coupling this attempt to join the Alt-Right in muting our platform, while perhaps garnering some of our ideas and auguring to misdirect them.
Even so, the doxing and smearing of him by a purportedly objective news source, The Mirror, is way out of line. Even I don't think he is remotely that bad or that he deserves that. But then again, beware the right, Alt-Right too - it's an unstable arrangement - the right has come back to bite countless adherents and those with misfortune to find themselves on the other side of their reactions over the years.
* The Millennial Woes comment that I am referring-to comes as the second in a series of three comments dated 3 - 5 June 2015, viz., #6, #14 and #17 and occurs within the post called "The Lies Will Try To Live But They're Not White, They're Jewish."
Posted by Millennial Woes on Wed, 03 Jun 2015 12:27 | #6

Ruth, who has the channel "The Truth Will Live", is a close friend of mine. She and I speak regularly about the key issues of the alt-right, including the JQ, and she is on-board with all of it. In particular, residing in a Somali-heavy area of the US, she has to deal with their shit just like the rest of us do, and she hates it and opposes immigration from the Third World as wholeheartedly as any of us do.

To repeat, she is a close friend of mine and I know that she is a good, kind, decent person. I think it is wrong of you to besmirch her unless you have some evidence that she is a fake.

PS. And no, she didn't ask me to write this post! AFAIK she doesn't even know about this article.

Posted by Millennial Woes on Fri, 05 Jun 2015 11:41 | # 14

DanielS,

I understand your position, and I do understand the danger. However, I cannot stand by as my close friends are bad-mouthed when they have done nothing wrong whatsoever. (Note that you conflate Ruth's statements with Rachel Haywire's, when they are two very different people.)

Though I am grateful to your site for linking to my channel this last year or so, I ask you to remove that hyperlink now. I do not want to be associated with a site, however worthy it might be, that insults and dismisses my own friends.

Thank you, MW.

Posted by Millennial Woes on Fri, 05 Jun 2015 20:26 | # 17

DanielS "One extreme is to do the Christian services bit, helping Africans to no end. The other is to not care." She says it is wrong and extreme because they cannot take care of themselves well enough and it is the White man's burden to help them.

This golden rule is one of the most Jewy things imposed on Whites from the Bible.

MW: That's very strange, because it was I, a non-Jewish, non-religious, British-native white guy, who introduced Ruth to the idea that the White Man's Burden is a real thing - having arrived at this belief myself without any help, Jewish or otherwise. I came up with it, of my own volition, based on my own observations of my (white, non-Jewish, non-religious) people.

DanielS If you are that defensive of these women then we would view your link as a bum steer anyway.

MW: I don't even know what that phrase means. All I'm asking for is decency. Without a shred of evidence, you are ascribing a calculating, deceitful nature to a woman who simply doesn't have such a nature. If defending her makes me "defensive," so be it.
Millennial Woes argues that I conflate Ruth and Rachel Haywire, but I do not. In fact, my position with regard to Ruth was developed with interviews of her separately. Nor was I picking on her without evidence or for trivial reasons - it is most important to separate White advocacy from her sort of influence. For the record, I did not conflate Ruth's position with Rachel's: Ruth wanted to define the left for us, to encourage Abrahamism, she said that she believes in "the White man's burden" (that we owe help to Africans); and in the end she would pursue an agenda to have us treat Jews as a part of our cause, having kindred issues and concern for Western culture. But for a myriad of reasons, it is critical that there be White advocacy platforms free of Jewish influence (active influence, in particular), however benign it may appear (and the reason to discriminate against this one (((Ruth's positions))) wasn't really particularly hard to discern).