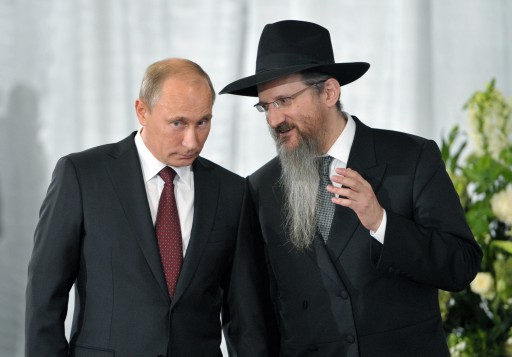 Vladimir Putin with Berel Lazar.
FLASHBACK
This should be considered the first edition of a series that will more properly be known as 'Things Vladimir Putin actually said'.
There are some instances where you only have to ask at the source to find out what the reality is:
The Jerusalem Post, 'In letter, Putin wishes Jews of Russia 'a sweet and happy new year'', 13 Sep 2015 (emphasis added):

In a special letter sent to Russia's Chief Rabbi Sunday, Russian President Vladimir Putin wished the Jewish community throughout the country a "sweet and happy new year" on the eve of Rosh Hashana, according to Russian State media.

The note, addressed to the office of Russian Chief Rabbi Berel Lazar, also connoted Putin's admiration for the Russian Jewish community's strength and unity, saying "For centuries, Jewish values inspire lofty ideals" while bridging together "relations among different peoples…through charity (and) education, all in the interest of the public good."

Putin went on to say that the scourge of hatred and intolerance towards the Jewish community must be combated in Russia, with "fierce opposition to any manifestation of anti-Semitism and xenophobia."

Putin ended the letter by writing that he wishes the Jews of Russia "good health, happiness and wealth," in the new year to come.

Ostensibly, Putin's relationship with the Jewish community in Russia has been amicable, with leaders in the past praising his outreach. In April, Alexander Boroda, head of the Chabad-affiliated Federation of Jewish Communities of Russia, went so far as to say that the survival of Russian Jewry was dependent on Putin staying in power.

"The Jews of Russia must realize the dangers inherent in the possible collapse of the Putin government, understand the rules of the game and be aware of the limitations," Boroda said during a talk at Moscow's 9th annual Jewish learning event organized by Limmud FSU.
Also, this:
The Jerusalem Post, 'Senior Russian rabbi: Putin ouster would endanger Jews', 26 Apr 2014 (emphasis added):

MOSCOW— A senior Russian rabbi warned of grave danger to Jews if Russian President Vladimir Putin is swept from power.

Alexander Boroda, head of the Chabad-affiliated Federation of Jewish Communities of Russia, made the warning Friday during a talk at Moscow's 9th annual Jewish learning event organized by Limmud FSU.

"The Jews of Russia must realize the dangers inherent in the possible collapse of the Putin government, understand the rules of the game and be aware of the limitations," Boroda said at a sessions, according to a translation provided by Limmud FSU.

The Moscow conference, which drew 1,400 participants, opened Friday at the state-owned Klyasma resort just outside the Russian capital.

Boroda's Federation is among several Russian Jewish organizations that credit Putin for facilitating efforts to re-consolidate Russia's Jewish community of 350,000 after decades of communist repression.

Under Putin, dozens of synagogues have been renovated with government support and a massive Jewish museum was opened in Moscow with state funding.

"In Russia, there is virtually unlimited freedom of religion and the Jewish community must ensure this situation continues," Boroda said. "The support for religious institutions is wider than in the United States and defense of Jews against manifestations of anti-Semitism is greater than in other European countries. We do not have the privilege of losing what we have achieved and the support of the government for the community."

All Russian Jews and especially those considering action against the Putin administration, Boroda said, "must understand the grave dangers that they take upon themselves and the potential consequences."

Such endorsements of Putin by Jewish leaders have exposed them to criticism by liberal Jews and Jews in Ukraine, who oppose Putin's crackdown on civil liberties and rivals, annexation of Ukrainian land and perceived nationalism.

Viktoria Mochilova, a Limmud FSU participant and social activist, dismissed Boroda's message as one-sided and unrepresentative. While appreciative of government support for Jews, they, "similar to other Russian citizens, [desire] to improve the situation of the state and to strive to make it more democratic and honest," she said.
Just in case any of you are wondering who Rabbi Berel Lazar is in relation to Vladimir Putin, that he should be the one to receive such a warm note of appreciation from him, read this:
Forward.com, 'Why Russian Chief Rabbi Stands by Vladimir Putin', 05 Jun 2015 (emphasis added):

Rabbi Berel Lazar's mother was eager for grandchildren. So she gave her 25-year-old son an ultimatum: He could return to his beloved Jewish outreach work in Russia if — and only if — he got married.

His yeshiva classmates jokingly said he was already wed, "to the idea of going to Russia," said Lazar, the son of Chabad-Lubavitch emissaries in Milan, Italy.

A few months after his mother put her foot down in 1989, Lazar wed his American-born wife, Channa, and the couple settled in Moscow, where they raised 14 children.

An emissary for Chabad, Lazar, 51, would go on to become one of Russia's two chief rabbis, a major and controversial force in the dramatic revival of Russian Jewry following decades of Communist oppression and mass immigration to Israel, the United States, Germany and elsewhere.

Lazar's work, his Russia boosterism and his ties to the Kremlin — he is sometimes called "Putin's rabbi" — has helped Chabad's Russian branch eclipse all the Jewish groups vying to reshape the country's community of 250,000 Jews. Now Lazar heads a vast network that comprises dozens of employees and plentiful volunteers working in hundreds of Jewish institutions: schools, synagogues, community centers and kosher shops.

"I am amazed at what became of a community that had been stripped of everything, even its books," Lazar said, referring to Soviet Jewry before the fall of communism, when religious practice was suppressed.

Today, Lazar said, Russia has in Vladimir Putin its "most pro-Jewish leader," whom he credits with "fighting anti-Semitism more vigorously than any Russian leader before him."

But criticism of Lazar's partnership with Putin persists as the Russian president makes use of his pro-Jewish credentials in justifying his policies. The strongman has repeatedly cited the alleged anti-Semitism of Ukrainian nationalists in justifying Russia's 2014 annexation of the Ukraine-controlled Crimea. In January, Putin inveighed against Ukrainian nationalists — he called them "Banderites," a reference to the Ukrainian Nazi collaborator Stepan Bandera — during a speech he delivered on International Holocaust Memorial Day, when he was Lazar's guest at Moscow's Jewish museum. Lazar has also been criticized for his presence at Kremlin events, like the one last year celebrating Russia's Crimea annexation. ("Like other clerics, my duties include officiating at state events," Lazar said in an interview with JTA.)

To Roman Bronfman, a former Israeli lawmaker and author of a book about Russian-Jewish immigration to Israel, the relationship between Putin and Lazar is a "beneficiary symbiosis." Lazar's support for Putin, Bronfman said, "is a constant and the basis of his claim to the title of chief rabbi."

Lazar was Chabad's chief envoy to Russia before staking claim to the title of chief rabbi in 2000. That's when he quit the Russian Jewish Congress, an umbrella group, after the organization's founder, Vladimir Gusinsky, and Russia's other chief rabbi, Adolf Shayevich, criticized Russia's war in Chechnya and its alleged human rights abuses — including the alleged targeting, by anti-corruption authorities, of political dissidents.

"Challenging the government is not the Jewish way, and [Gusinsky] put the Jewish community in harm's way," said Lazar, noting that the chief rabbi should be apolitical, not a government critic. "I wanted to have nothing to do with this."

Shayevich, who has been chief rabbi since 1993, heads the Keroor religious congress, a body responsible for religious services at affiliated synagogues. In March, Keroor and Lazar's Federation of Jewish Communities of the CIS, or FJC — both are Orthodox bodies — signed a nonaggression pact in which the groups committed to not speak ill of one another in public. The agreement ended years of acrimonious exchanges in the media, but Keroor to this day does not recognize Lazar's claim to his title of chief rabbi.

In recent years, however, Lazar's federation eclipsed Keroor in prominence and reach. FJC operates in 160 cities, compared to Keroor's 34. In addition, FJC has departments in other former Soviet countries, which means Lazar also has considerable clout in the Jewish communities of Uzbekistan, Kazakhstan and Azerbaijan, and elsewhere.

In 2012, Moscow opened a $50 million Jewish museum that is headed by Lazar's top aide, Rabbi Boruch Gorin.

Putin's support for the Jewish community, Lazar said, "flows from his respect for religion and warm sentiments" to Judaism, not out of political calculation. Russian Jews, Lazar added in reference to Putin's time in office, "have a duty to use this golden hour and press ahead with community growth." Still, Putin was quick to leverage the new Jewish museum for his needs.

In 2013, the space became Putin's answer to an international legal dispute involving the Schneerson Library — composed of texts by Joseph I. Schneerson, a late leader of the Chabad-Lubavitch movement, which have been held by the Russian state since Communist authorities confiscated them in 1917. A U.S. federal judge in 2013 ruled in favor of Chabad lawyers in the United States who are seeking the return of the library to Brooklyn, where the Hasidic group is based.

Lazar reluctantly agreed to Putin's request that the texts be housed in the museum as a form of compromise. The claimants in New York refuse to see it as such, but the move showed Putin's influence over Lazar.

"He wanted to solve a problem," Lazar said of Putin's so-called compromise, "though it may have caused a problem for me."

But Lazar and Putin's relationship seems to go deeper than political expediency. In 2012, Lazar led the Russian leader on a tour of Jerusalem's Western Wall. And last year Putin made Lazar a member of Russia's prestigious Merit to the Fatherland order, the country's highest civilian decoration and one that is rarely conferred on people who were not born in Russia. (Lazar became a Russian citizen in 2000.)

Lazar's prominence has a powerful effect on his constituents. At a recent brit milah in Moscow, men from a Sephardic family from the Caucasus lined up to shake his hand at a shul that fell silent when Lazar stepped in. After the shake, they kissed their own palm as a show of their reverence for Lazar, whom some in attendance described as a great sage.

Many Russian-Jewish leaders are happy to bask in the warmth of such adoration. But to Lazar — who has armed guards, a chauffeur and several assistants — his congregants' reverence is an unwanted byproduct of a title he neither coveted nor particularly enjoys, he said. If not for his current position, Lazar said, he would have preferred to be a teacher like his father in Milan.

Dovid Eliezrie, a Chabad rabbi who recently completed writing a book on the movement's global outreach efforts, said Lazar for months resisted pressure by other Chabad leaders to accept the title of chief rabbi. Lazar acquiesced only after a former Israeli chief rabbi revealed that Menachem Mendel Schneerson, the revered Chabad leader who died in 1994, had said Lazar would be a good candidate for becoming Russia's chief rabbi one day.

The title, as Lazar has come to see it, is nothing more than "a tool that allows me to achieve certain goals for my community."
Would anyone among the pro-Kremlin and pro-Russian crowd out there, like to explain what on earth all of that is?
Vladimir Putin is the same kind of man who various white nationalist parties believe is someone under whose auspices European civilisation can find recourse from the hazardous liberal political environment in the North Atlantic. Is it possible for these parties and those who are inclined to share that belief in Russia and in Putin, to be any more cucked than that?