Kermit Alexander's punt return for nearly a touchdown suddenly crystallized several factors of my burgeoning masculine identity (I was only 9) and bonded it strongly with the Los Angeles Rams in a moment on Monday Night, October 26th 1970.
I was not completely oblivious to the fact that he was black nor even entirely without trepidation for the long term implications of siding with blacks - just a few years before it was Malcolm X who said that blacks were going to rule me, which of course I did not want - there were the black riots which burned Newark and killed some dozens in 1967; and there were the "chocolate nurses", whom I naturally did not identify with, and did not like, but surrounded me in the hospital when I was admitted for my tonsillectomy.
Oh, perhaps I exaggerate the exhilaration, elation and importance of this moment of Monday Night Football, under the spotlights which gleamed off the Rams and Vikings cool, streaking helmets, but I think not - even though it was but one moment and episode among a mass of factors which would misguide me for a few teenage years into mis-identification. I was devastated that the Rams were stopped in that episode on the goal line against the Vikings - The Vikings, who had been to the prior Super Bowl. But I was now hopeful and determined that "we" could play with them - and furious that my parents made me go to bed; miserable to wake up to find the Rams lost.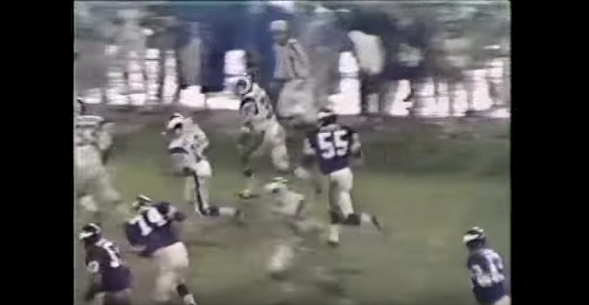 The Vietnam war, where men were expected to die, feminism, that blamed men for everything, my family's communicologial craziness and what was already society's (((the media and academia's))) anti-White prohibition against White identity, its crowning of blacks as what we now call the "untouchables" and Jews as taboo to even wonder about, let alone criticize.. some context and quite difficult for a boy hard programmed to like girls: yeah, I was starting to like girls, but of course not wanting to be deterministically beholden, at this point, to this situation - with all this context going against my identity and the need by contrast to identify with people who were on my side and who'd fight hard; given the hostility of my family and society, I needed some socially sanctioned identity, on my side, with those who'd fight.
NFL Films were a significant part of constructing a riveting identity, i.e., my entrancement into undue sports rooting in my teenage years.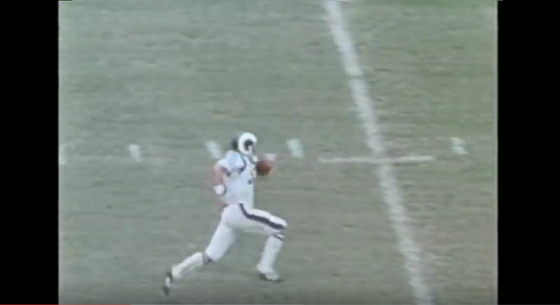 Jack Snow sprinting for a touchdown in N.F.L. Films
Lets continue with the topic of sportsfanship, how we might illustrate and redirect the illusionary escape of illusionary observational objectivity and diversionary identity. It's an important matter, leading to a cuckold identity if, as a habit, not broken (thankfully, I did).
Furthermore, by examining the romanticizing and compelling role that NFL Films play in identity creation, we might be able to take a few of its ideas for the building of our own identity creation.
Let's examine the films then and a little more of what could lure one into sports enthusiasm during teen years and beyond. It is a fanaticism that we could rather use to fight on behalf of our own peoples.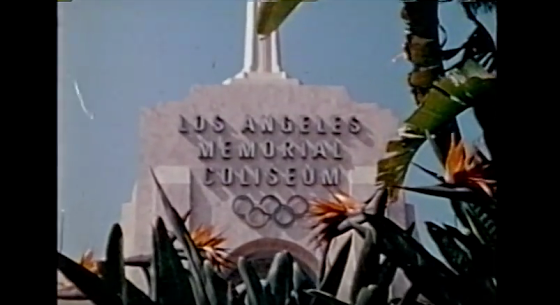 Los Angeles Coliseum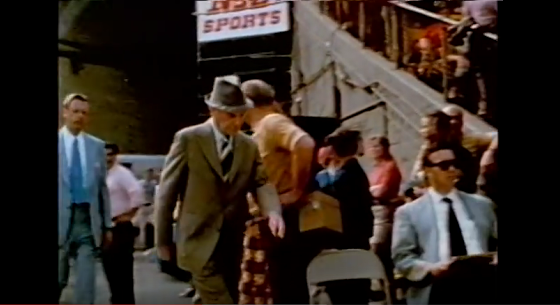 The coaches, adults, were all business and made this seem like serious business
In sunny California, Hollywood, manly battle took place in cool uniforms..
.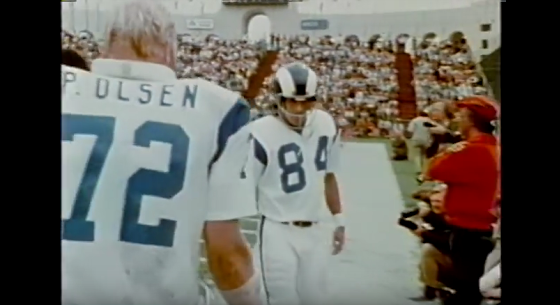 Appreciation
Snow (number 84) was one of my favorites ...they actually had White wide receivers in those days - they were good, too.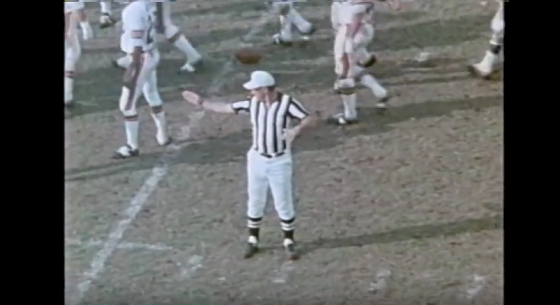 The officials made it official
The timing had something to do with it, sure. As I've said elsewhere, the early 1970's were a time when the Vietnam war was ending, the relaxed communal sense of Being being extended to White men was giving way to feminism - could be rabid, White man hating, feminism. My older sister was a cold feminist, when not a searing hot feminist, when not a disconcertingly light, breezy and trivializing feminist; my mother, when not having some sort of catharsis for herself through a breakdown and drinking, was usually hostile; if you knew my father, you could have some sense of why she was that way. I'm over that, and its not my point to complain, but to state the fact of why I needed some vicarious identity - which could neither so easily be had with my family nor with my (((diverse, multicultural society and its programs of forced integration.)))
OK, so, I was ripe for some escapism and masculine aggressive identification - a quasi serious thing, treated seriously by adults.
At the same time, through programs of school "integration", by the school year of 1970 my homeroom teacher was black, and there were plenty of blacks in the integrated class of my local elementary school. But in 1971-72, the integration program bused me to Nishuane, a mostly black school - and a nightmare.
Again, this wasn't long after Malcolm X declared that "the Honorable Elijah Muhammad said that the black man would rule" and not long after the black race riots in 1967 burned the nearby town where I was born, Newark; while it was taboo to take an identitarian stance against even saying anything about that, even then.
I've already mentioned a Bobby Murcer home run in September 1971 and the compellingness, the soothing reliability of baseball statistics, but there was something even more immediately mainlining into the older parts of the brain of the sports thing - NFL films.
I'm sure this kind of thing hooked many a kid, not just me.
In this I got a program, maybe what we'd now call a site, to identify with the venting of my spleen, my rage, will to action, to run, to identify with a tribe, to bask in the glory and to identify with, well, actually, White guys…..and we could share in widespread appreciation that was not forthcoming, personally, i.e., whereas we might otherwise not be given much support in identity (((to say the least))). In this quasi-identity, with our masculine strength alone and mere uniforms distinguishing teams [the players did not even come from the towns that "they played for!"] we could at least assimilate fighting for an identity together, not against our own - quite unlike my family, my (((American society))) and my Europe.
"The fearsome foursome", Deacon Jones, Merlin Olsen ...the cool uniforms, winning ways, Roman Gabriel, exotic Los Angeles. I could identify fiercely with them. On Monday night, October 24 1970, my parents let me stay up late….almost..I got to see Kermit Alexander's exhilarating punt return….the Rams were stopped on the goal line just before halftime. I was broken hearted, but optimistic that they could play the Vikings, they could win. I didn't want to be torn away from the TV but my parents would not let me stay up..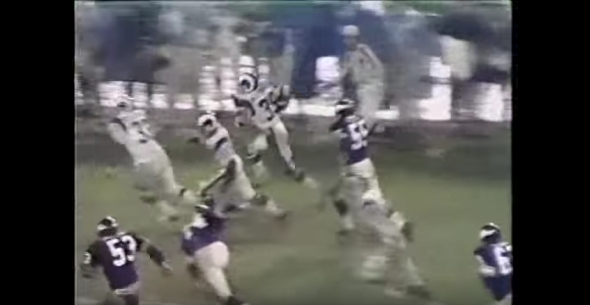 I wasn't paying attention to his race in that moment, he was on my side, my team
That moment set off an adrenaline rush as lights gleamed off streaking helmets, followed by the frustration of losing to the Vikings, a threatening team in uniforms just as cool as the Rams. From the cold north, men in Viking helmets came to play men in Ram helmets. Fascination set in.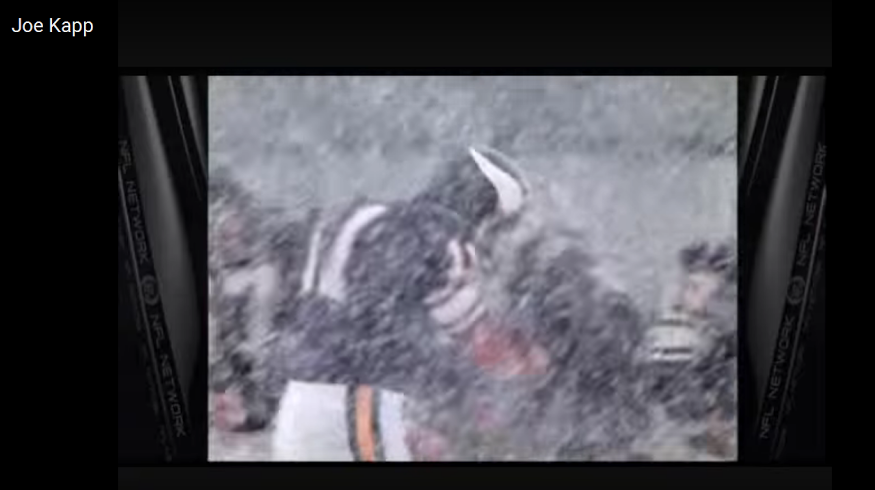 It is something of a challenge to provide alternatives to young White boys to the visual appeal and action of sports like football which blacks can do well (similar as the challenge of black musical ability and audio appeals, it even has some addictive properties).
I would remain fiercely loyal to my side and could not tolerate losing, fairly bad though Rams records were compared to the late 60's and what was to come in the 70's; even though the Vikings just about always got the best of them in the playoffs - and in excruciating manner.
In the 1974 playoffs, not only did White Rams fans suffer the indignation of having their team headed by one of the first black quarterbacks (And I didn't like it. Quarterback, the helm leader, was always a firmly White position), but they snatched defeat from the jaws of victory against the Vikings, again thwarted at the goal line.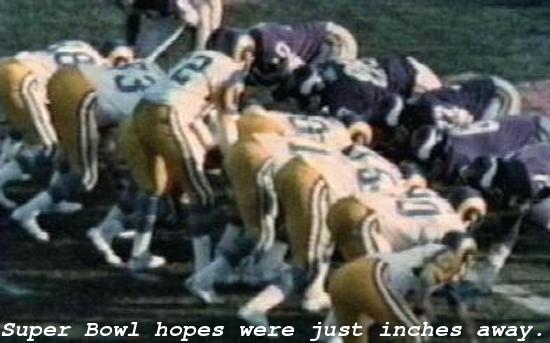 After starting hemmed at their own goal line, the Rams went the full length of the field to the Vikings goal line, where Harris threw an interception and the Vikings reversed fortune.
The Rams had a first down on the Vikings' one-yard line at the time. The penalty made it second and six, but quarterback James Harris threw an interception into the end zone on the next play and the Vikings eventually won, 14-10.

James Harris, one of the first black N.F.L. quarterbacks, helps the Rams to lose again to the Vikings in the 1974 playoffs.
Full Episode: In 1974, the Rams should of played the NFC Championship game against the Vikings in 70 degree Los Angeles instead of -12 degree wind chill factor Minnesota. Both teams were 10-4, and the Rams had won their one regular-season meeting. Until 1975, however, the NFL rotated playoff sites, and it was the NFC Central's turn to play host to the conference championship game. Forget about it being the NFC Championship game, name me any game that a team goes over 99 yards and gets no points and loses by 4 points. OVER 99 YARDS!!! That doesn't happen in Pop Warner. This is what happened. In the 3rd quarter, the Vikings hold a 7-3 lead. A punt pinned the Rams inside their 1-yard line, but we moved out of danger to their 25. Then Harris hit Harold Jackson for a 73-yard gain. Jackson should have scored, but he was nudged out of bounds by Jeff Wright at the Vikings' 2. One play later the Rams were less than six inches from a 10-7 lead. But Harris, who could have fallen forward for the go-ahead TD, switched to a long count.The refs said Hall of Fame guard Tom Mack flinched, costing the Rams five yards. Two plays later, linebacker Wally Hilgenberg intercepted Harris' tipped pass in the end zone. The Rams had gone 99 yards and produced no points. We lose by 4 points. The Viking curse.
In 1976 the Rams got thwarted on the goal-line in the playoffs against the Vikings once again.
In the 1976 playoffs, the Rams returned to the dreaded frozen north for another NFC title game. The temperature at kickoff was nine degrees.

The cold didn't seem to bother the Rams, who drove smartly down to the one-yard line, but then their luck—and maybe their confidence—froze. Knox sent wide receiver Ron Jessie on an end-around to the right, where Jessie was met at the goal line by a pack of purple defenders.

"He scored on the play," McCutcheon said. "I saw the ball over the (goal) line, in the end zone. They spotted the ball like on the one-inch line."

The Rams had cause to feel an ominous chill at that moment.

"We still had a couple of more plays to get the ball in," McCutcheon said. "I think he (Knox) called a quarterback sneak with (Pat) Haden and some other play I can't remember.

"That was really disappointing because we were one inch from the goal line, and that was the year we were running the ball so well—25-Lead, 44-Lead. I thought at that time we would certainly want to get the ball to one of our backs—preferably myself.

"I couldn't believe the quarterback sneak. So (on fourth down) we decided to go for the field goal, and they block it and take it back 99 yards."

Actually, it was only 90, but old Rams still have nightmares of Viking Bobby Bryant scooping up Tom Dempsey's aborted field goal attempt and racing toward the other end of the field. Jack Youngblood was so heartsick after the game that he couldn't talk—literally couldn't talk—for 15 minutes
While in 1977 it had been meteorological frustration, surprisingly, on the home turf…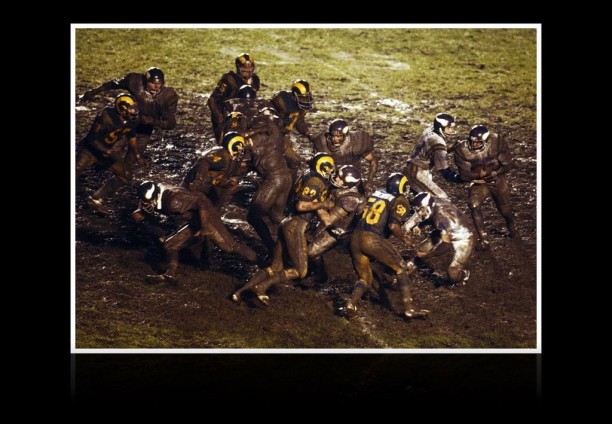 The 1977 "Mudbowl" stuck the erstwhile viable Rams in mud and loss to the Vikings yet again

Coming back to the onset of my enmeshment in this identity in 1970, I had wanted to identify with black Deacon Jones and was glad when his fearsome play was on our side, but I couldn't quite - I thought that he looked weird. I wanted rather to identify with Jim Bertelsen, Jack Youngblood, Fred Dryer, Roman Gabriel and Jack Snow.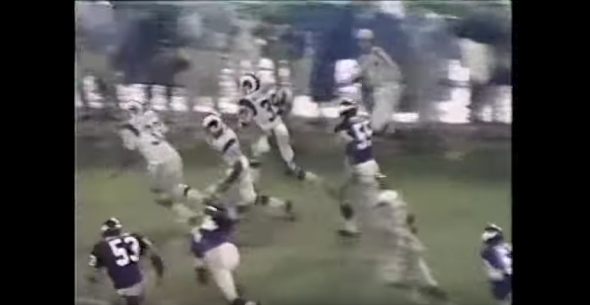 Yet just another few years before I'd had fantastic temper-tantrums when having my tonsils out. I did not like the chocolate nurses.
I plead innocent besides - how was I to know who Kermit Alexander was and what he could come to mean to us… why should I believe that adults would let this happen, when what was happening by way of blacks was so obviously bad in terms of their hyper-assertiveness.
Who'd want to live with these people who burned Newark, made things so ugly, but nevertheless had the nerve to say that they'd rule us?
Unbeknownst to me, this was the football season following the Super Bowl (IV) played by the first majority black team - The Kansas City Chiefs. That is to say nothing, of course, of my nine year old awareness (lack thereof) of the (((egregious forces and purposes))) behind the 1964 Civil Rights Act, The 1965 Immigration and Naturalization Act, and the 1968 Rumsford Fair Housing Act…

My father told me that the Chiefs would "three-point-them (the Vikings)-to-death." Place-kicker Jan Stenarud (3) and quarterback/holder Len Dawson (16) were a few of the minority of Whites on the Super Bowl winning Kansas City Chiefs - already, in 1970, a majority black N.F.L. football team, albeit the first one.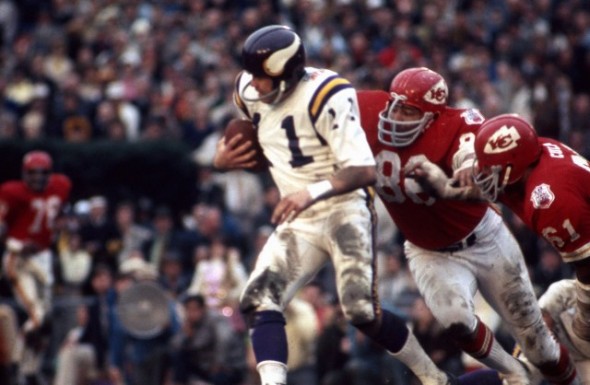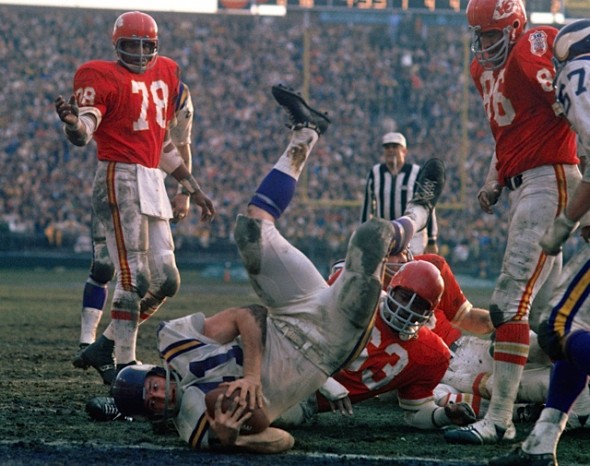 Whites playing the objectivist game gamely, but upended by first majority black team, Kansas City Chiefs, in Super Bowl III, January 1970.
By 1972 the war was ending and feminism, no longer constrained by the double standard of the (male only) draft and with it, the background need to grant some leeway to male protest for Being, came unhinged. I needed vicarious male identity more than ever.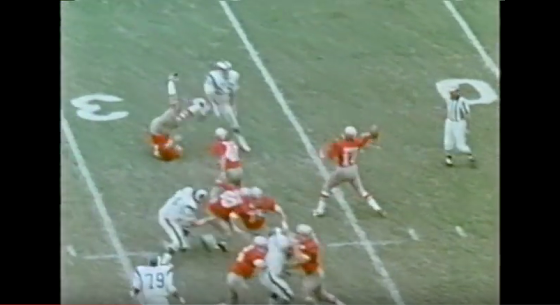 Action against the San Francisco 49ers
N.F.L. Film's style captured attention with Yoshi Kishi's innovative editing, John Facenda's deep voiced, stern narration and Sam Spence's riveting music: With slow motion, fast motion, varied shots, bustling action and music, music of burly combat, "Sunday with soul" - that music so compelling to the emotions of a kid who wants his identity ultimately dramatized, ranging from the toughest, the most earnest quest, manly American quest, epoch exhilaration to dark, grim, wide ranging venture, and heartbreaking sympathy, "the game that got away" - while husky voiced narrators, John Facenda and Pat Summerall in particular, embellished the seriousness of it all. The music here, during minute 1:12 - 2:20, as background to a Redskins - Eagles game, is particularly intriguing: here it is by itself - "undercover man" - one of my favorite among these Sam Spence and William Loose tunes. "The Horse" was not included among NFL film songs, but was/is a marching band staple along the sidelines of high school games that achieves much of the same sentimental effect. And there was that Monday Night Football intro music.
...another compelling tune to add to the collection - starting second 017.
If GW wonders what Hitler had going for him to excite a stadium and crowds in the street, well he certainly had something going for him, he must have, because he didn't even have war action going on at the time, let alone some of the things that the NFL has to draw-in and compel mass allegiance..
But while NFL Films served to seduce, corrupt and divert my identity for some time from better pursuits, it is also worth talking about how we might perhaps use some of its techniques to deploy to our cause.
At least it was something that people were paying attention to. It was not merely the moment when Kermit Alexander's fast twitching muscle fibers sprinted toward the end zone ..it was that and much more..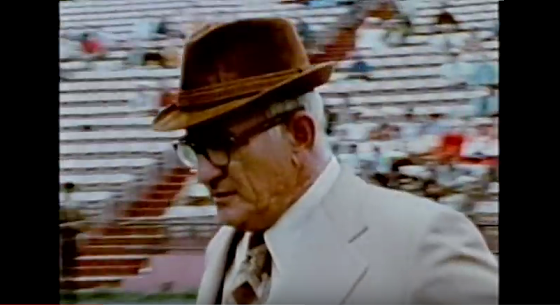 Tommy Prothro, with grim adult discipline and sacrifice of hours of training before the glory of the fans arrive.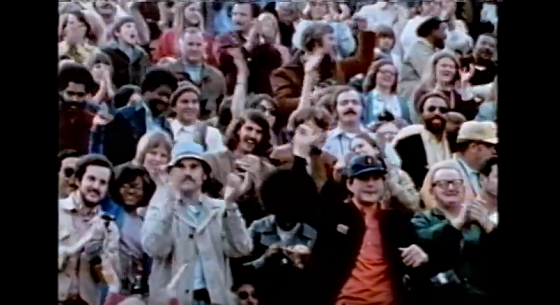 Fans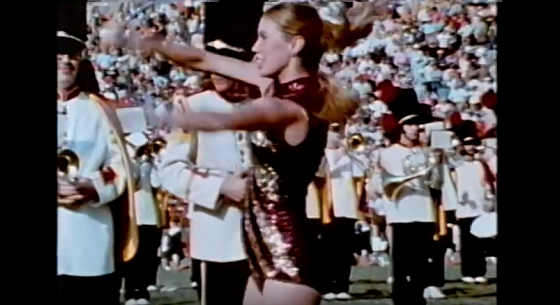 Cheerleaders and marching bands
There were massive stadiums packed with fans, pageantry, marching bands, cheerleaders…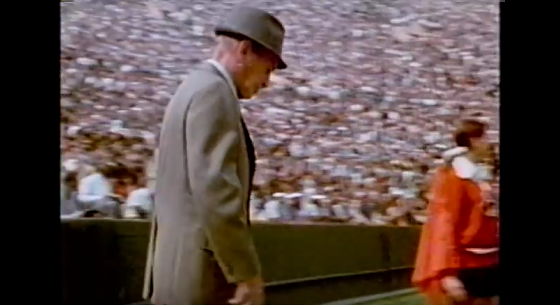 Paul Brown, the mature display of serious business when the masses of fans did arrive.
Here they were, the L.A. Rams - an opportunity for the requisite, more objective identity for me: they were from far away Los Angeles, with a team that was coming out of the 1960's with great records and an awesome manly reputation. My older brother told me that they had the "The Fearsome Foursome" - their defensive line featuring Deacon Jones, Merlin Olsen ..later Fred Dryer and Jack Youngblood ..with their cool names, add quarterback Roman Gabriel to that regard. They had the coolest uniforms too.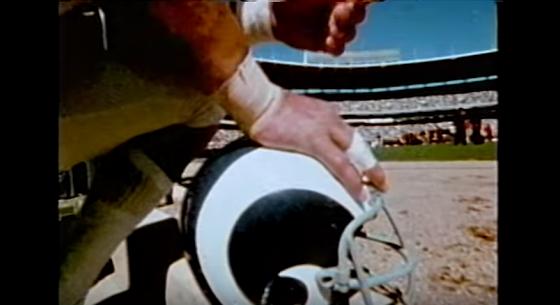 Helmet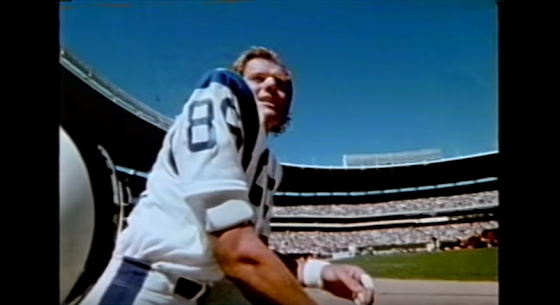 Fred Dryer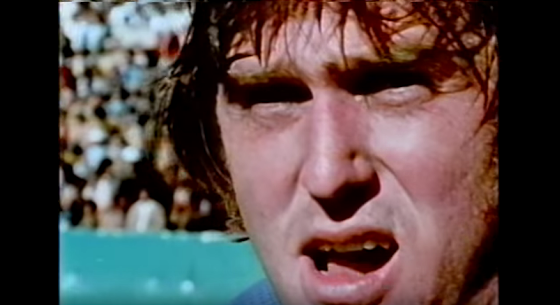 Jack Youngblood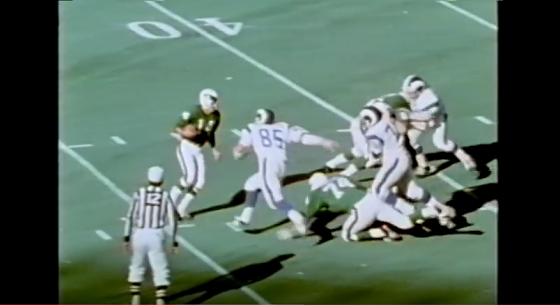 Jack Youngblood about to lower the boom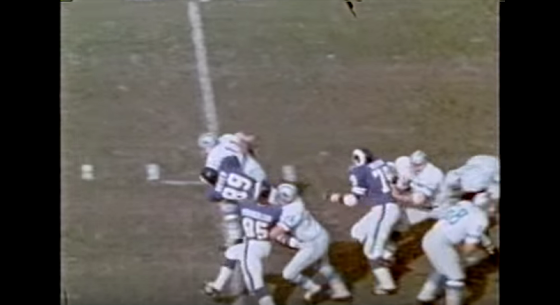 Fred Dryer making a sack with Youngblood in hot pursuit.
Roman Gabriel, a very cool name for the quarterback playing for the Rams in The Los Angels Coliseum..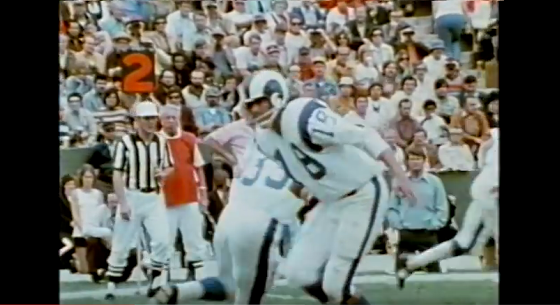 Roman Gabriel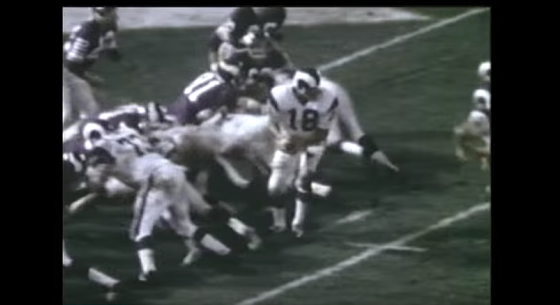 Roman Gabriel vs Vikings in '70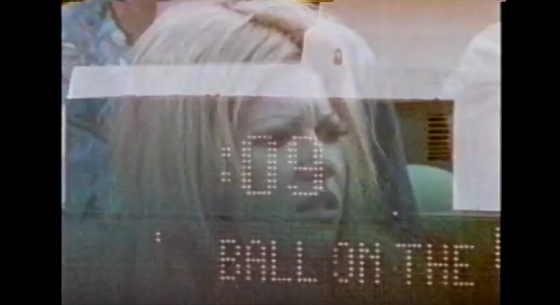 Concern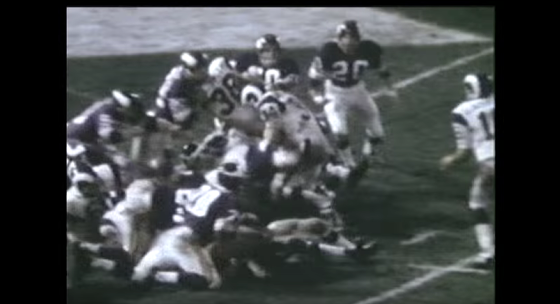 Action vs Minnesota Vikings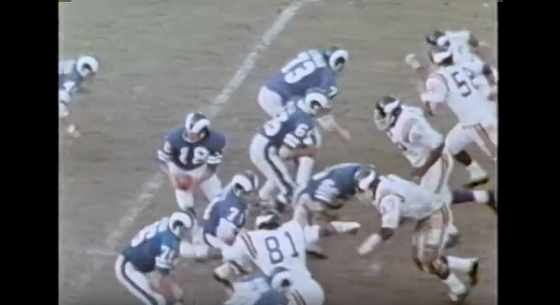 Roman Gabriel vs. Minnesota Vikings in 1972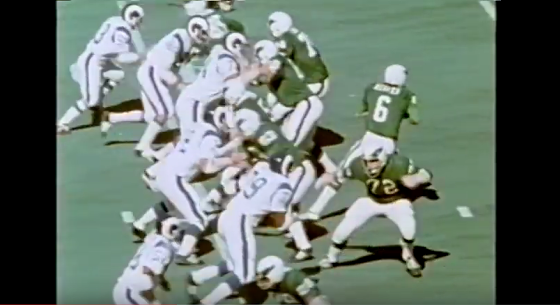 The Fearsome Foursome inveighs against The Philadelphia Eagles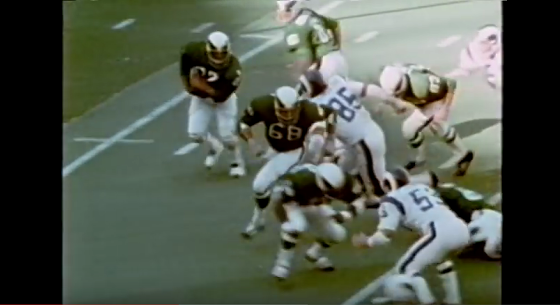 While Youngblood (85) was my favorite on Defense…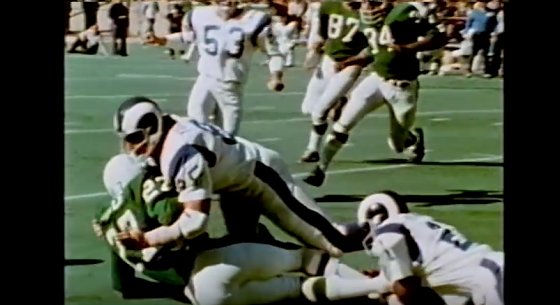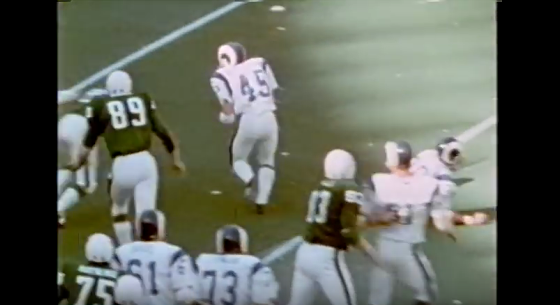 Jim Bertelsen (45) was my favorite on offense..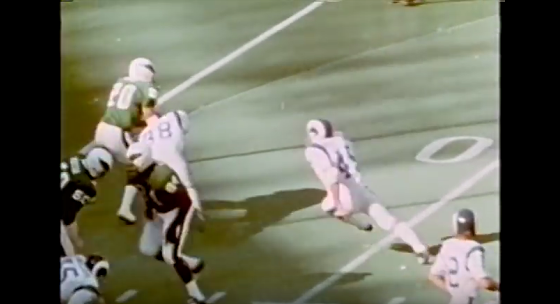 Jim Bertelsen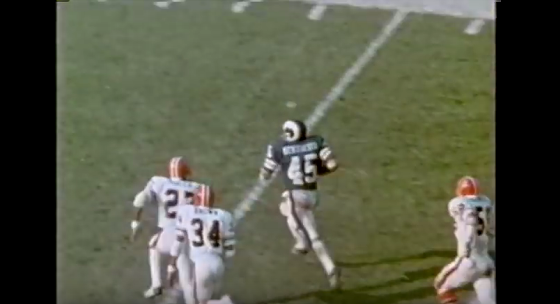 Jim Bertelsen bolting past Atlanta Falcon defenders.
Now let's step away from the Pattern, the Relationships and come back to the Episode and the Kermit Alexnder Moment…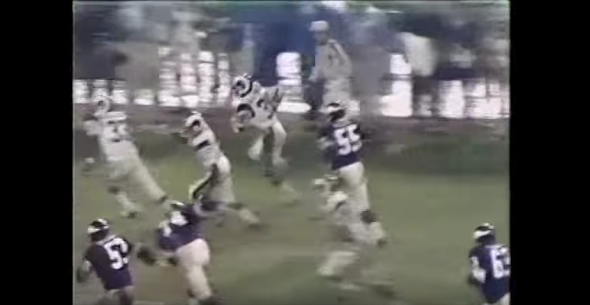 The Moment in 1970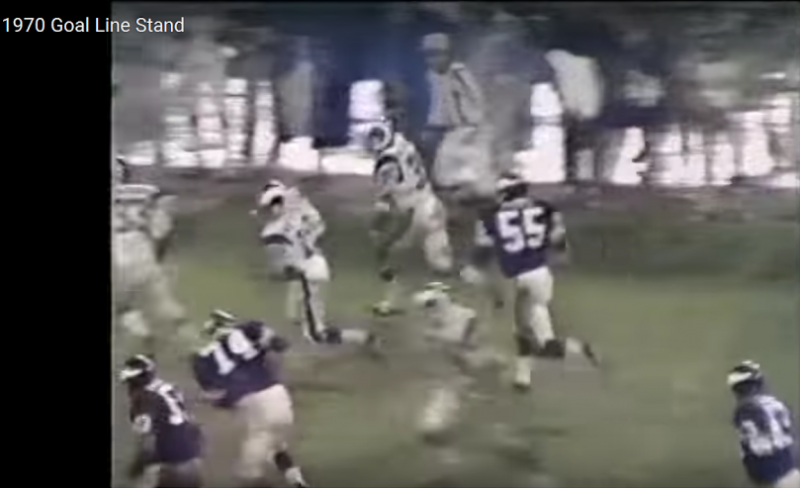 The Episode in 1970 - actually two episodes in succession: punt return; and then goal line stand.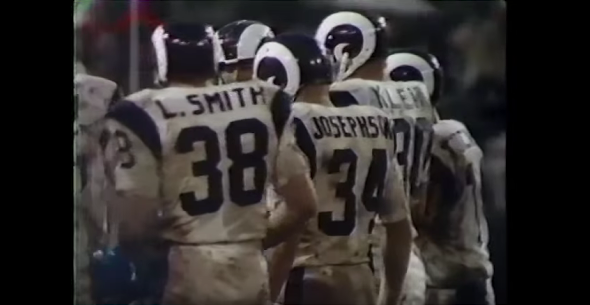 Goal line stand episode begins with the Rams in huddle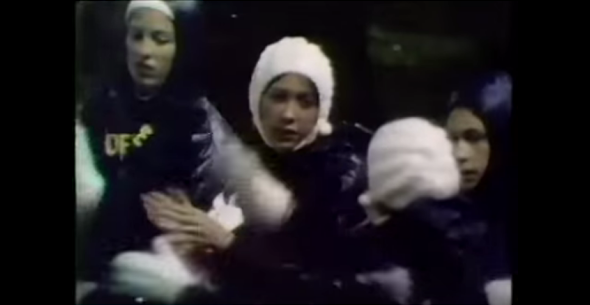 Sportsfanship in that Episode..(they look like girls sent by mom to church choir practice).
..and see how the Relationships and Patterns of White objectivism unfolded, especially in (((context)))...
The legacy of sportsfanship (the costume fan images come from this site):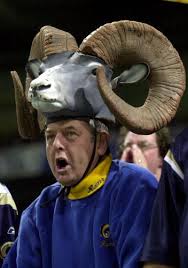 Rams fan on a Relational level now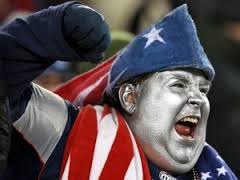 Patriots Fan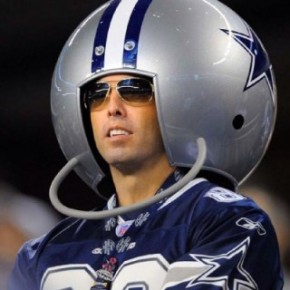 Cowboys fan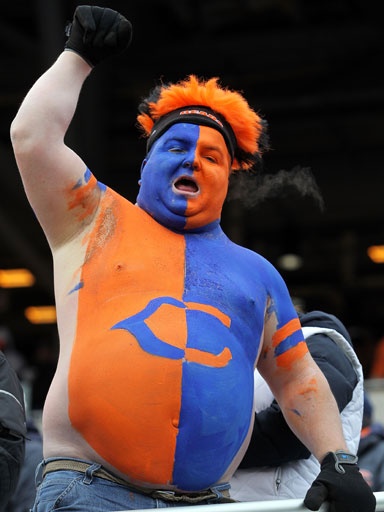 Bears fan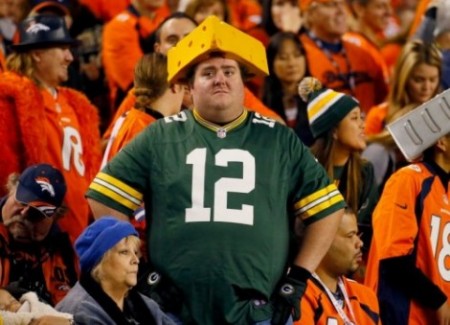 Packers fan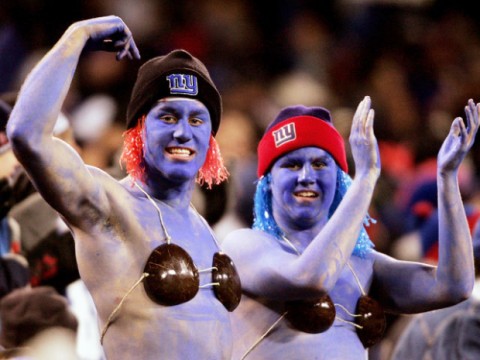 Giants fans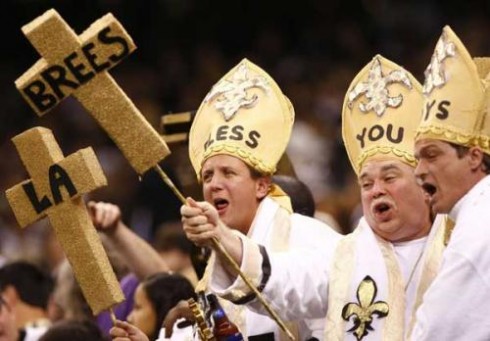 Saints fans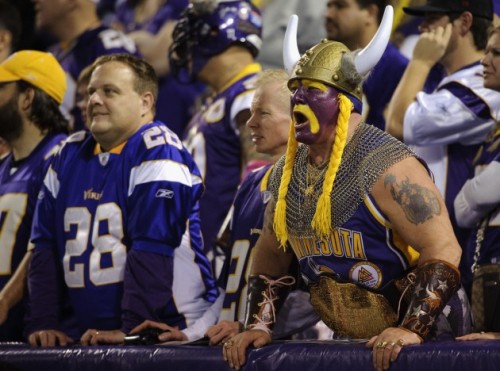 Vikings fans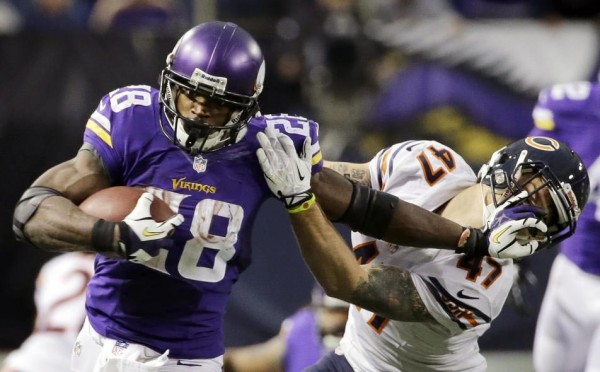 Adrian Peterson, #28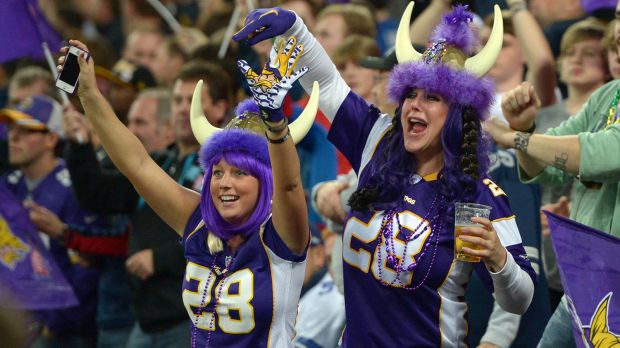 Viking fans of number 28, on a particular Relational level, now.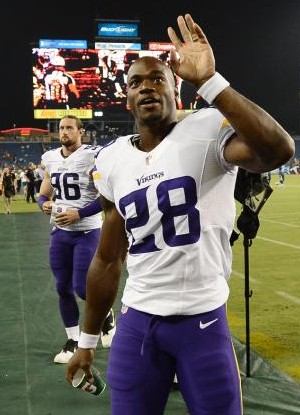 The thrill of victory

Adrian Peterson: Typical black behavior.
Peterson is also the father of Ashley Doohen's murdered mudlet.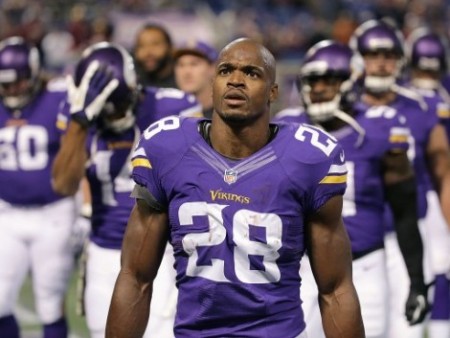 The dindo of defeat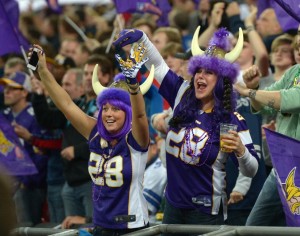 Vikings fans of number 28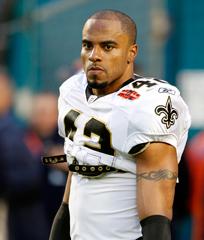 Darren Sharper: Typical black behavior

Babes remain babes - visual appeal not dependent upon sports.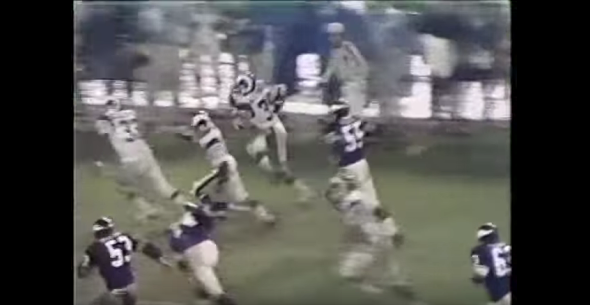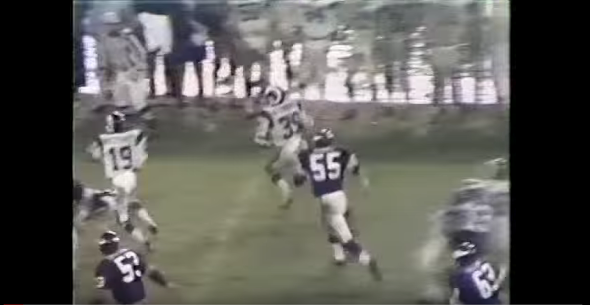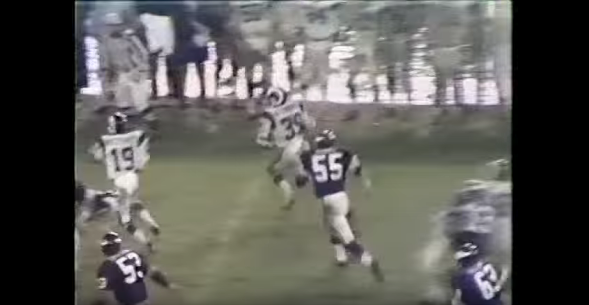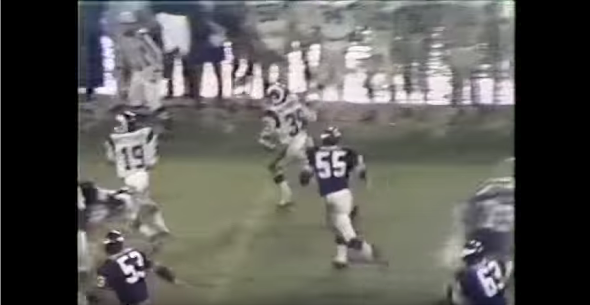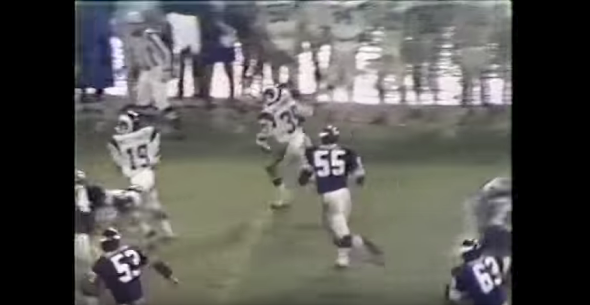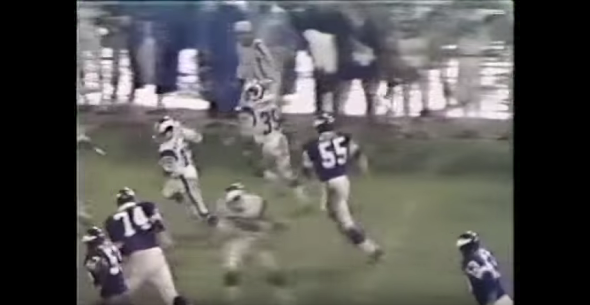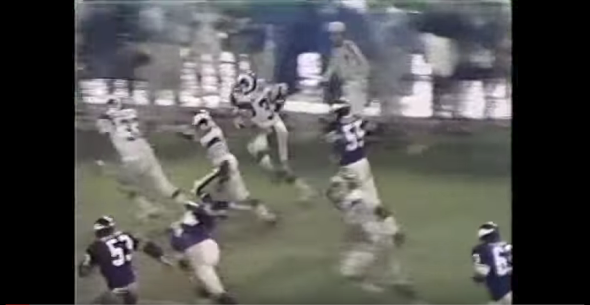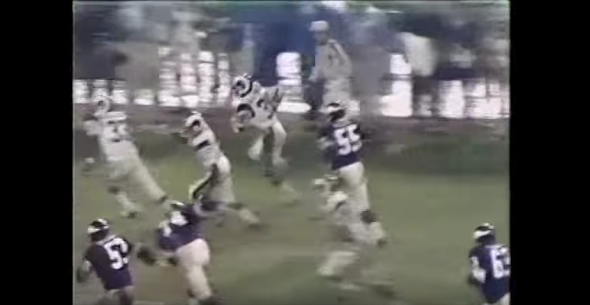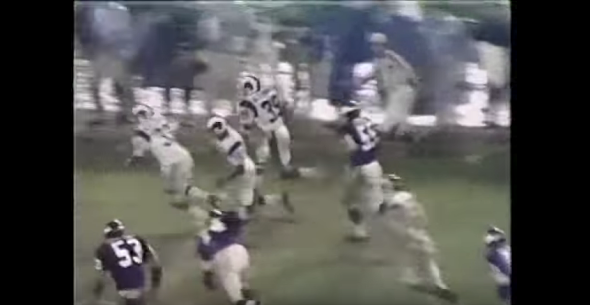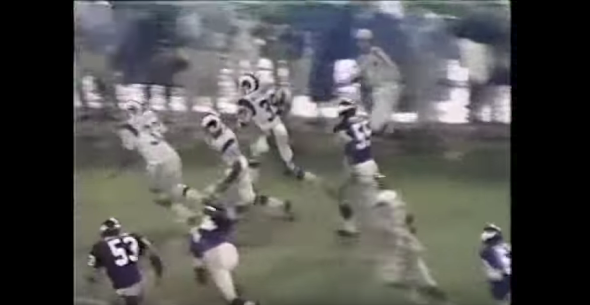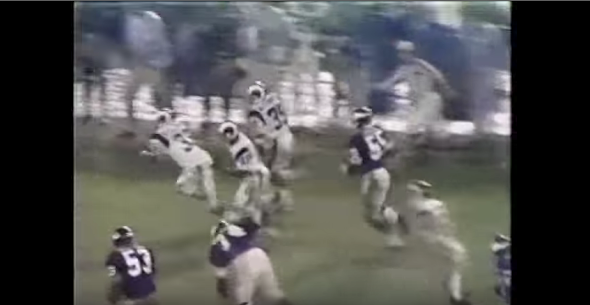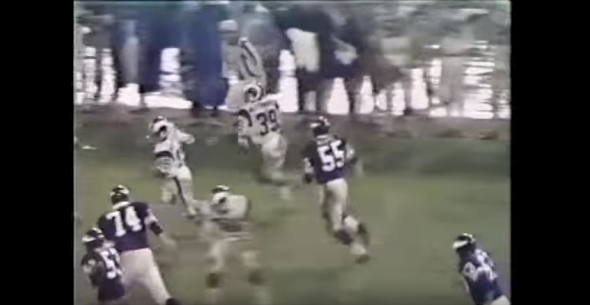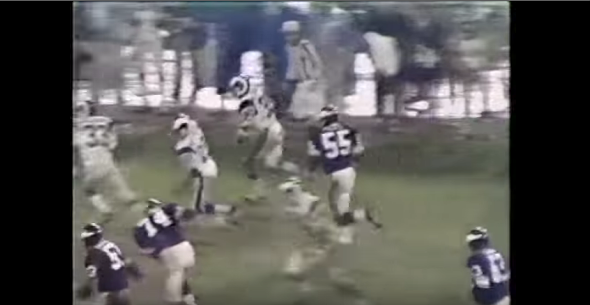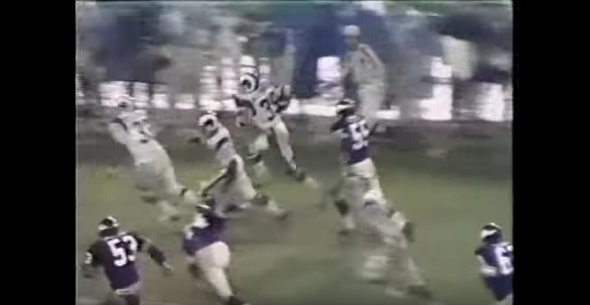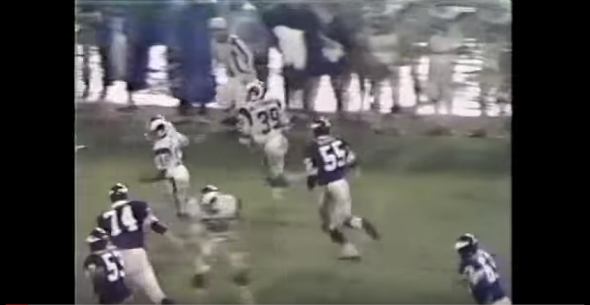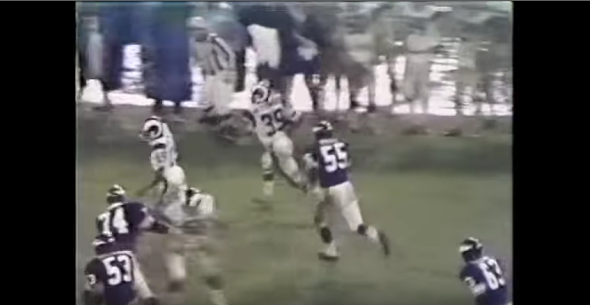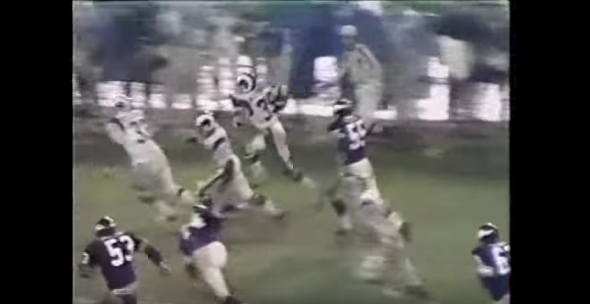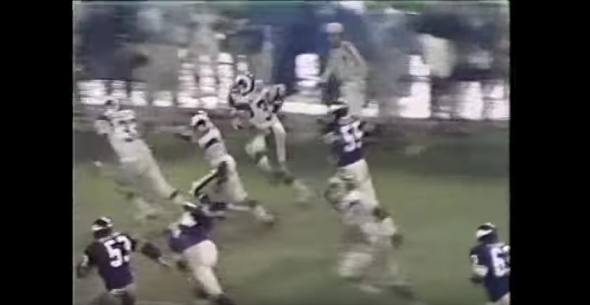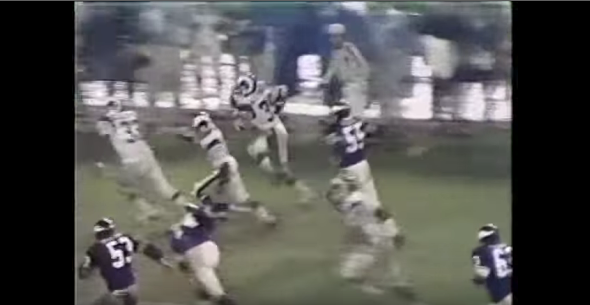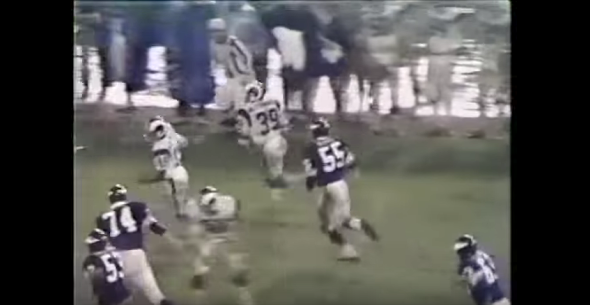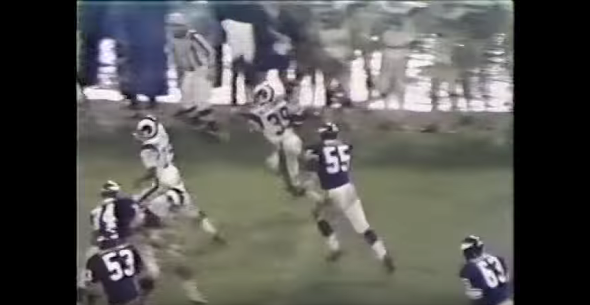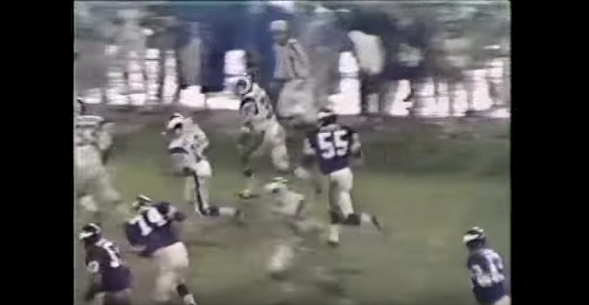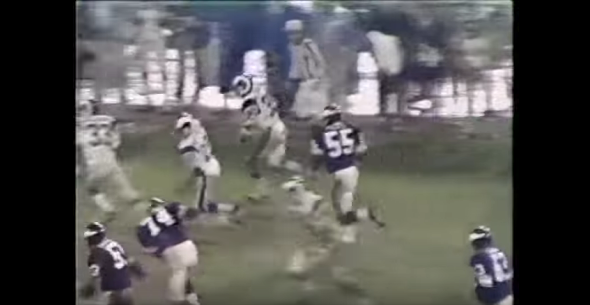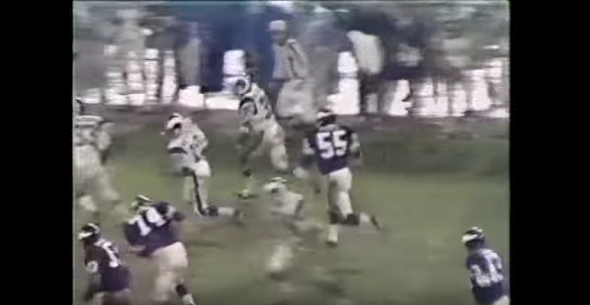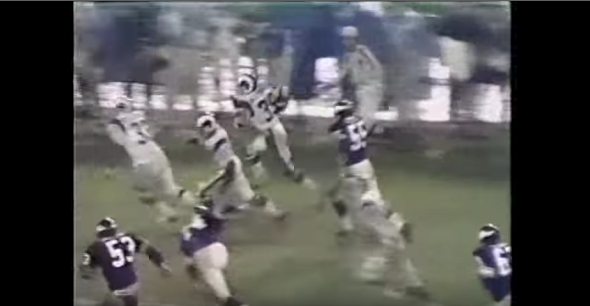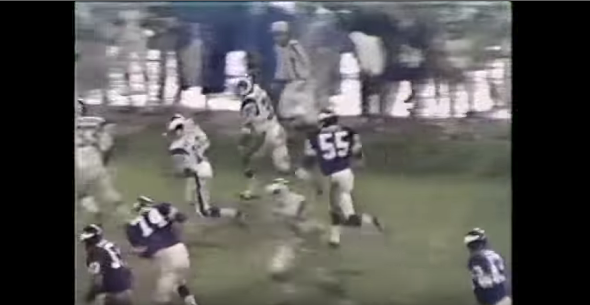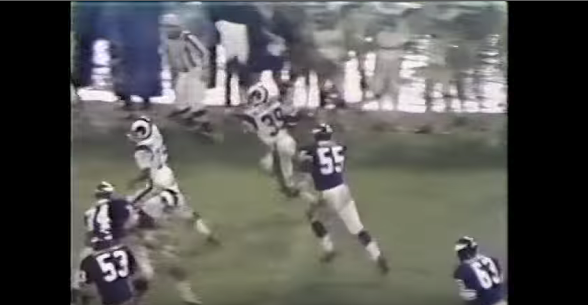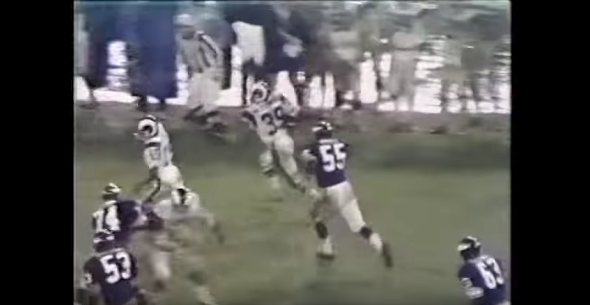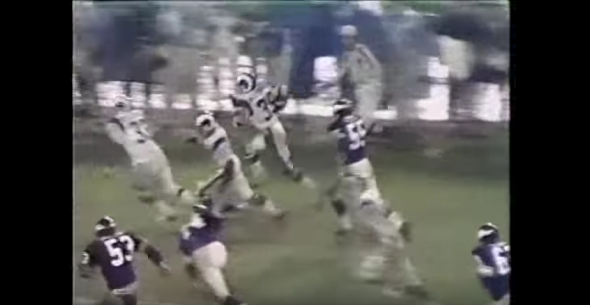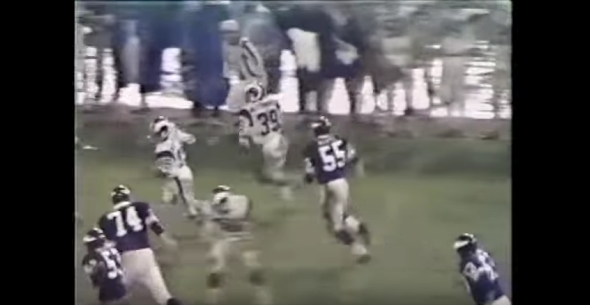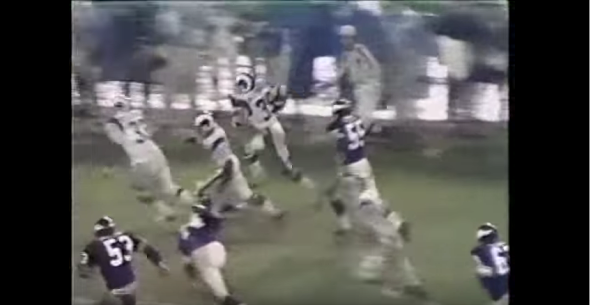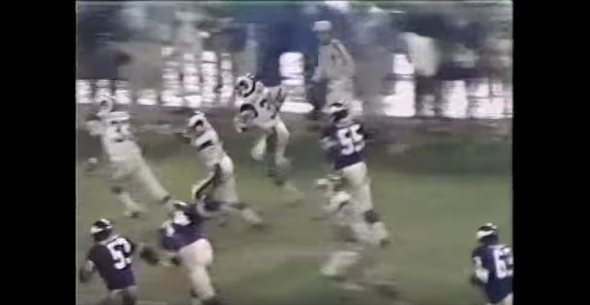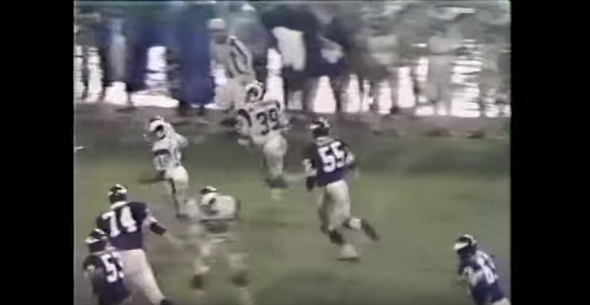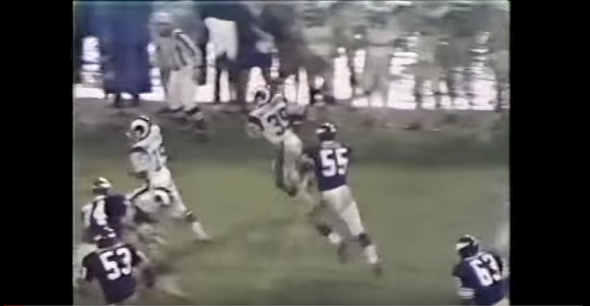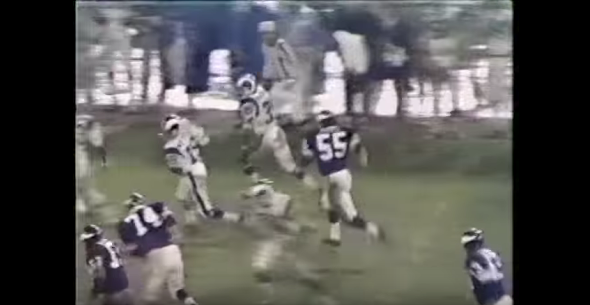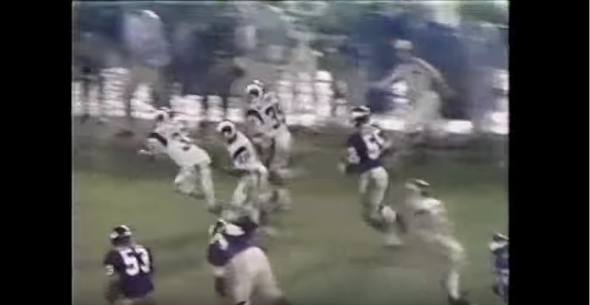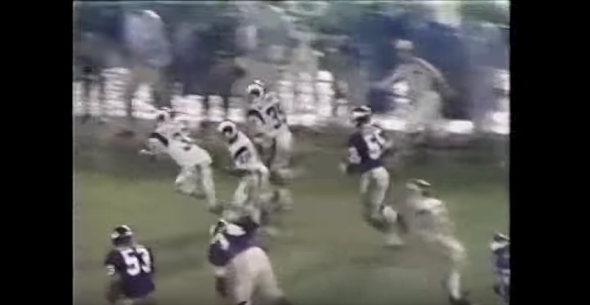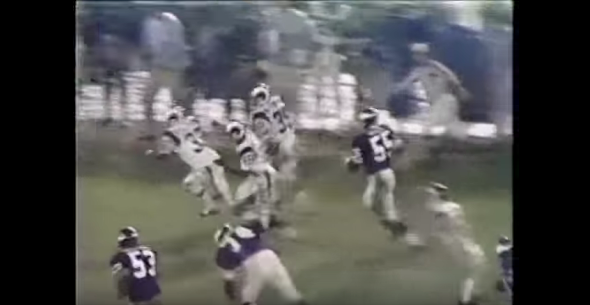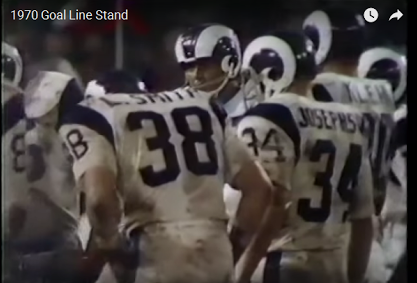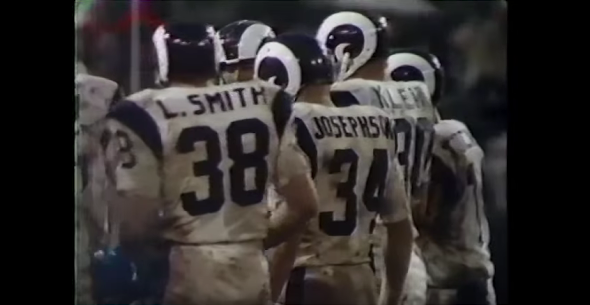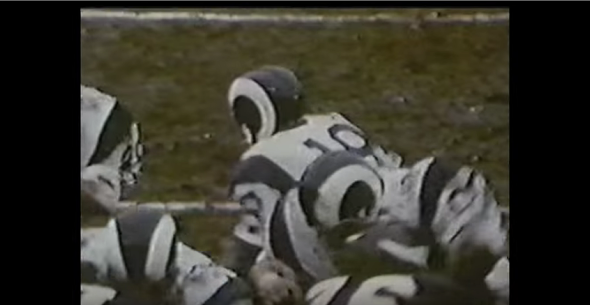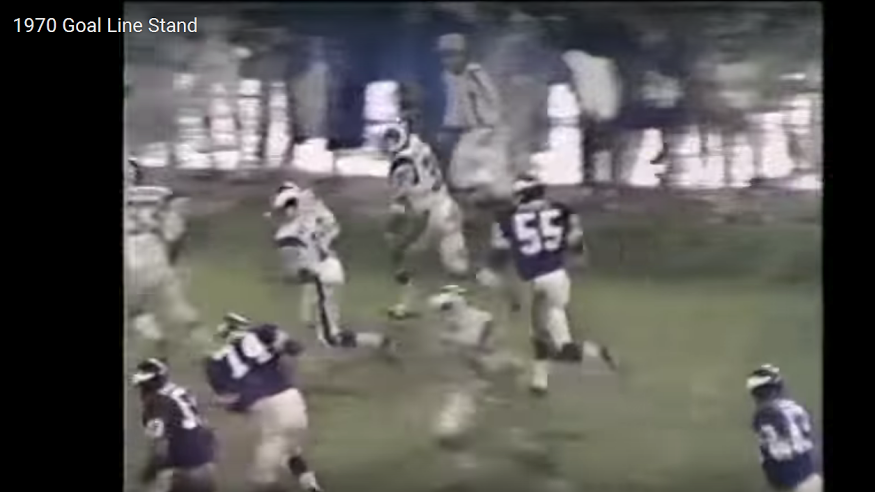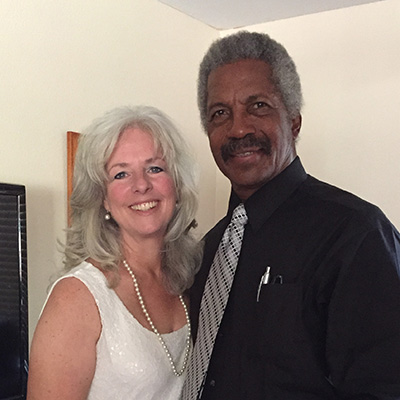 Kermit and his obsequious, White, fundamentalist Christian wife, Tammy Alexander…
...adopt 5 Haitians:

Helpful Hearts: Local Football Hero Kermit Alexander and wife adopt 5 (Haitians), 1 Nov 2015:

Local Football Hero Kermit Alexander and wife adopt 5.

Kermit Alexander was an All-American football player for the Bruins in the early 1960s. He went on to play 11 seasons in the NFL – some would say that he led a life most people only dreamed about. But one dark day, a tragic storm hit Kermit's entire core. In the early morning hours on August 31, 1984, a young man, who had played on a Pop Warner Football team Kermit founded in the Watts area of South Los Angeles, joined a gang and set out to ignite gunfire on an unexpected household. He had been hired to eliminate a lawsuit. Unfortunately, this young man and his fellow gang members entered the wrong home, and for Kermit, this meant the loss of his mother, sister, and two nephews. His life was shattered, and all hope was lost.

Unable to protect his family on that tragic morning, Kermit dragged around a suitcase of guilt for months. He could not grasp the truth that these unfair events were completely out of his control and insisted on carrying the blame. Suffocated by shame, he was lost and in need of a new way of living. Kermit soon found an oasis in his desert of life. Her name was Tami, and she was filled with light, laughter, and love. In 1992, the two immediately connected and spent the next seven years together. But something was missing: God. One night, as Tami took a course at Riverside Community College, she immediately felt something when the professor walked into the room. She knew he was a Christian and she wanted whatever he had. "He just radiated God," she explained to Kermit, "I think this is what has been missing in my life for a long time." In an effort to recruit Kermit, Tami encouraged him to attend Bible Studies and church. But he was resistant and frustrated, accusing Tami of changing the terms of their comfortable relationship. He didn't want to remarry and had no plans to do so. At first, Tami was devastated, yet she followed her heart and was filled with determination and faith.

Excited for a new purpose, Tami embarked on a journey in the summer of 2003. She was invited by a local radio station to go to Haiti and serve on a Humanitarian Mission. Soon after she arrived, Tami met a precious little boy with the cutest dimples and sweetest brown eyes. His name was Clifton, and they had an instant connection. Eventually, he began calling her "mamma," and a relationship grew as they spent quality time together during her visit at Mission of Hope, Port au Prince.

Meanwhile, feeling like a vagabond, Kermit moved to Oklahoma with only a mustard seed of faith left in his pocket. It had been almost three years since he and Tami went their separate ways, and he was anxious to connect with her again. This sliver of hope was all he needed to make the decision to return to California, vowing that everything would be different. "Life without purpose is not a life at all," he constantly told himself.

Kermit asked Tami to marry him soon after they reconnected. To his dismay, she declined. "When Kermit asked me to marry him I said, 'no', and he thought I'd just flipped," Tami expressed when reminiscing about the first proposal. Kermit could not fathom how Tami would refuse after she'd waited over 13 years for him to utter this committed question! "What in the world is wrong with you?" he exclaimed in disbelief. To his surprise, Tami calmly revealed her reasoning, "I met a little boy in Haiti. Let me make a deal with you." She explained, "Let me take you to Haiti, and if this is what you think God would want you to do, and what you want in your life, then ask again. And if it's not, then fine, I'm okay with that." Kermit took a leap of faith and embarked on this extraordinary voyage.

They arrived to Haiti in September, and his love and faith grew instantly. By October, Kermit asked Tami to be his wife once again and made a pledge to be a part of whatever was happening in Haiti. They started the adoption of Clifton before they discovered a surprise that expanded their faith forever: Clifton had siblings. Not just one or two more, but four: two sisters and two brothers who were living in an orphanage nearby. One day, as Tami and Kermit visited the orphanage, Jameson, Clifton's older brother, asked Tami for a photo of Clifton. When Tami asked why, he replied with sadness, "Because you're going to take him to America and I'm never going see him again." Tami's heart melted and tears welled up in her eyes. Turning to Kermit for answers, he replied with faith and wisdom, "Then we take them all."

The courageous couple worked together for years to officiate the adoption of Clifton and his siblings. But on January 12, 2010, their world turned upside down. Tami was driving home in traffic when she heard death calling out on the radio. The news that Haiti just experienced a 7.0 earthquake blared out from her car speakers. The epicenter was at the heart of where her children lived. Port au Prince had been tumbled. The Haitian White House had been leveled. Suddenly, it became hard for her to breath. "I couldn't comprehend what I just heard," she remembers, "I panicked and wondered if our children were even alive." She immediately called Kermit and told him to turn on CNN, and as he watched the devastation across the screen, once again his life was flipped upside down. Feeling helpless and fearful, Tami and Kermit clung to their faith. After a short time, they were able to finally connect with a friend, who relayed long anticipated information that their children were alive and well.

The United States government expedited the adoption process due to the earthquake, and two weeks later, Tami and Kermit flew to Florida to bring their children home. Manoucheka, Jameson, Clifton, Zachary, and Semfia are now safe and surrounded with love. But this was only the beginning for the Alexander Family.