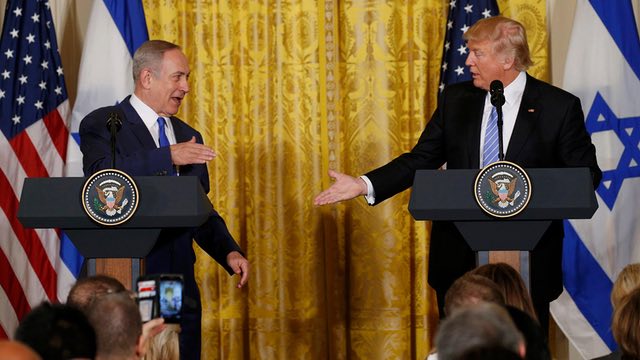 Joint press conference
In a move that surprised no one other than the denizens of the American Alt-Right, Donald Trump has just handed Benjamin Netanyahu a collection of the largest diplomatic prizes that any Prime Minister of Israel could ever hope to attain.
Donald Trump highlighted the prospects for a "great peace deal" in the Middle East while at a joint press conference, as both Israel and the United States are signalling a change in the relationship compared to that of the preceding US administration. Whereas previously relations were fraught with issues on which the two countries did not see eye to eye, Donald Trump is reorienting the United States toward a stance where there will be virtually no daylight between the two countries.
Handing over the keys
Donald Trump simply walked into the room and began systematically undoing four decades of US diplomacy, with a completely casual air of confidence.
Speaking cordially alongside Netanyahu, Trump announced that he does not actually care whether the 'solution' to the Israeli-Palestinian conflict should be centred around negotiations of a two-state solution, or whether it should be some other kind of solution, nor was he concerned about the structural content of the solution.
"I'm looking at two-state and one-state and I like the one that both parties like. I'm very happy with the one that both parties like," Trump said.
In a single sentence, Donald Trump had just given Israel the green light to proceed ahead on course with its plan for 'Greater Israel'.
Some may ask how that conclusion could be derived from the statement.
It's easy, Gaza and the West Bank have no real leverage at a negotiating table with Israel, other than that which other countries wield on its behalf. Israel is the occupying power which holds de facto control over 100% of Palestinian natural resources and all the investment banks. Additionally, the system of checkpoints used by Israel have the net economic effect of dis-integrating the Palestinian economy to the point that greater than 40% of Palestinian GDP is wasted on dealing with the effects of the security infrastructure which is in place.
Therefore, when Donald Trump says that he is going to 'be happy' with whatever deal the Israelis and Palestinians reach between themselves, he is essentially saying that the United States will no longer utilise its power to cajole or corral Israel into actually having to sit at the table with the Palestinian Authority in any substantive way.
Starting the engine
Trump seemed to forget that Palestine even needed to be part of the conversation, as Israelis and their concerns remained firmly centred throughout the joint press conference. Trump touched on all the issues that were strategically important to Israel, the issue of Iran, anti-Zionist messaging in the Palestinian school system, and the Israeli desire to get Palestinians to acknowledge and recognise Israel as a 'legitimate Jewish state'.
The United States also stopped being part of the conversation, effectively. Having cleared the United States of any actual obligation to do anything, and having alleviated the United States of having any part in the process, Trump was essentially indicating that the role of the United States would now be reduced to that of letting whatever happens, happen.
Driving away after a small caution
As Trump continued to basically give Israel everything it wanted, Benjamin Netanyahu began actually physically vibrating with pleasure at what he was hearing. The United States would no longer even play the limited role that it had been playing as a supposed peace-broker anymore. That responsibility has now passed into the hands of Netanyahu.
Much has been made in some quarters of the fact that Trump chose to say to Netanyahu, "I'd like to see you pull back on settlements for a little bit."
Netanyahu absolutely did not care about being told that. Minutes later, Netanyahu dismissed the caution entirely by saying that settlements are "not the core of the conflict", and that they would talk to each other more about it so as not to keep "bumping into each other." He then made no commitment to halt the construction of settlements.
So Netanyahu accepted what was basically a small caution for him to hold back on building settlements for a little while, presumably because it was starting to look too brazen in the news cycle, a caution which he is free to ignore if he likes. In exchange he got Donald Trump to drag forty years of US diplomacy into the recycle bin.
'Compromise'
During the joint press conference, Trump said that there would need to be "compromise from both sides." There was no mention of precisely what that 'compromise' would look like, but I think that we just saw what it looks like. We saw it on live international television.
Basically, Netanyahu will agree to let Trump gently needle him on his state's violations of the Fourth Geneva Convention of 1949, and in exchange, Netanyahu will continue to violate that very same convention while shaping the circumstances under which Israeli-Palestinian 'peace negotiations' will take place. The United States will simply let that happen. The United States will also at the same time completely adopt the foreign policy preferences of Israel with regards to Iran, and help Israeli commanders to achieve their objectives absolutely for free.
That's the 'compromise'.
It's unprecedented, because prior to this moment no American president – not even Ronald Reagan – had budged on the basic commitment to the two-state solution, nor had any US president prior to Donald Trump entered into a dialogue with Israel in which the opening salvo of the diplomatic exchange was to constrain America's role to that of a mere cheerleader on the sidelines. Donald Trump reversed both of those things in less than half an hour.
'Strategic Cucking'
Over at the Daily Stormer, Andrew Anglin non-ironically and non-sarcastically described the aforementioned 'compromise' in which Netanyahu gets 100% of what he wants, this way:
Daily Stormer / Andrew Anglin, 'Trump Prods Bibi on Palestine Settlements', 15 Feb 2017:

[...]

Very minimal cucking there.

And the cucking there was was strategic cucking.

[...]
Seriously. What the fuck.
What the actual fuck.
Related Articles: