Zog mouthpiece Trump recognizes Jerusalem as Israel's capital among litany of consolidating affronts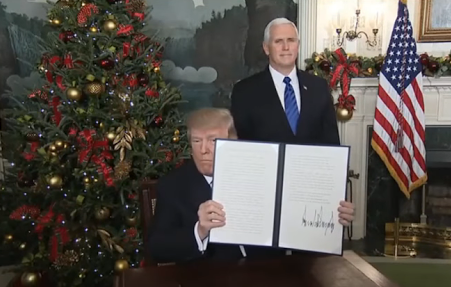 Trump signs recognition of Jerusalem as Israel's capital.
In a speech that Benjamin Netanyahu actually oversaw in drafting, Trump announced that the US will officially recognize Jerusalem as Israel's capital.
This will please nobody but Israel, some right wing YKW and some bible thumping rapture bunnies from America's Jesus belt.
At the same time it has played into the "crusader" rhetoric of ISIL and other Islamic fundamentalists, as inspiration for more terror.
Further, having firmly taken the side of Israel has neutered The US as a negotiator in the region; while defacto yielding greater influence of negotiation in the region to Putin, as he gains in appearance of neutrality (he isn't neutral; he's in Israel's pocket as well) and increases The Russian Federation's bargaining position in the Middle East.
That is just the start.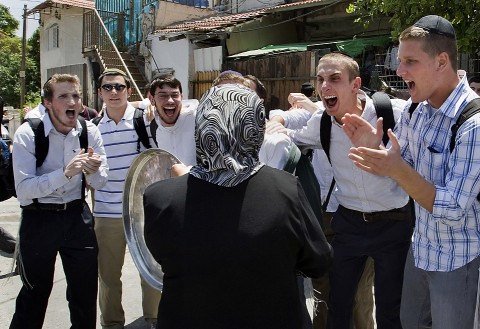 The most fundamental plank of Trump's candidacy was to undo the Iran deal. A move that is good for nobody, but because Israel wants it, a motion which has been key to facilitating Trump's presidency.
The Iran deal had paved the way for well considered, slow, steady liberalization of Iran that would allow other nations linked though the Silk Road to benefit with them through trade; while its undoing will increase fundamentalist Islamic reaction; combined with radicalization and destabilization of its regime, perhaps the resumption of Iran's nuclear program and an increasing risk of world cataclysmic war - world war III.
The announcement of ZOG's further consolidation - Jerusalem recognized as capital of Israel - comes, of course, after Trump and Kushner have armed Saudi to the umpteenth degree and endorsed its consolidating of Zion complicit power aimed in alignment with Israel against Iran.
Kushner Is Leaving Tillerson in the Dark on Middle East Talks.
All because ZOG wants that. And make no mistake, again, the Russian Federation is ZOG as well; it's imperialist, parasitic oil business would be one of the few beneficiaries from a war with Iran.
"Israeli Defense Minister: 'I Prefer ISIS to Iran on Our Borders"
Jewish wars have already cost the lives of so many Americans, Europeans and our allies; not to mention being a waste of our economic and military resource - the military budget has devastated the American economy.
This affront comes with a litany of moves by the Trump administration to consolidate ZOG's grip at the expense of others.
Israel, already the recipient of some 10million dollars a day in foreign aid (according to former President Carter) has only had its aid increased; while Trump's new tax bill cuts taxes for the wealthiest Americans, which would include, of course, disproportionate benefit to the YKW among right wing cohorts. At the same time the bill increases tax on those making less than 75k; and because the bill (naturally) still leaves a tremendous deficit, ZOG takes aim at cutting Social Security and Medicaid - note that White Americans are an older demographic.
Meanwhile: Americans do not pay into Social Security beyond yearly earnings of $127,500. Why not?
The list of horrific ZOG effrontery goes on:
- For Jews, Supporting Trump is a Moral Imperative.
- Donald Trump gives Benjamin Netanyahu everything he wants.
Posted by Kumiko Oumae on Thursday, 16 February 2017.
- Trump and his cyber 'czar' Giuliani want to outsource US cybersecurity. Can you guess where-to?
Posted by Kumiko Oumae on Saturday, 14 January 2017.
- Only The US Remains in Support, Israel's Illegal Settlements Rest on the Alt-Right's Trump
Posted by DanielS on Monday, 26 December 2016.
- Is Donald Trump playing 181 dimensional underwater jenga-chess? (Hint: No.)
Posted by Kumiko Oumae on Monday, 05 December 2016.
- Russian Foreign Ministry Spokeswoman: Trump Won Thanks To 'The Jews'
Posted by DanielS on Monday, 21 November 2016.
- Alt-Right or Alt-Lite? It's worse than you think.
Posted by Kumiko Oumae on Friday, 18 November 2016.
The Alt-Right is a trendy facade that Paul Gottfried placed atop Frank Meyer's paleoconservatism, a rightist fig leaf to mask, control and direct a myriad of right wing reactionaries; to go against any upstart left ethnonationalism that might awaken and respond as the YKW and right wing sell-outs have consolidated power upon the 2008 US real estate bust.
- We Told You So: Trump Panders to Israel - among his pandering at AIPAC, Trump promised that Jerusalem would become the capital of Israel.

The litany of ZOG effrontery goes on, our readers might care to note…