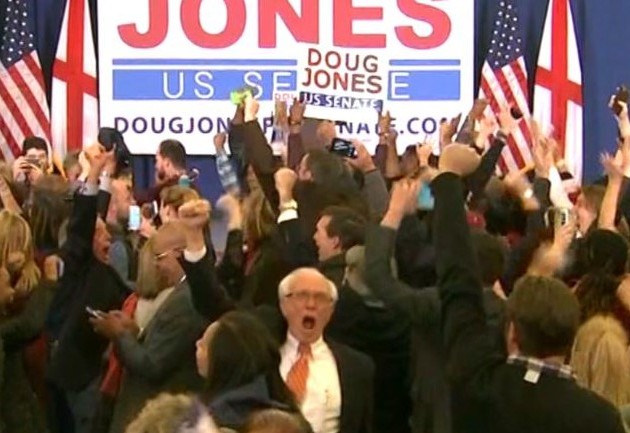 Doug Jones headquarters upon announcement of surprising upset victory over Roy Moore in Alabama Senatorial race.
Objectivist vs collectivist opposition as diagrammed (or, rather, diagramable) through the episodic background of the Republican Roy Moore vs Democrat Doug Jones Senatorial vote.
Republicans, particularly of Alabama -
Rule: Prohibited to be collectivist, that would not accord with the American Constitution, its objectivist basis of fair play based on pure, objectively assessed individual merit. Further, that would be "racist" according to 1964 Civil Rights Consent Decrees, particularly if White men act in discriminatory relative, collective interest.
Rule: Obligated to defend American Constitutional objectivism and its civil rights.
Rule: Legitimate to defend one's (White) people and the moral order that would provide for their homeostasis by implicit means of the Constitution's provision for freedom of religion; if White people so happen to arrive at the same opinion through pure objective fate of nature and the grace of god.
YKW, Obligatory to take and maintain hegemonic control through seven power niches -
academics, religion, money, law & courts, media, business, politics:
Rule: Now that that hegemony has been achieved (approximately following 2008 collapse) keep that hegemony by orchestrating public opinion against "leftism", i.e., prohibit and block the collective unionization of goyim against Jewish and complicit right wing hegemony.
Rule: Obligatatory to orchestrate Zionism vs goyim collective antagonism through a casuistry of service to Jewish interests given the circumstance - in the latest turn, orchestrate support of Republican Trumpist Zionism with "objective" American constitutionalism and evangelicals to serve right wing Jewry, its Zionism.
This was done with dog whistles to implicit Whiteness against PC through the got-up paleoconservatism of Alt-Right/light.
Rule: Left internationalist Jews Obligated to deflect attention away from Jewish culpability and to destroy White leftism through promotion of Democratic panmixia with focus on perfidy of shabbos goyim front men, Trump, Bannon and Roy Moore - orchestrate defeat of Roy Moore.
Critic of Trump's Zionist flunky-ism objects - but this is "illogical", Trump does not yet have his coat tails to follow through on Iranian war; coordination with Russian, Jewish, Muslim and African hegemony against global balancing with Asia.
Rule: Jews are not obligated to act in accordance with modernist binary "STEM" logic, but rather with post modern casuistry, leveraging forth a phronesis, a judgment through practical feel for the best argument in their interests given the circumstance. This can seem contradictory in short term perspective, but they are playing a long game.
The YKW might offer up scapegoats who are not serving their image very well anyway - where not an aging Soros as the arch liberal, then an ageing Harvey Weinstein - Weinstein as a catalyst to set forth a media firestorm of kindred accusations of sexual harassment allegations against men in power; that, in order to divert attention from Jewish power and matters of racial interests, and instead into issues of gender dispute; in order to serve the ulterior motive of attacking White men in power, so that Whites cannot collectivize, as their female co-evolutionaries (whom their interests depend upon) as well as non-Whites are empowered to collectivize particularly against the naively/disingenuously reactionary right wing White men (reaction as they are prone in their more circumspect k selective system and Augustinian nature).

Republicans, particularly of Alabama -
Rule: Obligated to defend the purity of our threatened morality and meritocracy through the grace of forgiveness of a Christian representative - Roy Moore - even though he is a sinner, like us all.
YKW, Obligatory to take and maintain hegemonic control through seven power niches -
academics, politics, money, law & courts, media, business, religion:
Republicans, particularly of Alabama -
Rule: Obligatory to maintain our moral order through god's salvation of Jewish supplied Judeo-Christianity.
Rule: and the Jewish supplied central rule, the Golden Rule of altruism, prohibits us to hate those who transgress us. Self interest, let alone collective interest, is literally unthinkable.
Because of this self contradictory rule structure (non-unanimity, as it were), a logical working out of White social interests is prohibited (e.g., as might otherwise be possible by establishing relative and subjectively interested boundaries along with an option for sex and monogamy as sacrament) and pure objectivism of universal, individualistic Darwinist competition gains hegemony: creates anxiety in a Roy Moore, that not only will it become more difficult for him to find a virgin wife - and therefore maintain justice for his people by means of control variables to his systemic EGI against importunate episodic competition (particularly in largely black Alabama, and given that blacks are more evolved for episodic evaluation of K selection - a selection style propped up by the Democratic welfare state) among older women, but that he is obligated to assimilate objectivist competition and threat to his EGI by "politicking" (harassing) a number of girls before settling on one.
YKW, take and maintain hegemonic control through seven power niches:
academics, religion, money, law & courts, politics, business, media:
Call in (((Bill Mahr's))) Vice News and CNN to put a didactic frame around Moore and his voters, around Roy Moore's sexual harassment of young girls and his general stupidity - Moore spokesman proclaims that both Moore and Trump swore on the bible (Rule: Moore and Trump are ultimately obligated to the bible; they are obligated to the US Constitution, not the bible). Jake Tapper of CNN points-this-out to the Moore spokesman, viz., that with swearing-in, the bible is optional. Tapper questions Moore spokesman further on his stance against gays and abortion, which are impractical to the point of absurdity, but "legitimate" to altercast for right wing reactionaries, as they have "support" in Abrahamic biblical literalism (while conveniently being losing positions in American electoral politics for the YKW to highlight).
Republicans, particularly of Alabama -
Rule: Obligatory - as Christians, we must forgive Roy Moore's transgressions; and blacks who don't vote for him are "stupid" for not following his propositional objectivist meritocracy.
Against all predictions, Roy Moore winds up losing the election to Doug Jones. This does not represent a revolutionary rebellion by Africans in overthrowing the system - they always vote Democrat. Furthermore, observe the American patriotism that is sincerely espoused by Doug Jones; along with his quoting, upon victory celebration, of the enforcement wing's patron saint, Martin Luther King. That is to say, for those who don't like America's liberal influence domestically or abroad, this election won't help, ultimately. It will only solidify America's Jewish/liberal hegemony. Given Roy Moore's loss…
Stormfront's "Jay": Giggles nervously, as always, purity spirals by promoting the lie of Hitler's purely objective motives, his epistemic blunder as an alternative narrative recourse, since Republican objectivist politicking doesn't work against the Jewish Republican / Democrat yin-yang.
Stormfront's Father Francis solemnly concedes: "that may be the only way", as he too laments Moore's loss: Obligatory, show that he is not a racist against blacks, say that his black friend, "brother Carl", understands. He understands "like the rest of us Alt-Righters" that immigration is going to take jobs and neighborhoods away from blacks. Its a shame that these other blacks can't understand, like brother Carl, that its the Jews that are their enemy, not us right wingers.
Critic of Trump's Zionist flunky-ism - blacks didn't fall for it! They came out and voted democrat! Wise to (((White people))), they went against those who want to put across Trump's Zionist aims abroad and White hubris domestically.
Man who oversees how the YKW control both Democrats and Republicans, answers Critic of Trump's Zionist flunky-ism: Not only have the right wing YKW gone far through Trump in consolidating their Zionist position, and not only are the YKW well positioned with America and nations surrounding Iran to go against Iran in a longer game of "operation clean break" if necessary, but they have gone far enough in promoting right wing reactionaries among the goyim so that they can now turn to the Left-internationalist Jews interests to promote liberalism among the goyim, by parading the perfidy of these right wing goyim reactionaries and promoting the welfare of the liberal system's enforcers - African Americans.
African Americans are not afraid of losing their jobs. They are concerned that welfare and other valuable resource continues to flow to them. Those who do not find welfare to be enough and cannot advance themselves though some form of entertainment celebrity (e.g. sports) can still have a well paying government job if they do not opt for selling drugs or some other degenerate activity on the side.
Hence, African Americans are not revolutionaries, they are enforcers of the liberal American system, as the liberal American system serves them. While the YKW hold sway over the Republican party dog whistling to Whites to mislead them into blind objectivism with false promises, its foreign and domestic didacticisim (reactionism), they also exercise sway, a bit more so, even, over the Democratic party and its didacticism (panmixia for the goyim).
Again, blacks voting Democrat and asserting their interests does not represent a revolutionary act by them in overthrow of the system - observe the American patriotism sincerely espoused by Doug Jones and his quoting of its enforcement wing's patron saint, Martin Luther King. That is to say, for those who don't like America's neo-liberal influence domestically or abroad, this won't help, ultimately. It will only solidify America's Jewish/liberal hegemony.
That blacks will vote Democrat and in their own interests is no surprise - at all.
They are not worried about "their jobs being taken away"...
They are worried about their goverment handouts and tribute being taken away; and not very worried about that, as they will, in their hyper-assertiveness, just riot, burn and loot if they feel tribute is insufficient.
That is why they are not revolutionaries, because the liberal modernist system serves and placates them as its enforcers; while running roughshod, this impervious linear modernity breaks down the more circumspect patterns of Whites, smashes whatever would-be post modern ethnonational reconstruction they might achieve through left revolutionary unionization, stigmatizing it, punishing it, ostracizing it - liberal modernist enforcement renders Whites individually subordinate - sell-outs or techno-slaves - where it does not break them completely, to uphold the atavism of black episodic performance.
Black women are content to have babies with black men and to be single mothers on some form of goverment sinecure, whether welfare or a government job. The black men can go off and have babies with other women, not infrequently White women, as well. This tribute offered, they are enforcers of the liberal system. Riot, burn and loot where crossed.
Yes, Jews are orchestrating both sides.
Republicans (Zionist, objectivists, reactionaries) and Democrats (international liberals, "left" and cultural Marxists).
To say that they are contradicting themselves is to misunderstand their modus operandii - it is to use "too much logic."
Answering the question of "is it good for Jews?" requires more a post modern feel of praxis and its manipulation through opportunistic casuistry than it does depend upon perfectly linear and binary coherence - they're doing post modernity as it would be used in group interest for themselves only (a negotiation of the best of inheritance, tradition and modernity for themselves). With that, in asking the question, "is it good for Jews?", are they going to get behind and stay behind Trump and the Republicans to the end now that they have made Zionist gains? - no, not necessarily. Where "the bad Jews" are exposed as their naughty right wingers, they will become honorary White individuals, while the bad Whites, the sell-outs, ironically, will be portrayed as characteristic of Whites in order to be poster boys to justify punishment for their group privilege. For the most part the Jews have what they want in Trump (foreign Zionism and domestic didacticism) and they have what they want in the democrats - universalized leftism.
A necessary corrective to overcome the massive contextual force of 2,000 years of Abrahamic hegemony intertwined with the hyper relativism caused by Western tradition's culmination of modernity's "pure objectivism" will be White Post Modernity and White Left ethno-nationalism - i.e., White collective unionization, held in place by the accountability afforded by acknowledgement of relative and subjective interests; by its hermeneutic, historical contiguity and accountable engagement as opposed to fickle, Cartesian empirical detachment; in the management of inclusionary and exclusionary rules based borders and boundaries; a management of EGI also held in place through a negotiated option of treating sex in a more celebratory manor or as a sacrament and/or concern for monogamy. This, borders and the additional rigors of celebration and careful selection will provide for the means of accountability to EGI, viz. a moral order that sustains human ecologies, including of European peoples, in a way that Christianity, its universalism and the golden rule does not.