For any weary reader who needs a little cheer in these dark times here is a video of a speech by Zsolt Bayer, the Hungarian journalist, publicist, author, co-founder of the ruling party Fidesz, and friend of Prime Minister Viktor Orbán. It was given in September to a meeting of patriots protesting the front cover of a Soros-funded magazine Magyar Narancs which pictured Orbán adorned with a Hitler moustache shaped in barbed wire.
The speech itself is perhaps three-quarters honest, which is a definite step up from Orbán's widely publicised and ritually deplored calls for the preservation of Christian culture and European "patterns of living". Among other things it reveals that influential figures in Hungary, including Orbán himself I understand, are
Tolkien fans!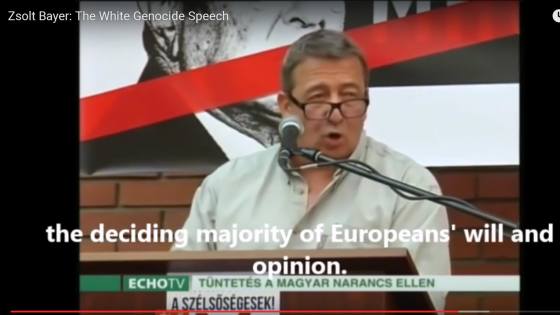 My thanks to Breitbart commenter Melissa Mészáros for the link. I might just add that Bayer's stirring rhetoric encouraged someone named David Peppiatt to seek out a Hungarian-American blog which specialises in being nasty about Orbán. The usual one-sided war on liberal nonsense ensued.