Majorityrights Central > Category: Intermarium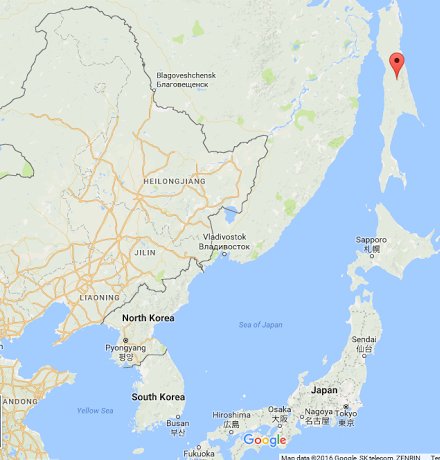 Trump appointed Putin cronie Tillerson, Secretery of State, to join in capture there,
Sakhalin
, of what would, should be Japan's natural and crucial resource
If Japan were in control of Sakhalin, an island to its north, and a logical extension of its homeland, its ethno-state, and if Japan and its closely related Asian relatives were in control of their native lands of Kamchatka and Eastern Siberia, not only would Japan and its Asian relatives be in rightful control of lands that are a natural part of their ethno-states; instead of these territories being of the vast imperial aggrandizement of The Russian Federation; but instead of The Russian Federation extending its practice of aggrandizement and parasitism of the resources of aggrandized territories, Japan would have the natural gas resource that goes with its rightful north island, which could largely solve immediate critical problems of its energy requirements - resources so urgently needed, alleviating options heretofore so limited by the territorial impingement, that it was forced to take extra risks with nuclear power precisely as it was deprived of traditional fossil fuel sources; but persevered in its characteristic self reliance to place the Fukushima nuclear reactor within its constrained and populated national territory despite that obviously being far from optimal. Disaster betrayed that pattern of self reliance while the imperialist parasitism of Putin's Russian Federation has been ramped-up with outrageous chutzpah, in alliance with Trump and Netanyahu - against Asian ethno-nationalism and its emerging alliances with European ethno-states.
Fortune, 'This Island Holds the Secret to Rex Tillerson and Vladimir Putin's Relationship', 14 Dec 2016:

If Vladimir Putin has a man crush on anyone in business, it's probably Rex Tillerson, the ExxonMobil chief executive Rex Tillerson Trump just nominated to head the State Department.
​
Aljazeera, 'New US state chief a perfect fit for Russia', 14 Dec 2016:

Friendship between Putin and Rex Tillerson dates back to 1990s when the Texas oilman established a US energy presence.
Fortune, 'This Island Holds the Secret to Rex Tillerson and Vladimir Putin's Relationship', 14 Dec 2016:

As to the reason why, all you need to do is look at Sakhalin, a windswept, earthquake-prone island off Russia's Pacific coast where temperatures can fluctuate 110 degrees throughout the year. It's this forbidding territory that Exxon (xom, -0.28%), under Tillerson, has turned into one of Russia's most lucrative oil provinces, affording Russia a crucial entry into the fast-growing oil markets of Asia, generating nearly $5 billion in tax dollars and other revenue for the government to date, and generally being, by Moscow's lights, a good corporate citizen.
Indeed, if Japan and its relatives native to the habitat of eastern Siberia were in control of territories reasonable for ethno-statism, as opposed to these territories being under the control of the Russian Federation's imperial aggrandizement, Japan and its close Asian relatives would have access to vital natural gas resources desperately needed, and could have/might still place any supplementary nuclear reactor projects in regions remote from human populations, essential habitat and tectonic fault lines.
From what I gather, The Russian Federation's economy is based on this unjust territorial aggrandizement, resource parasitism and its raw materials sales. This is in marked contrast to the strategy of the world's third largest economy—Japan—which builds its GNP through labor, manufacturing and technological innovation.
But it is not only Japan and natives of East Asia that the Jewy parasitism of The Russian Federation's aggrandizement impacts—it impacts all neighbors of its vast imperial overstep, an overstep of anything remotely like a Russian ethno-state. The Russian Federation and its forerunners have done so historically, it is doing so now, in a new Jewy alliance with Trump and Tillerson, and it will continue to do so, so long as the elephant in the room is not recognized: The Russian Federation is not an ethno-state!
It is an imperialist enterprise aligned against our necessary Asian ethno-nationalist allies. We need ethno-nationalist alliance with our Chinese, South Korean and Japanese counterparts against Islam and against Israel. The Trumpist alternative is the opposite, it is an objectivist, civic "nationalist" alliance of a Jewed-up USA, a Jewed-up Russia, Israel and whatever Muslim compradors they can enlist to suppress ethno-national rebellion against their imperial supremacism. Their ostensible solution to the problem of "radical Islam" is nothing more than the old "solution" phase, a "solution" for the reaction to a problem that they created.
The Intercept, 'Rex Tillerson's Exxon Mobil Frequently Sought State Department Assistance, New Documents Show', 17 Jan 2017:

A February 2009 cable published by Wikileaks shows Exxon Mobil asking then-U.S. Ambassador to Russia John Beyrle to intervene on its behalf and speak to the Russian government about its then-stalled offshore drilling project in a major oil and gas field to the east of Russia called Sakhalin.

"Exxon Mobil [officials] told the Ambassador on January 31 that GOR [Government of Russia] refusal to approve project budgets has halted development of new Sakhalin 1 fields," reads the cable. Kremlin officials, perhaps motivated by anti-American sentiment, were blocking approval of a budget needed to move forward with the project until a Russian entity took control of 51 percent of the deal.

Exxon Mobil officials hoped that the incoming Obama administration could persuade the Russians to change course on the project. The president of Exxon Mobil's Russian operation and its Sakhalin project manager "told the Ambassador they believed a warming of U.S.-Russian relations could help reverse the refusal to approve the Sakhalin 1 budget," and "asked the Ambassador for USG support in pressing the GOR to act on the matter."

In May 2009, the Sakhalin 1 consortium agreed to sell 20 percent of the gas extracted from the field to Russia's state-owned company Gazprom, and production continued.

Other cables released by Wikileaks suggest Exxon Mobil pushed for better U.S.-Russia relations to advance its business interests.

One 2007 cable noted that Russian-based executives of Exxon Mobil and other U.S. firms met with Under Secretary of State Reuben Jeffery III in Moscow and argued that "the best way to engage Russia and enhance global energy security is to focus on positive dialogue geared towards helping Russia improve its oil and gas investment climate." Russia, the oil firms noted, "is about to embark on a new era of oil and gas development in areas (East Siberia and Arctic regions) that cannot be exploited without Western technologies and expertise."

Tillerson's ties to Russia — which center around the joint venture he signed in 2011 as the CEO of Exxon Mobil with Russian state-owned company Rosneft to drill for oil on the Arctic shelf — have been a source of controversy. After the signing, Tillerson was presented with an "Order of Friendship" award from Russian President Vladimir Putin.

Viewing the source behind the web archive from 2014 reveals something amazing.
This article is Part 1 of an ongoing series about the TRS scandal.
See also: Part 2.
Order of Battle
As you all are aware, Mike Enoch, now revealed to be actually Michael 'Enoch' Peinovich, is the founder of the website The Right Stuff, which opened in 2012 and hosts the popular and dubiously overwrought podcasts Fash the Nation and The Daily Shoah.
The Right Stuff has spent the entirety of the past four years serving up piping-hot reactionary narratives all of which just so happen to serve the geostrategic agenda of the architects of Russian foreign policy by carrying out Active Measures, American domestic honeypot agenda of the FBI, and the Israeli security agenda.
But if anyone had pointed that out before today, such a person would have been called 'paranoid' and even 'insane'. After today however, such a person would simply be called 'well informed'.
Note: The name 'Pejnovic' has a diaspora in 20 countries worldwide and has its highest concentration in Zagreb, Gospic and Klenovac, Croatia. It is found in small numbers in Peru, in the United States, and in the Russian Federation. 'Peinovich' is a Russian-Jewish variant that found its way into the diaspora of the United States and in Argentina.
The whole saga leading up to the revelation of Enoch's real identity, started after Red Ice Radio hosted a show on 26 December 2016 in which Reactionary Jew was invited on as a guest and Lana Lokteff asked the audience to give them feedback on whether right-wing Jews have a place in the supposedly ethno-nationalist political scene that has recently been emerging in the west.
This question was of course met with outrage from various quarters as would be expected. But what was truly interesting was that many of the users and even some global moderators at The Right Stuff began to respond to that provocative question in the affirmative. That was met with deep suspicion by everyone, because it is suspicious.
The controversy and trolling then moved to 4chan /pol/, which is basically the wild west. People from The Right Stuff orchestrated a two week long posting and sliding campaign in which non-stop wall-to-wall pro-Israel propaganda posts and threads were created by them. 4chan /pol/ moderators then began banning all of the TRS people who were doing that, and the details of the bans were then taken back to the TRS forums and presented there.
This is just an example of some of the things that the TRS people were putting up:


TRS then proceeded to deny everything. They claimed that other groups were impersonating them. Some claimed that Hillary Clinton's CTR was conducting pseudo-operations against them. Some claimed that EU Stratcom was targeting them. Some claimed that British intelligence was targeting them. Some claimed that 'SJWs' and Chicago Antifa were trolling them. They claimed that somehow Stormfront was trying to make them look bad. The claims were feverish and frenetic, bold and brash, and all diversionary nonsense.
Somewhere along the way, the TRS people decided that since they were trapped in that situation, the ultimate distraction would be to initiate a miniature Cyberwar against 8chan for no apparent reason. TRS decided to attempt a DDoS against 8chan. It failed. At this point, 8chan /baphomet/ became interested in the feud and many of its denizens informed TRS that they must stop their behaviour immediately, and that they must also apologise for the DDoS attacks and that they must apologise for making the pro-Israel posts, on air, or it would be war.
TRS basically then told 8chan /baphomet/ to "bring it on".
8chan is however, an anonymous message board that sits on the edge of the Darknet. So they brought it, but no one really will ever know who 'they' are. TRS found itself being DDoS'd and this forced them to take shelter under Cloudflare. While the TRS staff were attending to that, they also found themselves being doxxed and the process was being crowdsourced on 8chan /baphomet/.
TRS then tried to go back to 4chan /pol/ and play the two sites against each other by claiming that 8chan /baphomet/ were actually the Antifa. Of course, TRS had just previously bombastically accused 4chan /pol/ of being the Hillary campaign on one hand and of being western intelligence on the other, so no one at 4chan was really in the mood for yet another round of that nonsense again. Furthermore, TRS had misunderstood the nature of anonymous message boards, supposing that there was a real dividing line between the 'communities' at 8chan and at 4chan. There is no such dividing line in actuality, because no one is seriously loyal to an anonymous message board. It's just a vehicle through which various actors can drape themselves in a cloak of trendy anonymity. There is no 'community'.
The Right Stuff subsequently found itself being Blown The Fuck Out by all of its adversaries, and all of their adversaries were able to maintain anonymity during the process.
Isn't that marvellous?
Outcomes
It turns out that Michael 'Enoch' Peinovich is a Javascript Developer and a Public Relations Professional who has worked as a Front End Developer at BurrellesLuce, Time Inc, and Vook. He's from New York. Vook was later rebranded as Pronoun, and is now a subsidiary of Holtzbrink Publishing Group.
Oh, and Peinovich is a Russian Jew married to a Jewish woman named Ames Friedman.
In 2010 he ran an Anarcho-capitalist blog called 'Emptiness', at which his wife made several comments with her real name.
In the same year, Peinovich also wrote an article for the Mises Institute.
On 03 July 2015, Peinovich appeared on Red Ice Radio, and actually mentioned that article which he had written for the Mises Institute, when he was explaining to them that he 'used to be a libertarian'. He cryptically commented after the 13 minutes 25 seconds timestamp, "if you find it, ask if it's me, and if you get it right, maybe I'll tell you."
At this point I don't think anyone will need to be making any guesses about that anymore. On top of that, Peinovich earlier admitted to everything on the TRS forums before basically transforming himself into the 'shut it down' meme and shutting everything down:

There is no more speculation, there is only fact. Mike 'Enoch' Peinovich in fact admitted to what he has done.
Datamining concerns
Assuming that the entire TRS entity either originated as or became a full spectrum Information Operation, it means that all the usernames, email addresses, IP addresses, access logs, security questions, and password hashes that were submitted by people who—against all good advice—chose to actually register on the ridiculous TRS forum have a not-insignificant probability of falling into the hands of any number of adversaries who Peinovich may have allegiance to. FBI? Mossad? Who even knows at this point?
Does anyone really think this story is over? For some people, the problems may only just have begun.
Questions Remain
The remaining question would be, who knew about Michael 'Enoch' Peinovich's Jewish identity before it was exposed today, when did they know, and if anyone did know, why wasn't it exposed via normal channels much earlier?
A lot of people were in a position to have noticed the fact that Peinovich was in fact a Russian Jew orchestrating a massive disinformation campaign against everyone, one which may have influenced the outcome of the American election and created significant disruption in other English-speaking countries.
This is a partial list of the people who have directly interacted with Peinovich in some way over the past few years, and who one would think ordinarily should have detected that something was very wrong:
Richard Spencer
Greg Johnson
Kevin MacDonald
Colin Liddell
Jared Taylor
Andrew Anglin
Lana Lokteff
Henrik Palmgren
David Duke
Colin 'Millenial Woes' Robertson
Kyle Bristow
James Edwards
John Friend
Sam Dickson
Jack Donovan
William Regnery
Andrew 'Weev' Auernheimer
It's truly astounding that supposedly none of those people noticed anything, despite them having either worked with him and having been in interviews with him, or them having called in to TRS during its radio shows. At one point, Peinovich was even brought into a live podcast during the NPI 2015 conference.
Of particular significance is Peinovich's relationship to Kyle Bristow. Bristow is the Executive Director of Foundation for the Marketplace of Ideas, Inc., an Alt-Right organisation that advocates on behalf of Alt-Right figures and coordinates legal services for them. Peinovich joined its board of directors on 11 December 2016, joining five lawyers, and law student, and a journalist who were already on the board of directors there. I presume they too might like everyone to believe that they didn't notice anything?
Another one of key significance is Peinovich's connection to Andrew 'Weev' Auerenheimer. Weev is the person who basically did a significant amount of work on the TRS website in order to 'secure' it. At some point between 2014 and 2017, the Paypal donations on that site were deactivated and only the Bitcoin donations remained. If Weev was the one who implemented that change, did he not notice the email address linked to their Paypal account was a glaring giveaway about who Mike Enoch really is? But if he did notice the disturbing truth, why did he not alert anyone? Many people could speculate.
Here are some examples of obvious clues that they could have picked up on: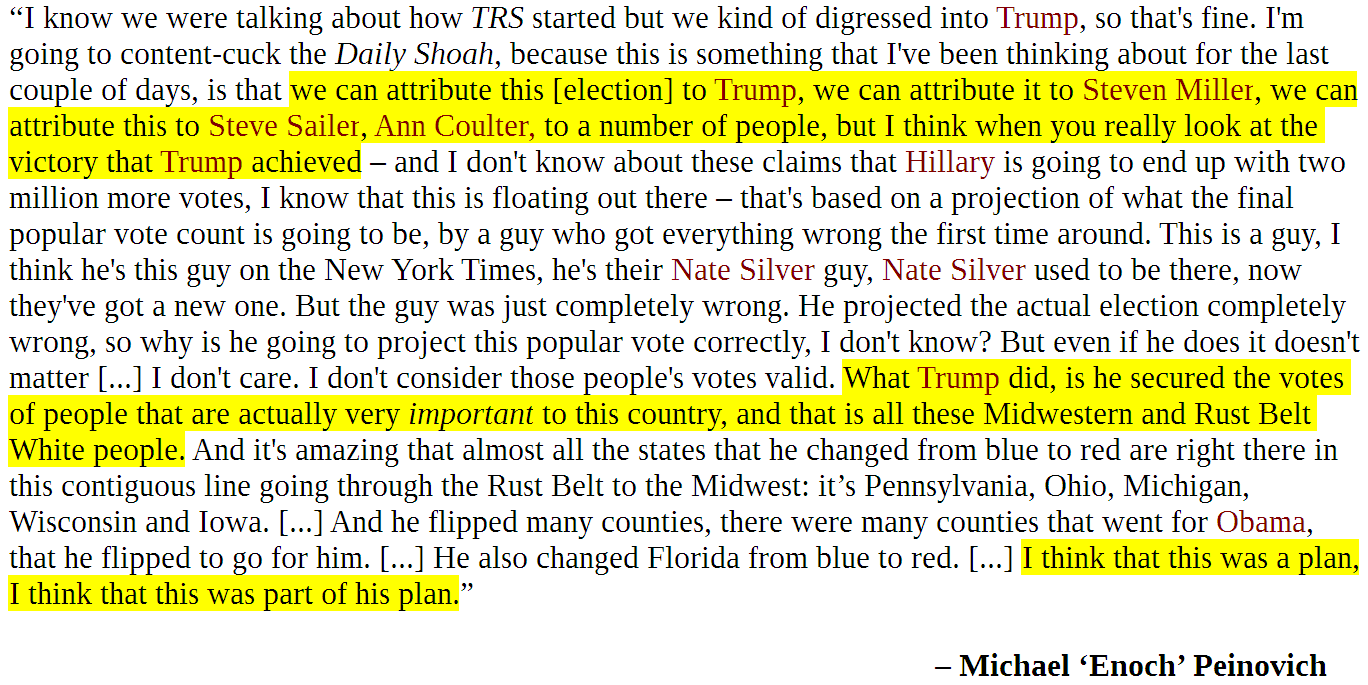 Just as large swathes of the American population were getting ready to give up on the system as it presently exists and to instead settle into total cynicism, along came the Trumpists and outlets like The Right Stuff, who managed to revitalise and rescue the ridiculous system yet again!
And also there was this extra incident here:

Fucking incredible. All of the anti-semitic rhetoric that was going on there basically was a cover for the fact that a whole Jewish operation was being conducted right under the noses of the supposedly 'red pilled' and 'savvy' generation of new American right-wing activists.
Over the coming days and weeks, I'm sure that all kinds of explanations will be forthcoming from all of those people. The question that needs to be asked over and over again, is this: Who knew about Peinovich's Jewish identity before today, and if any of them did know, when precisely did they know, and why did they not reveal it as soon as they became aware of it?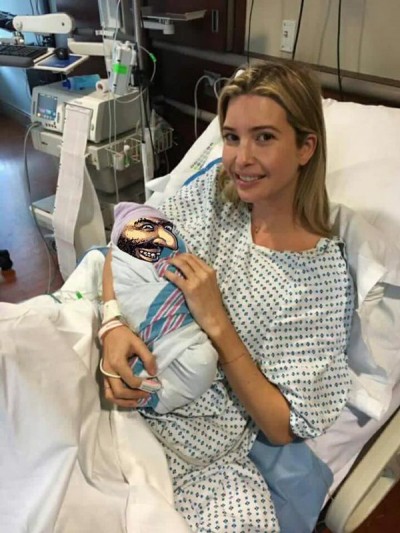 The Alt-Right/Alt-Left has given birth to "new" (((White))) leadership.
"And this will be a sign for you: You will find a baby wrapped in strips of cloth and lying in a feeding trough."—Luke 2:12 (ISV)
State of the art Jewish agenda - how it looks at this point vis-a-vis Trump:
At this point it is evident that top echelon of Jewish interests have come to recognize that they and their race mixing agenda are so far ahead that they've decided to get good with the White right-wing, to blend with and steer their reaction.
Hence they have gotten out in front of the reaction that their PC liberalism has created in Whites; and with that, they are orchestrating the "White" us / them, friend / enemy distinction.
Though I disagree with him on some important, fundamental issues, to give credit where credit is due, Wolf Wallstreet was incisive in his hypothesizing two differing agendas among Jewish elites: Plan A, of the Noel Ignatiev kind, wants to wipe Whites out completely - relatively more expressed by Hillary and Bill than Trump.
Plan B is taken by the kind of Jewish elite not quite so crazy and a bit more fore-thinking - realizing that they can use what they perceive as the "better breeds" of Whites, they want to leave some of them around to interbreed with and help steer their elitist political agenda - against interests that ethnonationalists shouldn't be against and on behalf of interests that ethnonationalists should not be for.
Rather than wanting America, the proposition nation, to fall, with its neo-liberal component being a world's foremost manufacturer and exporter of race mixing, rivaled only by Judaic, Islamic and Christian influences; they want the American political institution along with other Abrahamic/proposition nations to come more thematically, if not comprehensively under Jewish and neo-liberal lackey guidance.
A Trump victory does not only buy us some time, it buys them and their word-smiths some time - for one thing, to make (((the USA))) and (((the Russian Federation))) into good friends, and at one with (((White))) national politics.
Following the U.S. as an alternative right base, the Russian Federation is the Jews first option after Israel for a vector of parasitic control.
Needless to say that the U.S. is not an ethnostate, but neither is the Russian Federation, in either its vast size or content. As proposition nations, both are susceptible and heavily influenced by Jewish interests. Don't believe the stuff that (((they))) have gotten (((the Alternative Right))) to believe about Russia being good friends to Assad - they disarmed a defense program that took Assad decades to develop in defense against Israel. And now Trump wants to let ISIL destroy Assad. Even more laughable is The Orthodox Nationalist claim that China is a solid ally with the Russian Federation. Not true to say the least.
The Russian Federation is not opposed to Israel and to Jews. The Russian Federation was complicit in the overthrow of Gaddafi.
The proposition nations of the US and the Russian Federation, along with those nations that Jewish and neo-liberal interests are turning into proposition nations through immigration and race mixing, are not strictly opposed to Islam as they are guided, but use Islam as shock troops and compradors to destroy ethnonationalism - as in the case of what they did to Gaddafi and in what Putin has done and Trump would do to Assad. Such is the case of Trump's and Putin's position with regard to Asian ethnonationalism.
Trump and the Jewish political class have installed a stance which is hostile to the idea of Asian ethnonationalisms entering any cooperation with White American ethnonationalist counterparts; as if Trump and the Jewish political class have as their chief concern a common interest with White American workers - that is Not true:
Business Insider, "Donald Trump said wages are 'too high' in his opening debate statement", 10 Nov 2016
NPR, 'How Trump Broke Campaign Norms But Still Won The Election', 09 Nov 2016 (emphasis added):

JAMES FALLOWS: So [Trump's] main point, it's based on something that is in my view largely just wrong [...] factually incorrect—and that is the idea that essentially the economic problems America has is because China is—in particular but also Mexico and Japan and South Korea - are stealing our factories and stealing our jobs. [...] They've been losing them mainly to automation. They've been losing them mainly to the robotization of factories around the world. And that is why I can tell you from going back and forth to China that in every single country of the world, including China and Japan and South Korea and Mexico, the employment problem is the hollowing out of factory-type jobs because of automation.
It is a dubious prospect for ethnonationalists to want to "protect" the proposition nation anyway.
Right/Alt Right Misguidance Against Left Nationalism
By contrast to the right-wing objectivism that the Alternative Right is beholden to, which is manipulated and susceptible to Jewish and neo-liberal entryism, White ethnonationalism needs a position more characteristically White Left Nationalist: this would turn a critical eye toward the (((corruption))) of leaders of proposition nations such as Trump and Putin (if it can be said at all that Putin is in charge of 'a nation' rather than a parasitic aggrandizement larger than the moon) and what are becoming proposition nations ... such as those in Western Europe; at the same time it would turn a sympathetic eye toward and a cooperative stance toward the legitimate basis of ethnonationalism in Asia and the rest of the second world - in Europe exemplified by the Intermarium - to cooperate in our sovereign justice against the hegemony of Jewish interests, their misguiding of neo-liberal internationalism; as it backs shock troops and compradors among Islam and African population and biopower.
Trump has installed his contrasting, friendly, supportive stance toward black Americans (his singular racial/ethnic sponsorship, in fact) with his highly combative stance regarding Mexicans as if the former stance is strictly common ground with White ethnonationalism and both responses are anything but "solutions" to problems that his friends (YKW and right-wingers) created. But did you know that La Raza see themselves as a neo-race, aligned against blacks and against Jews? Who would have a problem with that?
Wikipedia, 'Texas' (emphasis added):

Under the Mexican immigration system, large swathes of land were allotted to empresarios, who recruited settlers from the United States, Europe, and the Mexican interior. The first grant, to Moses Austin, was passed to his son Stephen F. Austin after his death.

Austin's settlers, the Old Three Hundred, made places along the Brazos River in 1822. Twenty-three other empresarios brought settlers to the state, the majority of whom were from the United States. The population of Texas grew rapidly. In 1825, Texas had about 3,500 people, with most of Mexican descent. By 1834, the population had grown to about 37,800 people, with only 7,800 of Mexican descent.

Many immigrants openly flouted Mexican law, especially the prohibition against slavery. Combined with United States' attempts to purchase Texas, Mexican authorities decided in 1830 to prohibit continued immigration from the United States.
That law was an expression of Mexicans' express prohibition of blacks in their territory. What's the problem with prohibiting them?
A policy such as that, wrapped up in the fundamental base of La Raza's ethnonationalism, is something that White ethnonationalists could strive to leverage cooperation with. "But no!" say the Alternative Right, "they are Leftist, we cannot cooperate with Leftists!"
White ethnonationalism might perhaps even cooperate with the Turkish Kurds against Erdogan ..but "no!", say the Alt-Right, "we cannot cooperate with Leftist Kurds against Erdogan! - He believes in 'god', the god of Abraham… he follows laws in line with our Christian laws", they continue, "... in line with…"
Erdogan's administration, by the way, was almost as quick to congratulate Trump as Putin was.
Trump has aligned White interests with an obsequious stance toward Jews.
Say what you will, make your arrogant, snarky, condescending comments, gloating as you look downward, as the somebodies that you are now - bullfrogs perched on lily-pads - but if you think a choice between Hillary and Trump was anything but an expression of just how pathetic your objectivist aversion to decency and cooperation is, as it has been manipulated by the powers that be and continues to be, then you only increase the chance that your legacy will breed with Jews and other non-Whites, and your opportunity to participate as stewards of human and pervasive ecology will steadily decrease and steadily become more Jewish..

While we might take note of bonafide and cooperative ethnonational reasons as to why Japan was 93% in favor of Clinton, why the Philippines have set about to break with The US, etc…lets take a moment to give some kudos to White Americans and their advocates for exercising what was their better of two choices in a rigged deck.
Let me return a condescending congratulations to the Alt-Right on the stay of their execution….there is time to boil the frog slowly, where Kek does not jump out of the pot to reclaim itself as an Asian font of energy, culturally appropriated by Jewish hubris and misapplied by the Alt-Right, in near equal hubris.
Lawrence Murray is an excellent writer, obviously intelligent, not completely off theoretically - though still off, lets take a look at his victory lap with the still too meager, if not distorted, alternative right light that is thrown from the right wing torch that he carries:
The Right Stuff / Lawrence Murray, 'Now I am become President, Leader of the Free World', 09 Nov 2016:

On the far end of Manhattan's West Side, a different story was unfolding at the Jacob Javits Center. A massive convention hall named after former New York senator (((Jacob Javits))), it was supposedly chosen for its glass ceiling, which Clinton would symbolically shatter as our first female president-elect. Instead, it became a glass pitcher of liberal tears. The choice for Clinton's ill-fated coronation symbolized something else as well. (((Javits))) was a major force behind the 1965 Hart-Celler Act, which ended the country's eurocentric immigration quotas and resulted in the rising tide of color we are currently grappling with. Each generation has become more "diverse," and so in turn each cohort of new voters. It's why New York was a solid lock for parachute candidate Clinton, and a hopeless cause for its native son, President Trump.
(((Native step-son indeed)))
ibid:

As the post mortems will surely tell us in the next few days, there just wasn't enough turnout from voters of color. There just weren't enough Hart-Celler Americans to stop President Trump. Not even the creation of an entirely new minority class over the last 50 years, Latinos, was enough to prevent a nativist and civic nationalist from being elected. But frankly, this was our last opportunity to strike back at the ballot. President Trump won by a wavy Caucasian hair. Having to literally drive the Amish to the polls in order to save the White race was poetic, though not a long-term solution.

But such problems are for another time, for now we celebrate. We celebrate the year that White populism shattered the glass ceiling of identity politics in the postwar West, as predicted. An article in The Atlantic puts it succinctly: "[President] Trump was carried to victory by a wave of right-wing populist nationalism, as working- and middle-class white Americans turned out in droves to vote." President Trump's victory is a monumental paradigm shift, or has the potential to solidify into one. The media called Teflon Don every name in the book and tried to tie him to all manner of anti-establishment heretics. President Trump did not waver; he undertook the hero's journey and emerged victoriously in the name of the Amerikaner Shire.
Rather did (((The Atlantic))) inaugurate a paradigm shift from Jewish plan A to Jewish plan B - the slow Kek boil, the intermarrying with the frogs, er "Keks" who manage to jump out of the boiling pot.
ibid:

There is now a biblical flood of authors and pundits talking about "working class Whites," "White voters," "White males," "non-college Whites," "less-educated Whites," "blue-collar Whites," "rural Whites," and even the unspeakable phrase "White identity politics." This is yuuuge. We have a mandate from our folk for nationalism. The largest ethnic group in the West, the native peoples of Europe and their descendants in Greater Europe, is being recognized as an important political interest. Granted, it's an interest that our rulers on both sides of the Atlantic insist must be vanquished, but that they must now name us explicitly is massively important to the spread of our ideas.

The concept of the enemy has returned to politics.
(((Whites))) with "leftist" enemies, with Asian enemies, "Islamic extremist" enemies and so far as they can help it (((and they can force choices that you should not want to make, such as Hillary or Trump))), "friends" with "moderate Jews"..."moderate Islam"...."moderate blacks"... "friends with the right wing" - the "that's the way it is" club, the Jesus suicide map club and friendkinstein club 88 - European neighbors be damned ..be friends with "the alternative right" and its (((entryist big tent, and with that perhaps the "alternative left"))).
ibid:

Get ready for the storm, because White people, this is your fault. Because of your existence, millions of members of designed oppressed groups must live in fear of being treated like outsiders.
While you are at it, brace yourself if you are an ethnonationalist, for the reality that the US has been the adversary of ethnonationalism in most cases, as in Vietnam, the Philippines, in Japan, the Turkish Kurds and more - indeed, where have they defended ethnonationalism?
ibid:

Americans will have to decide very soon—quickly—where they stand on President Trump. The choice now is pro-Trump or anti-Trump, and nationalists as much as anti-nationalists have made him into an avatar of American Whiteness.
That's right, the Alternative Right has been co-opted into representation of their interests by that fool: that crass businessman, that mere promoter of the brand name attached to his failed, toxic assets as a means to pay off the Jewish financiers saddled with his shallow but grandiose vision, now intimately entwined with Jewish values - Donald Trump is here to represent (((White interests))).
ibid:

With his opponent out of the way (probably for good), where people stand on this choice will become much more salient.
With Hillary, the quintessential personification of the White man hating bitch out of the way, hopefully it will continue to feed their right-wing hubris to help highlight and distinguish them as they tend to obfuscate and muck-up the ethnonationalist agenda.
ibid:

Our position is not unassailable, but it is stronger than ever before. So we celebrate, that President Trump has given rise to nationalism, to America First, to formal recognition of the Alt-Right, to outing cuckservatives as #NeverTrump turncoats, to (((anti-globalist))) memes entering the public consciousness, to levels of shvitzing that shouldn't even be possible, and more than anything else to hope for the future of our people, not just in the United States but around the world. This is as much a victory for White Americans as it is for Swedes, Australians, the British, the French, and other European peoples. We will make the world save for ethnocracy.
Jews have money and they know that they can buy their way into enough of you such that your (((Whiteness))) around the world will be mixed with their motives.
ibid:

We knew the world would not be the same. A few people laughed, a few people cried, most people were silent. I remembered the line from the shitlord scripture the Bhagavad Reeeeeeeta; Kek is trying to persuade the prince that he should save his people, and to impress him takes on his frog-headed form, and says, "Now I am become meme, the destroyer of cucks." I suppose we all thought that, one way or another.
You aren't Kek, but you are frogs, you are somebodies, somebody frogs on lily-pads; on water boiling slowly now; perhaps you'll jump out of the pot and into the waiting arms of your kosher mates; before that, to prove your anti-Jewish credentials, perhaps you'll do them a favor by exterminating the undesirables from among them, while also true to your (((Fuhrer))), killing those inferior "lefty" Whites.
Richard Thpenther warnth you to mind your "P&Q"ths
Richard Thpenther thays, "If you are not right on "the PQ" (the Polish question), we are going to purge you from thith movement" (((The Alternative Right))).
"We have to thtop doing everything for thith Polish Catholic Country."
...of course what Spencer is aspiring to is a blended philo-German/Semitic/Russian alliance between (((Germany))) and the (((Russian Federation))) - imperium - which apparently requires a pinther movement on the "PQ" - against Polish ethno-nationalism and its Promethian Intermarium alliances of ethno-nations and regions.
Trump is just that man to float Richard's penny loafers.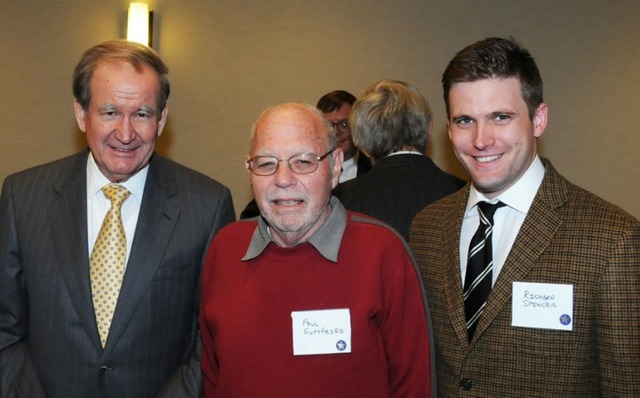 Darlings of the Alternative Right: From left - Pat Buchanan, wry on the "PQ" and its role in the "unnecessary war" ... Poland having "had it coming" for having taken over a tiny, but strategic, mountain train station from the Czechs, just prior to the threatened, impending war against them, thus "proving their fickleness"; center, (((Paul Gottfried))), ever sympathetic to the more Germanic Jew as opposed to the Eastern Jew, he coined the term "Alternative Right", mentored Spencer in his philo-Germanic/Jewish perspective and is doing all he can to ensure that it is Jew friendly and treats "THE Left" as the enemy. And to the right, Richard Thpenther himthelf - his three quarters Russian one quarter Turkish wife (out of the picture) - A Dugin/Eurasian imperium enthusiast; who wishes to do away with eithno-nationalism, and replace it with a philo Germanic/Semitic - Russian Imperium from ThanFranthithco, to New York, to Lithbon, to Vladivathtok.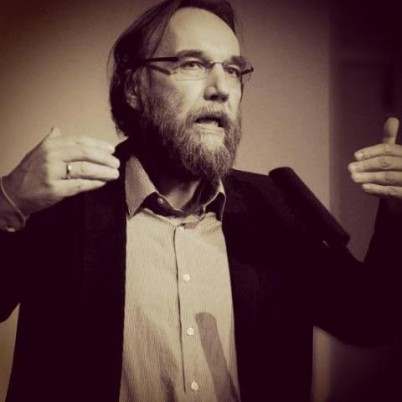 Dugin: proposing the Altright a deal - give up European ethnonationalism in exchange for a blended, de-racinated people (for what he proposes), Siberian tundra and Asian conflict.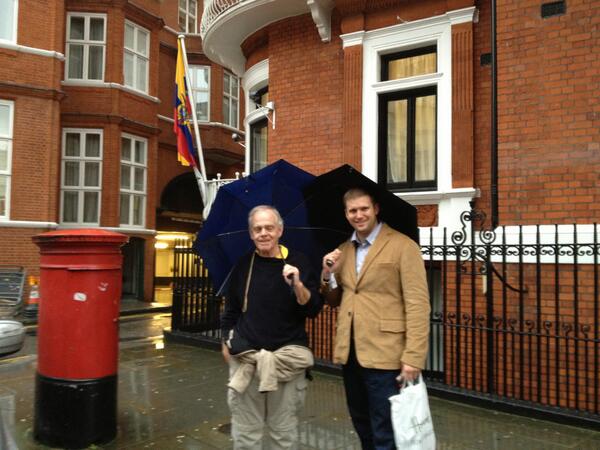 Richard is comfy under Regnery's umbrella - an umbrella of these Alt Right views.
Rounding-out the Altright tentosphere for the Jewish tent - Stark and von Goldstein discuss the Presidential debate:
It was hard for (((von Goldstein))) to declare Trump the winner of the debate and as having done well (because, for one thing, Trump did not do well, back-peddling, "if I don't win, I will get to Pennsylvania Ave. one way or another", defending his "unbelievable" business ventures, etc.).
But (((von Goldstein's))) take on this confirmed the hypothesis: (((They))) don't really care so much who wins as long as their controlled political system, including the Republican party, is resurrected - such that it includes Whites, that is, including (((huwhites))) as a re-defined vanguard. (((They))) seek to retain their position as the masters of discourse (in Stark's previous discussion, as the reader might recall, they had (((The Truth Will Live))) on their panel to continue the effort to define for us right and left, now including (((the Alternative Left))) - so as to try to bury this White Left Nationalist platform. An important thing for them, of course, is to include Jews as an edgy, trendy but included component of the Alt Right big tent, which is "going to make a real impact on the world"... notice also how von Goldstein is adamantly against the TPPA and, of course, the Iran deal, as just so horrible.
Trump's introduction into the narrative is as controlled opposition - very apropos for Goldstein (name of the embodiment of false opposition in Orwell's 1984) to direct attention to the created problem of the right and YKW, the created problem being Mexicans and the destruction of the domestic economy and quality of life (he directs attention for responsibility for those problems away from Jews, objectivists and blacks). ...and to the "solution" - Trump and his legacy.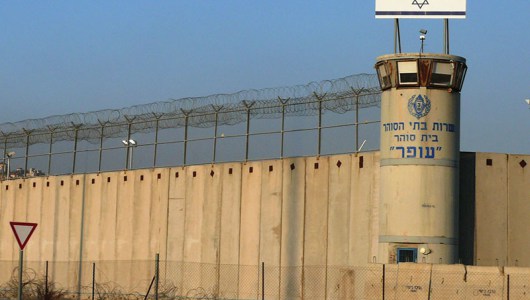 Israeli construction companies want the contract to build the Mexican border wall.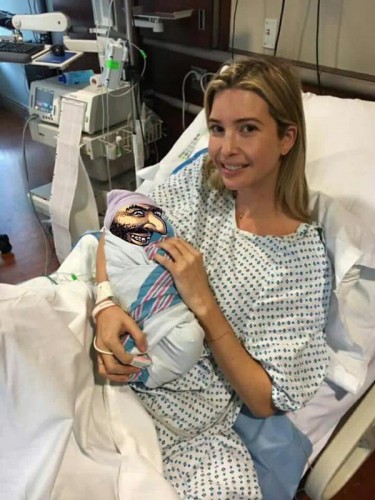 Trump's legacy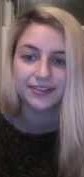 "The Truth Will Live" ...rather the lies will try to live but they're not White, they're Jewish.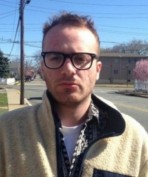 von Goldstein, "We, The Alt-Right, are going to make a real impact on the world" ...von Goldstein was apparently tapped by Gottfried to flesh out the Jewish-friendly tent of the Alt Right Tentoshere.
They raise "the P.Q." to try to counter attack the exposure here of what they are doing.
Allowing some 14/88 Hitler, cool, in their tentosphere, divisive, anti-social and ultimately destructive to a well founded WN defense that it is ... is something that they prop up as their "anti-Jewish immunity" while Jews allow for it and the right goes on obliviously, insufficiently aware that it is a position highly manipulable by Jews.
...with that, Greg Johnson will round out the Altright tentosphere with snooty, right wing elitist hubris, that is soft on blacks and inclined to be assiduously exclusionary of any White marginality and organic circumspection.
Here is a recent example of right-wing hubris and blithe imposition of blacks against The White Class, et al.
RRW, "West Virginia: Is Catholic Charities bringing in foreign laborers for a poultry plant to compete with Americans?"

Posted by Ann Corcoran on September 26, 2016

Here are some of the facts as we know them:

West Virginia is a relatively new resettlement state which has received only 176 refugees in the last ten fiscal years.

However, in addition to Catholic Charities resettling refugees, Episcopal Migration Ministries wants to open a new office in Charleston. Presently CC has three locations and one of those is in Moorefield, WV.

What else is in Moorefield? I'll tell you! There is a Pilgrim's Pride poultry plant located there.

Here are some things we know about Pilgrim's Pride:

It is owned by the Brazilian meat giant—JBS (you may know them as Swift & Co.) headquartered in Greeley, CO.

And, now get this. The very same Labor Department, that I would normally be complaining about, says that in some locations in the US, Pilgrim's Pride is DISCRIMINATING against African American job applicants, Caucasians and women! They are choosing Hispanic laborers (and it would appear refugee laborers) over Americans!
Notice how the right continually prefers blacks over "Hispanics" - a language designation which frequently includes people who are White, mostly White but mixed with Amerindian and/or some kind of Amerindian that is benign as compared to blacks.
This is a matter that has to be re-assessed - "Oh, these patriotic black Americans who used to be so good to live with before the Jews ruined their families" - colossal Bullshit of the right.
On the contrary: You Mexicans cleanse blacks from your neighborhoods? The more power to you. Lets make a deal.
Ditto that deal for Asian ethno-national/regionalist cooperation with European/White ethno-national regionalists against Jews, Muslims and blacks.
I recall that the last time that the issue of a Euro-Asian alliance came up on Majorityrights, there was a contingent of commentators who did not believe that the direction that was taken at Majorityrights about this issue was reality-based.
I would ask such persons to look at this article which appeared today in the EU Observer, which is now working in cooperation with the Mission of China to the European Union.
It's so comprehensive that there's scarcely anything that I would add to it:
EU Observer / Emanuele Scimia, 'China, Russia and the EU's intermarium block', 14 Mar 2016:

China's geopolitics of trade passageways, expected to revive the ancient Silk Road arteries across the Eurasian continent, is producing the first collateral effect.

The potential integration of Beijing's "Belt and Road" initiative with a regional infrastructure scheme in Central and Eastern Europe is contributing to altering the balance of power in Euro-Russian dynamics.

Emergence of China as independent player in region marks pivotal change from 1920s and 1930s (Photo: Bernd Thaller)

Beijing maintains that the Eurasian landmass exists as an "integral whole" and that Central and Eastern Europe play an important role in its strategy to link the Chinese eastern coast and Western Europe through land and sea-based passages.

In line with this vision, on 23 February, during a meeting in Zagreb with Croatian prime minister Tihomir Oreskovic, representatives of the Chinese National Development and Reform Commission stressed that China was interested in connecting the "Adriatic-Baltic-Black Sea Initiative" and the Belt and Road project.

The Adriatic-Baltic-Black Sea Initiative was first laid out by Croatian president Kolinda Grabar-Kitarovic in September 2015. In her view, it should work as a framework for enhanced cooperation in the political, economic and security realms among 12 European Union countries of Central and Eastern Europe.

In particular, this Croatian-sponsored plan of regional integration aims to promote concrete projects on infrastructure development, so as to improve trade connection and energy independence on the eastern flank of both the EU and Nato.

When in October last year Chinese president Xi Jinping held talks with Kitarovic in Beijing, he welcomed the Adriatic-Baltic-Black Sea Initiative, underlining that the development of a north-south corridor in Europe, based on the ports of Adriatic and Baltic nations, was complementary to China's Silk Road strategy.

Intermarium

Beijing could in fact exploit the favorable position of Adriatic, Baltic and Black Sea ports to link the Silk Road Economic Belt and the 21st-Century Maritime Silk Road - the overland and sea-going sections of the Belt and Road, respectively - through a longitudinal and intermodal corridor in the heart of Europe.

Kitarovic keeps repeating that its project is not directed against Russia.

Yet, it is doubtful that the Kremlin buys the Croatian president's reassurances. And it cannot be otherwise, if Moscow looks at Europe's map.

The Adriatic-Baltic-Black Sea Initiative has in fact startling similarities with the Intermarium (or "the land between the seas"), an alliance of states from the Baltics to the Black Sea - and potentially down to the Balkans - that in the 1920s and 1930s Polish leader Jozef Pilsudski tried in vain to create to prevent German and Russian expansionism.

Today, Polish president Andrzej Duda has resumed Pilsudski's geopolitical thinking, overtly endorsing the formation of a modern Intermarium, which in large part coincides with the bloc of states included in the Adriatic-Baltic-Black Sea Initiative.

Russia will inevitably oppose any move that leads to increasing cooperation among the states of Central and Eastern Europe, viewing it as an effort to separate the Russian territory from Western Europe. But, the problem for the Kremlin is that now, unlike in the interwar period, there is China that acts as an independent variable in the eventual creation of an Intermarium grouping.

China's cooperation with Central and Eastern Europe countries (the so-called China+16) has been underpinned by both its recent accession to the European Bank for Reconstruction and Development and its push to build synergies between the Belt and Road scheme and the EU $393 billion investment plan.

Particularly, Beijing and Brussels are focusing on improving their infrastructure links through the establishment of a Sino-European connectivity platform.

Baltic region

Ultimately, China and the EU are working to set up corridors between the Trans-European Transport Network (TEN-T), Brussels' plan to upgrade Europe's transport system, and the Belt and Road. The Adriatic-Baltic-Black Sea Initiative should fit into this China-Europe infrastructure mechanism.

On a visit to Latvia on 19 February, Chinese National Development and Reform Commission vice chairman Ning Jizhe voiced his government's interest in boosting the container train traffic from China to the Baltic region and Northern Europe and investing in both the Rail Baltica project and the port of Latvian capital city Riga.

Rail Baltica is a high speed rail project, under the TEN-T initiative, that will link Finland, Estonia, Latvia, Lithuania and Poland, with an extension into Germany; Riga seaport is instead at the northern end of the proposed Baltic-Adriatic Corridor, yet another TENT-T artery.

Thus, China is betting big on the Baltic ports, as also proved by China Merchants Group's intention to expand the existing Klaipeda seaport, in Lithuania, and turns it into a new transport and logistics center within the Belt and Road scheme.

Chinese plans to reboot Klaipeda seaport should be viewed in combination with Beijing's interest in building up the Croatian port of Rijeka, the southernmost tip of the Adriatic-Baltic-Black Sea Initiative, and, more importantly, with the potential connection between the new iron Silk Road and the Baltic coast.

The iron Silk Road is a China-Europe land-sea express line connecting Ukraine's Black Sea port of Illichivsk with Western China via Georgia, Azerbaijan and Kazakhstan.

This Euro-Asian transport passageway has been operational since January and has a considerable strategic relevance, given that it circumvents the Russian territory.

Weakening Russia

Ukraine is currently in talks with Lithuania and Belarus for linking the iron Silk Road and the port of Klaipeda. If the three countries succeed in carrying out their project, Russia will definitely lose its position as a transit space for the Sino-European trade.

China's drive to integrate the Central and Eastern Europe countries into its Silk Road strategy has the potential to further weaken the grip of Russia on its western neighbourhood.

While there is not much Moscow can do to halt Beijing's engagement in the European post-Soviet space, its only hope is that historical mistrust among potential participants, combined with harsh competition among them for more Chinese funds and investments, may sink the Adriatic-Baltic-Black Sea Initiative, as well as any other prospective Intermarium-style alliance.

Emanuele Scimia is an independent journalist and foreign policy analyst. His articles have appeared in the South China Morning Post, the Jamestown Foundation's Eurasia Daily Monitor, Deutsche Welle, and The Jerusalem Post, among others.
It was possible to see this coming from a long way off.
For example:
The National Interest / Raffaello Pantucci and Alexandros Petersen, 'China's Inadvertent Empire', 24 Oct 2012:

[...] China also is bolstering cross-border traders who are the economic lifeblood of the old Silk Road. Sitting atop it all is the Shanghai Cooperation Organization (SCO), which offers an umbrella for China to demonstrate that its regional activities are undertaken with the acquiescence of neighboring powers.

The driver is economics, seen most clearly in China's heavy purchasing of large mineral and hydrocarbon sites across the region. In Kazakhstan, the China National Petroleum Corporation (CNPC) has gone into partnership with the local, state-owned enterprise (SOE) KazMunaiGaz to secure 4 percent of China's oil imports from Kazakhstan. Turkmenistan currently accounts for almost a third of China's imported natural gas—mostly coming through the speedily built China-Central Asia pipeline, which in 2011 brought some 15.5 billion cubic meters (BCM) of gas to China. CNPC aims to send 24.1 BCM this year and eventually get the flow up to 65 BCM. Further, CNPC secured the rights to develop an oil field in Amu Darya in northern Afghanistan, upriver to a project it already is exploiting in Turkmenistan. According to Kabul analysts, this field, a small one for a company as large as CNPC, is a kind of toe in the water for the Chinese SOE to prepare for future contracts in the hydrocarbon-rich area.

It is not only oil and gas that Chinese firms see in Central Asia. State-owned mining firms Jiangxi Copper and the China Metallurgical Group Corporation (MCC) partnered to invest near $4 billion to exploit the Mes Aynak copper mine southeast of Kabul. And while Chinese firms have been less visible on recent mining tenders in Afghanistan, they doubtless noted the U.S. Geological Survey's estimate of nearly a trillion dollars worth of minerals in the country. Furthermore, Chinese mining firms have won concessions to mine for gold in Kyrgyzstan and Tajikistan.

But while this natural wealth will help feed China's insatiable demand for resources, it won't necessarily help develop Xinjiang. That will require the development of infrastructure across Central Asia. Crippled by aging Soviet infrastructure, the region is a blank canvas for outside developers. China is not the only player around. South Korea has a notable presence in Uzbekistan, while Turkish and French firms dominate the Turkmenistan market. But it is notable to see Chinese firms developing roads leading in and out of Xinjiang. The road from Kashgar to Osh in Kyrgyzstan through the Irkeshtam Pass was built by the China Bridge and Road Company. Chinese workers in distinctive green military greatcoats with shiny buttons could be found earlier this year directing trucks of dirt to complete the road's final stretches. Other roads can be found in Tajikistan with crews of Chinese repairing parts from Dushanbe toward the Afghan border. Dual-language Russian-Chinese signs mark the workers' presence. More notable in Tajikistan is the only toll road in the country, going north from Dushanbe to Khujand, built by a Chinese firm and broken up by a shoddily designed Iranian tunnel at the Shahriston Pass. This soon will be replaced by a Chinese-built tunnel.

China also has sought to help develop the region's rail systems. A train line is being built from China through Kyrgyzstan to Uzbekistan. Other train networks are being developed to strengthen links with Kazakhstan, including a high-speed train to be exported there from China. Other infrastructure elements are being spearheaded or supported by Chinese firms, including gas metering in Uzbekistan, telecoms across the region and hydropower developments in Tajikistan.

Various forms of funding have emerged. Primary among them is the use of linked loans or lines of credit provided through China Export-Import Bank. Often granted with provisions guaranteeing that Chinese firms get the contracts, these loans are breeding a growing number of Chinese train carriages in the region as well as Chinese road crews. In addition, Chinese firms often are the winning bidders in projects tendered by the Asian Development Bank (ADB). Regional ADB officials openly praise the Chinese companies and their work. The ADB's Central Asia Regional Economic Cooperation program dovetails with China's road-building aim of connecting the underdeveloped region with its wealthier neighbors. But China wants this infrastructure to be oriented in its direction rather than toward Afghanistan, as the ADB would prefer.

The fruits of this road and rail construction are seen in the markets of Kara-Suu in Kyrgyzstan, Barakholka in Kazakhstan or as far as Türkmenabat's bazaars in Turkmenistan, just across the border from Uzbekistan. Sprawling fields harbor truck trailers with doors cut in them so merchants can peddle goods to local buyers. Traders in Uzbekistan report using Chinese roads and rail links to get goods from Guangzhou and Urumqi to their markets, while in Dushanbe the aptly named Shanghai Market offers a shrunken version of this model focused mostly on home construction. This trade includes such goods as air conditioners, televisions and knickknacks of the kind commonly associated with China. Xinjiang traders and truckers are largely responsible for this back and forth, which is helping expand China's market presence in Central Asia, opening up Xinjiang's markets and providing employment in the region.

Taken as a composite, this may appear to be a coherent strategy, but there is little evidence that it was developed consciously as a grand plan in Beijing. Beyond the Xinjiang development program, the other main area of Chinese concentration has been the SCO, a somewhat half-baked organization initially formed to resolve regional border disputes. For Beijing, the ideal would be for the organization to become a vehicle through which it can direct China's economic investments in the region. Beijing policy makers have advanced notions of creating an SCO development bank and an SCO free-trade zone. At the latest summit in Beijing, China pledged $10 billion in regional support through the organization. But this eagerness is not shared by other SCO members—in particular Russia, which sees China's rise in Central Asia as a direct threat to its interests. [...]
How might Russia try to frustrate these developments? The Russians know that the resources under Siberia are the key to realising their aspiration of being a great power in Asia, but it is the case that China is also the main foreign investor in Siberia now.
China has been testing the willingness of people to defend boundaries in all regions that it is adjacent to, namely, those of the United States, the Indian Ocean, the South China Sea, Central Asia, the Northern Korean peninsula, and the Northern Sea route in the Arctic Zone. Yet the only areas where China has managed to make a long-lasting strategic breakthrough are those areas in which it is detrimental to Russia. Russia has been the single biggest loser in this equation.
How should this be appraised in the broadest sense? The lesson is simple. The development of productive forces, the economic sphere, is what ultimately drives history. Things which appear to be accidents of history, are revealed as non-accidents once a long enough time scale is considered. On a long enough time scale, the course of history will tend to run parallel with the course of economic development.
Given that China became 'a workshop of the world', which is to say, a key element of the supply chain for every manufacturing power in East Asia, Western Europe, and the Americas, it was almost a certainty that this would create a scenario where there could potentially be strategic gains for China to pursue. Whichever boundary in the region was controlled by the weakest economic player, would become the 'path of least resistance' for Chinese economic expansion.
We've heard about the so-called 'strength' of Russia's 'Eurasianism', which is espoused by Vladimir Putin and Kremlin advisers such as Aleksandr Dugin. The idea that Russia's 'Eurasianism'—a 'Eurasianism' which has nothing to do with Asia and everything to do with providing rhetorical cover for Gazprombank's interests and the retrograde rent-seeking interests of (((Russian oligarchs))), ex-Stalinist gangsters, landlords, and clergy—would somehow be sufficient to improve Russia's fortunes. We've also heard that the social reproduction of this supposed 'strength' would be presided over by the furrowed brows of Russian Orthodox priests and their thunderous moral injunctions.
And in the eyes of some, it seemed almost to be true. But was that the end of the story? No. Strong words must be backed by productive force if they are to be effective, and ultimately, a higher form of production will tend to triumph over a lower form.
It is for that reason which Russia now finds itself being increasingly denied the preponderance over the post-Soviet space that it so craved. The development of productive forces in East Asia is overcoming the force of Vladimir Putin's fanciful speeches about 'Eurasianism', and it will also overcome all Abrahamic clerical-landlordist tendencies.
While I am adamant about the right and oughtness of fighting when one's own borders and EGI are being infringed upon, I am not a hawk. Geopolitical warfare has never been something that appealed to me, let alone with any sort of passion.
I'm very averse to the idea of going beyond my national boundaries to fight, particularly when my own nation is totally screwed-up, needs tending and where innovative thinking might solve problems as opposed to trying to solve them by resorting to warring abroad.
The problem is that there are valid arguments that there are vital requirements along the Silk Road, in the Middle East and in Africa - resource and population management that is indispensably necessary even to the most innovative and independent peoples. In these concerns, I'm going to invite the reader to consider with me the possibility of re-drawing ethno-nationalist and regional lines on this map.

As you can guess, conversations with Kumiko have got me taking these matters under consideration, and I hope that she will soon put up an article discussing issues that the neo-cons have failed to make in clear and persuasive terms.
Tangential to neo-con issues is an interesting philosophical question for another day: how, in detailed form, to set up a rule structure which will sort out and punish the genetic legacy of criminals; and facilitate the rebirth of those genetic components that have suffered unjustly at the hands of criminals in previous generations. In this case, I am thinking more in terms of those who have historical grievances with Russians - while it is true that I don't feel this grievance as do some others that I've known, it is nevertheless only practical to set the question aside for the time being - though it is a question that can apply to any people who have benefited or suffered from historical atrocities.
Europeans, now, are asked even more fundamental questions than relative guilt and merit, but are asked to address the matter of our identity, period - that we are a people (different from Jews and others), to establish who we are, what the nature of our common moral order is, to understand that the obfuscation of that would-be peoplehood is a part of a war against us - and that there is, indeed, a war against us; finally, we are asked what is the nature of that war and what it consists over?
When considering these matters from a White Nationalist perspective, Russian people are not conceived as inherent enemies, nor, even, is the humongous expanse of their nation high on the list, if on the list at all, of things intolerable to allow to remain. At first blush, I can imagine living with it - it's always been that way in my lifetime; its reach contracted after the fall of The U.S.S.R., but still remains bigger than Pluto.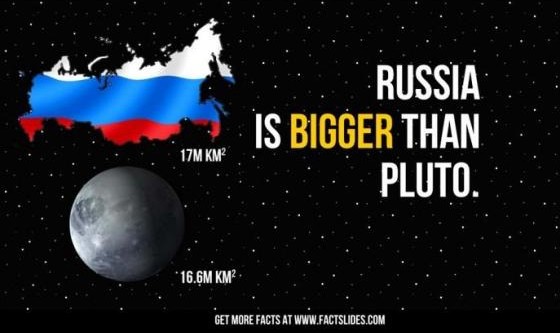 Nevertheless, we ought to reconsider this from an Asian perspective, and from a perspective of acute European interests.
I didn't expect to have occasion at this point to consider aloud the possibility of attempting to align formal industrial military objectives with ours as White Nationalists. Oil, resources, even absurd and brutal regimes in the Middle East and Africa inflicting harm upon their own do not stir any passion in me to fight. The function of Asian countries and Western countries do, however, have requirements and rationale to get these nations under compliance. And in hopes of facilitating the human resource of Kumiko's military perspective, I am going to imagine empathic military geo-political objectives, so that we might envisage a grand chess board result in our victory.
From that standpoint I attend to the fact that as nationalists and as White people in particular, fighting for the survival and sovereignty of our nations, that militarization and the geopolitics of resource and population management will ultimately be necessary.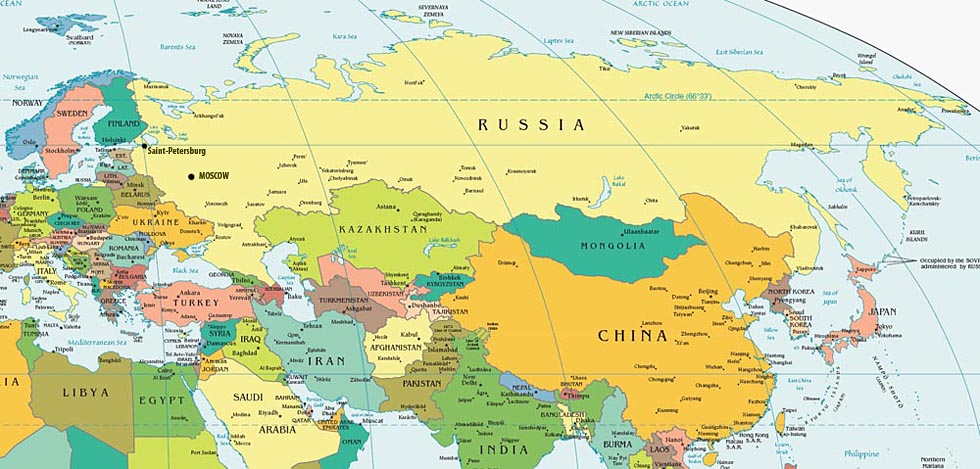 Asia and the West have things that we need from one another, including cooperation against antagonisms from the Middle East and Africa.
Not only do we need resources from these places but we need mutual help in border control and repatriation projects.
What about Russia? It is so big. Why not just work with them and allow its vast space to become a place for White people to grow into?
While it is true that another traditional passion for some war mongers is hating Russians and maybe I should hate them, I don't hate them. Nor do I care if people want to move there; furthermore, I completely understand not wanting to fight them. I don't want to fight Russians; the war in Ukraine has been instigated by Judaized and neo-liberal means and motives and it disgusts me.
Even so, WN tendencies to look upon Russia as the great White hope ignore the propositional, neo-liberal, mercantile and Judaized aspects of Russia - as if its political class has no corruptions analogous to The US that will wreak havoc with such projects to connect with Russia as a partner in White Nationalism.
On the other hand, while I favor Ukrainian and Belarusian sovereignty, as I favor all ethnonational sovereignty, I am opposed to a hot war approach with Russia to increase their sovereignty.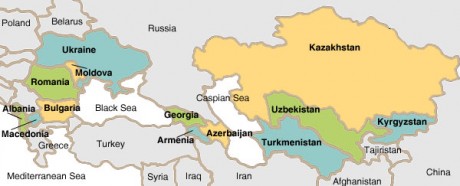 But neither am I in favor of a hot war approach to defending Russia's humongous eastern stretch and southern conflicts.
Rather than abandon to foreign invaders the natural ethnonationalist homelands of our European evolution and engage in White flight to move into lands that apparently represent imperialist aggrandizement - beyond ethnonational mandate - on the part of Russia, to reiterate, neither am I particularly interested in fighting to protect Russia's imperial overreach.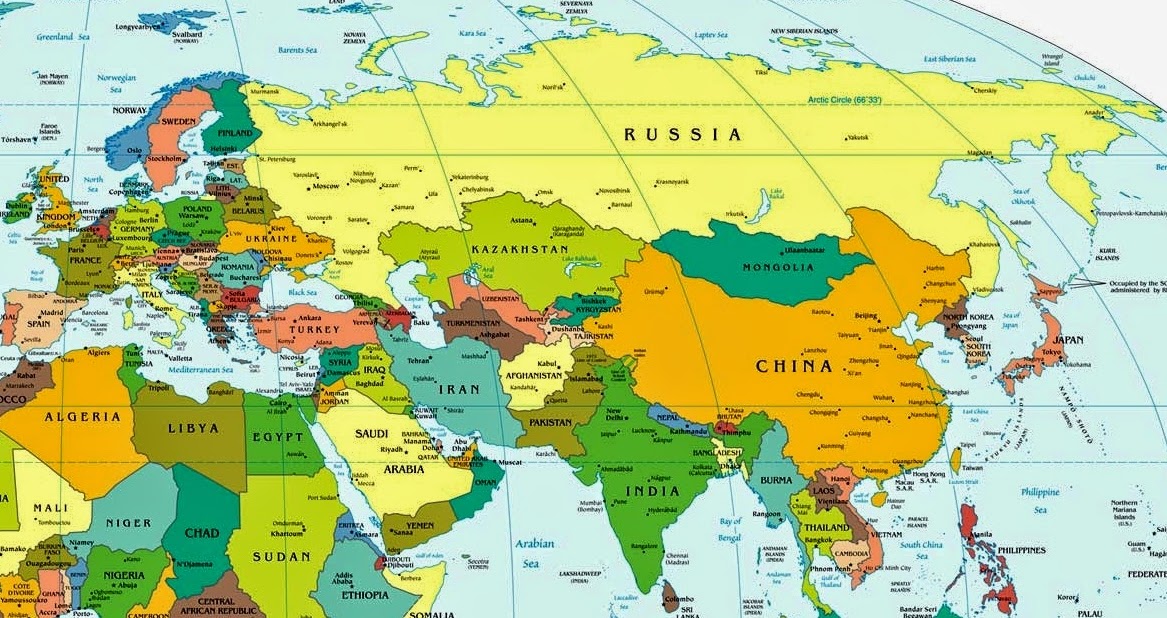 In a word, defending what is apparently an imperial over-reach is Russia's problem and an issue that can be turned to our advantage as Europeans in order to gain cooperation with our EGI, its borders and vital resources.
We need Chinese, Japanese and other Asian cooperation more than we need Russia's imperialist headaches; and China and Japan are not about to start loving Russia more than their own interests which are impacted by Russia's Eastern and Southern interference.
We need cooperation with Asia to compel compliance with regard to resource, EGI and border management. And we might compel Russia's compliance as well with those needs by means of the West's regional alliance with Asia.
Thus, while we might not engage a war of maneuver in either Russia's west nor east, we might well consider lending approval to Asian positioning in Russia's east and south.
That is, allowing the "stick" (as opposed to "carrot") of some of these lands as potentially sovereign Asian places: with enclaves Russian and enclaves Asian, the farther east you go, the more the general area would be Asian with fewer Russian enclaves and vis a versa - the farther West, the fewer Asian enclaves until you reach a point where it would be a Russian only ethnostate. And the carrot to Russia would be less contentious relations with its neighbors, more secure borders, and more cooperation in resource garnering, management and use. That is not necessarily a bad deal.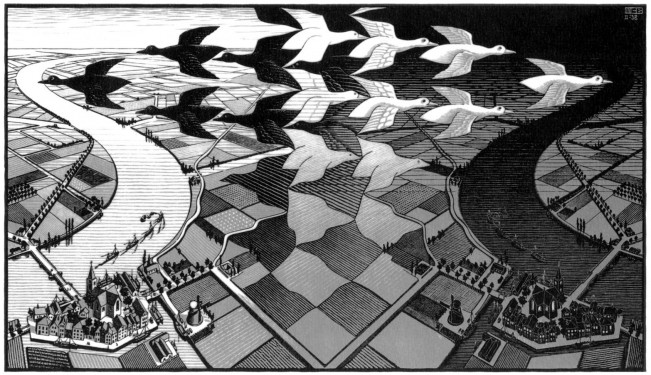 Toward an Asian-Atlantic regional cooperation.
1. The genetic-make-up and territorial boundaries of the European ethno-states shall be restored, maintained and protected.
2. To achieve this end we propose alignment with the Asian ethno-states and region.
3. Something like the E.U. and North Atlantic would be necessary to achieve that alliance and its success.
However, it will also involve some quid pro quo.
4. First, we see it as being in both of our interests to secure our peoples against impositions of Middle-Eastern and African populations; against imposition of the Abrahamic religions; and against interference of these peoples and religions in our vital resources.
5. Toward that end, it is in the interest of both Asians and Europeans to remove these populations to the greatest extent possible from our geo-political territories; and, again, to remove significant imposition/interference upon our mutual vital resource interests.
6. Sacrosanct European territories in the Americas, Australia and New Zealand will likely need to become smaller at any rate in order to be maintained and defended. But with the increased manageability of defense will come an opportunity to offer cooperation to Asians to have some sacrosanct territories of their own in these places. We will respect and cooperate with one another toward the defense of our territories in diaspora, seeing African and Middle-Eastern (saliently Jewish and Muslim) populations as those who must be guarded against and compelled to as great a distance from our people as possible, removed from civic nationalization and its proximity.
7. Russia/ns will be seen as having an analogous situation to White Americans. In order to have a safer, more manageable ethno-state and something to offer in exchange with the Euro-Asian regional alliance, they will be required to contract in size considerably, particularly from its expanse eastward into Asia and its geo-political interference there and to its south, unilaterally along the Silk Road. Russia's ethno-state will be more secure as it will be forced into a more cooperative and less antagonistic relation with the rest of the geo-polity.
The key deal is this: we will compel Russia to relinquish parts of its territory (leaving it no good choice but to comply). In exchange we will require Asian assistance in cleansing and defending our territories from imposition by non-natives - particularly Africans, Middle Easterners, Muslims and Jews. And we will require compliance in securing our vital resources and transportation routes.
The advantages to European peoples and Asians in this alliance is clear.
But what regional and national lines might you imagine and what advantages to Russia and others do you see for compliance? Discuss.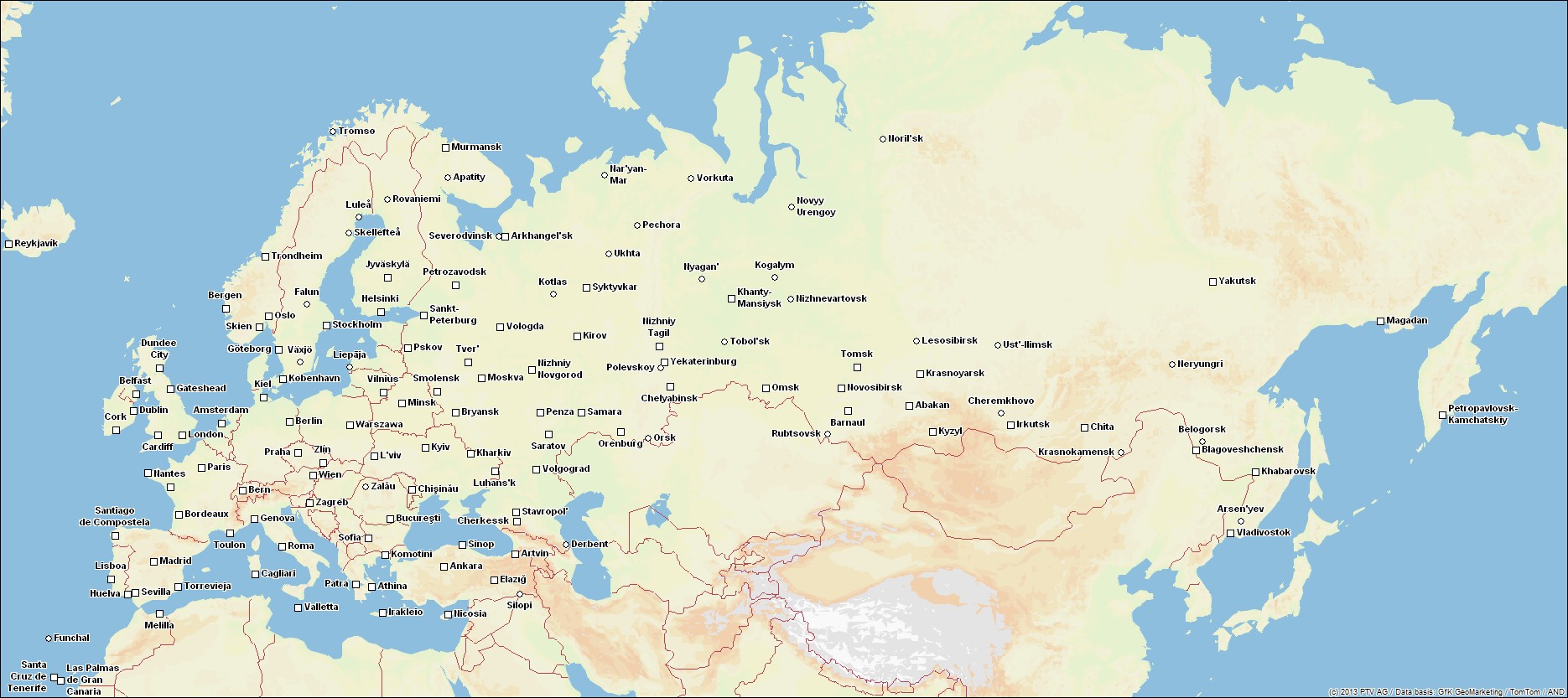 As there are no Russian cities larger than 600,000 east of lake Baikal (near the city of Irkutsk, centrally to the north of Mongolia), and only four larger than 300,000, one way of arranging the pockets, enclaves, ethno-state outposts as it were, would be to have a symmetrical "M.C. Escher-like" arrangement (as in the image called "Day and Night" above), i.e., an entering of these enclaves into the others general regional sphere - enclaves which would, nevertheless, represent sovereign states.
The plan would emphasize deportation and re-doing citizenship in favor of native lines, viz., on the basis of ethnostates. That is unlike the Moscow - Berlin - Paris axis, which apparently seeks to reconstruct the same old right-wing, propositional/objectivist oil interests.
Note: I can see how this could create incentive for Eastern European nations to cooperate - from a position of strength and in cooperation with White diaspora (note the interview of Tomasz Szczepański under the fold).
The Eastern European nations may agree to cooperation despite history of disputes (sometimes serious), and facilitate this ethno-nationalist and regional cooperation if their borders and native populations are guaranteed. If they are a part of a plan that guarantees that and necessary resources from the Silk Road - accomplished by increased cooperation with Asia and a Russia dealing from a cooperative position; then perhaps ethnonational and regional alliance with Asia can work. I.e, Russia has to offer more than trade in natural resources garnered through its vast expanse and fist waving at anybody who doesn't see their interests being secured inasmuch.
The area that is to be reserved as sacrosanct to the Russian ethnostate would be contracted from imperial dimensions and more in line with ethno-national proportions.
It is a contraction in concession to cooperation with other ethno-European nations that WN America will likely need to undergo as well.
This will make Russia more defensible and more worth cooperating with for the rest of Europe and Asia - as they will be required to join this Euro-Asian regional cooperation against middle eastern interference - whether Arab, Islamic or Jewish, they will be beholden to our terms and we will have the necessary resources of the Silk Road.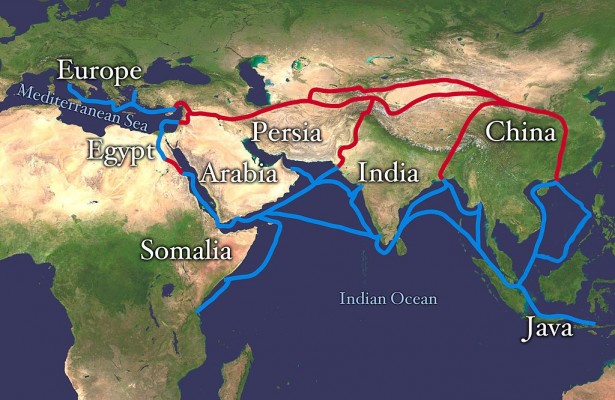 The other side of the deal for compliance and cooperation to garner vital resources, is that our vital EGI will be cooperated with in protection as well - including not only in border defense, repatriation and de-nationalization of the majority of non-natives from European and Asian countries, but most strictly the border defense, de-nationalization and removal of non-natives from European nations; while allowing for some accountable quota of Asians and Europeans in one another's nations and regions.