Majorityrights Central > Category: Liberalism & the Red Left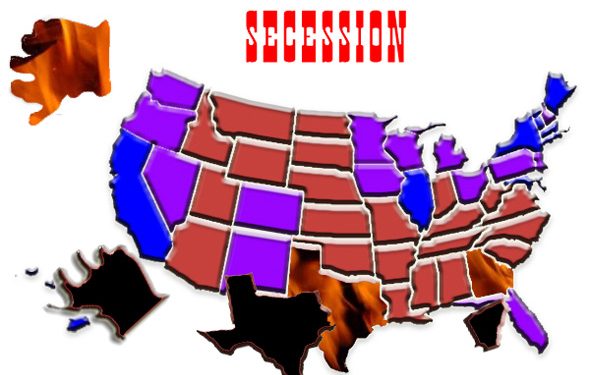 Yeeeehaaah! Sooweeeee! Get em ....Leroy and Schlomo
"The United States Should Seriously Consider Peaceful Partition", so says Vincent Law at AltRight on 24 April 2017.
How convenient that Vincent Law, a Ukrainian American (?) living in St. Peterberg, Russia, would proffer how balkanization of The US might go.
The right wing and Jewish perspective from which he comes is not to be trusted on either side of this issue. They created these conflicts, they created these immigration problems and now they want to create hackneyed "solutions." They may bemuse and distract larpers, but in the end they will serve a Jewish and complicit right wing perspective. This will create disaster and conflict for others while these weasels A) escape to gated communities or B) escape the country entirely if need be (with their money, of course); finally, e.g., leaving remaining Whites to get raped by blacks (who are "really not so bad", or perhaps "your problem", when in fact, it was their perspective that long ago imposed them on normal Whites et al.).
Meanwhile right wingers from other races will be trying to swing deals established by Jews and right wingers as well. Saying that the kind of Jews and right wing huxters posing as "ethno nationalists" on this thread at Alt-Right represent White people and their ethnonationalism. They don't. And they will create conflicts with people that White ethno nationalists should ally (not integrate or fight) with: Asian and Amerindian ethno nationalists.
The Right Wing/Alternative Right cannot be trusted with this issue any more than anything else - i.e., not at all. They are the ones who put Trump and his Jewish entourage into power. And that is just for starters in terms of their screw-ups. There are some basic issues that need to sorted out yet - not interminable matters, but too important to go right ahead and start bargaining on the bases and within the parameters that Jews and right wingers establish. They cannot even be trusted to say what is White or not.
silviosilver ✓ᵀʳᵘᵐᵖ ˢᵘᵖᵖᵒʳᵗᵉʳ Kumiko Oumae • 2 days ago

Asians do not belong in white ethnostates. It's as simple as that.

F—k off and die, please.
Kumiko Oumae reply to silviosilver ✓ᵀʳᵘᵐᵖ ˢᵘᵖᵖᵒʳᵗᵉʳ • 2 days ago

I completely agree that Asians should not be on the same side of the line as White people if a partition occurs in North America. That's precisely why I placed Asians and Hispanics together outside of the White ethnostate partition in the hypothetical scenario I described. Re-read what I actually wrote.

I would not even ask you to moderate the tone or language that you take when dealing with Asian people, since I think that Asian people do need to know how White Americans really feel on this issue, so as to shatter the illusion of there being any kind of shared destiny. You want to promote ethnic division in North America. So do I.

The American 'melting pot' was never going to work out. And even if it somehow did work out, it would be undesirable for all groups concerned. And so it should never be allowed to work out.
DanielS: Silver is an (admitted) non-White (who "wouldn't be surprised if he is part Jewish", but at any rate, "has an affinity for Anatolia and the Levant"), who agitates to deliberately stir-up strife among Whites and tries to create enemies for them among non-Whites. In this case, with Asians. I drove him away from Majorityrights long ago for these reasons. He is in no way to be taken seriously, as a representative of Whites; nor as a negotiator of ethnonationalism in good or bad faith.
While I draw attention to Alt-Righters, trolls and the experience that I have of them misrepresenting White interests, Kumiko calls some interesting facts to my attention about Alt-Right.com. - they allow for slurs against Asians in their comments, but if you use the word "Jew" the comment will be blocked.
She also noted that she was the only one who gave an up-vote to Bowery's comment:
jabowery • a day ago

Sortocracy: Sorting proponents of social theories into governments that test them. http://sortocracy.org
Bowery's idea of Sortocracy is among the most fair and intelligent on the thread, but the drawback of Sortocracy is for his/its empirical bias, as it lacks the historical element that hermeneutics corrects for. If that were to be incorporated, and it could be, it could be a very good vehicle.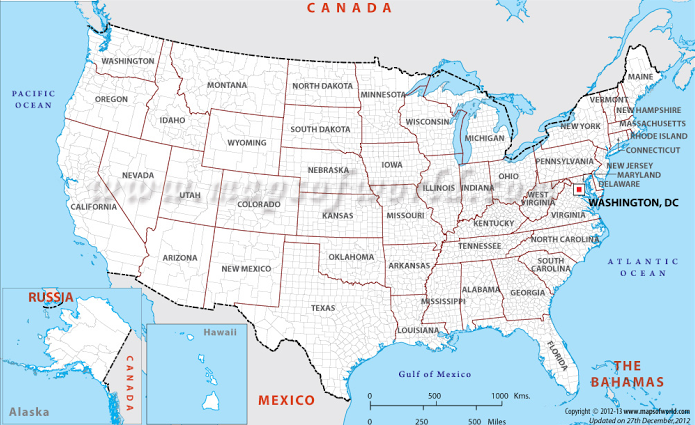 Clicking on the map will take you to a site that allows you to click further onto particular states to see all of their counties. For various reasons this is a helpful grid when examining matters of secession.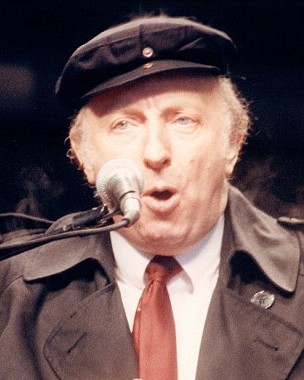 Arthur Scargill
..since we have an international audience, and sarcasm doesn't travel well, I am compelled to say immediately that Arthur Scargill is not GW's best friend, in fact, more like the opposite.
This article will be a work in process in regard to a hypothesis that I have of Scargill, that his successful fight against Edward Heath's conservative government fits in with a broader hypothesis of mine - namely that Jewish interests take the best, most serviceable ideas in terms of social function and organization - specifically in this case, I am talking about the left social concept of unions, guilds, syndicates - and they make them didactic, i.e., Scargill's union activism became didactic for the rubric and concept of the left, by having Soviet, Marxist and ultimately Jewish backing against ethnocentric, native nationalist interests; which forced right wing reaction. It is a reaction also manipulable, of which they will indeed make use in their interests. That is, where they fail to gain compliance with their international leftism - a "leftism" which spells liberalism against native ethnonationalism and tends only to allow for one nativist national union in the end - YKW.
A union is a social concept of members and non members; that is, in and out groups, non-membership, membership, legitimated discrimination and accountability on its basis. This concept can be applied to the level of ethno-nation. It is that level of unionized application especially which Jewish interests oppose - under the rubric of Marxism or the international workers Left, while deftly protecting their own Jewish unionization and nationalism (Jewish ethnocentrism and Zionism). But right wing interests, typically flying under color of objectivism, also tend to oppose this level of national unionization; and tend to conveniently go with their narrow interests as luck affords them or to be bought off by neo-liberal international interests and Jewish interests in opposition to the organization of native nationalism.
Thesis: It is standard operating procedure for Jews that they take good and compelling Left ideas for social organization, such as social unionization, and make them didactic (go over the top in misrepresentation with it to the point of reversal); compelling right wing reaction in their enemies as they are both more manipulable among enemies in that reaction and tending as such to frighten-off would-be popular supporters for the lack of empathic social perspective; its having been made didactic.
By associating himself early-on with Soviet Marxism, and successfully contributing to the overthrow of Heath's conservative government, Scargill was didactically facilitating the concept of international leftism which in the end would leave room for only one unionized nation - Zionism being the only native nationalist union to be allowed; thus it was that Scargill's unions movement was backed by proponents of international leftism and deployed as liberalism against the native national concept of Britain, imperviously forcing a reaction - Thatcher, whose Jewish objectivism acted further as a blunt instrument against the native nationalist union.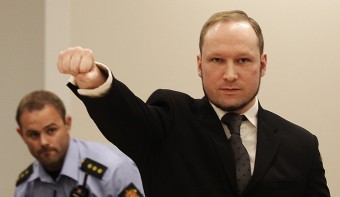 Anders Breivik
Where younger generations don't stay on page with the memo of the one unionized native nation to remain of international leftism, but maintain absolute liberalism against all native nationalisms - as the participants of a Workers' Youth League (AUF) summer camp on the island of Utøya did in their protest against Zionism - then a Zionist Breivik may be coddled to act through the available valves of ethnocentrically sanctioned aggression, that which is allowed by Jewish controlled discourse - coddled as such in his LARP to murder 77 kids in a misguided right wing reaction of nativist nationalism - Jewish interests want White nationalists to be didactic right wing reactionaries and to not be White Left Ethno-Nationalists.
Scargill more recently, still wears the red tie, but…
Coming back to the issue of Scargill, however, I thought he was going to more easily fit into the mold of a liberal, anti-racist, anti-native nationalist rat, masquerading as one concerned with unions and workers. Indeed, from what I know, admittedly not much, as I have not followed this history of British unions and their conflicts through the post World War II years, he perhaps still belongs in that category. There is evidence that he does, that he genuinely could have been a significant threat to the national interests, native and otherwise, of Britain and other European nations:
Early political and trade union activities

Scargill joined the Young Communist League in 1955, becoming its Yorkshire District Chair in 1956 and shortly after a member of its National Executive Committee.[4] In 1957 he was elected NUM Yorkshire Area Youth Delegate, and attended the 6th World Festival of Youth and Students in Moscow as a representative of the Yorkshire miners. In 1958, he attended the World Federation of Trade Unions youth congress in Prague.

[...]

National Union of Mineworkers

Scargill was a leader of the unofficial strike in 1969, which began in Yorkshire and spread across the country.[6] He had challenged Sam Bullogh, the chair of the Yorkshire area's NUM, to act on the working hours of surface workers, given that the union's conference had passed a resolution that their hours be shortened the previous year.[6] When Bullogh (unwell at the time) attempted to rule Scargill as "out of order", he was voted out by the area's delegates and a strike was declared across Yorkshire on the issue.[6] Scargill saw this strike as a turning point in the union's attitude to militancy.[7]

His major innovation was organizing "flying pickets" involving hundreds or thousands of committed strikers who could be bussed to critical strike points to shut down a target. He gained fame for using the tactic to win the Battle of Saltley Gate in 1972, and made it his main tactical device in the 1984 strike. By 1984 however the police were ready and neutralized the tactic with superior force.

In 1973, Scargill was elected to the full-time post of compensation agent in the Yorkshire NUM. (The Yorkshire Left had already decided to stand him as their candidate even before the strike.) Scargill won widespread applause for his response to the disaster at Lofthouse Colliery in Outwood, West Yorkshire, at which he accompanied the rescue teams underground and was on site for six days with the relatives of the ten deceased.[6] At the subsequent enquiry, he used notebooks of underground working from the 19th century, retrieved from the Institute of Geological Sciences in Leeds, to argue that the National Coal Board could have prevented the disaster had they acted on the information available.[6] This performance strengthened his popularity with the Yorkshire miners.[6][8]

A few months later the president of the Yorkshire NUM died unexpectedly, and Scargill won the election for his replacement, the two posts were then combined and he held them until 1981. During this time he earned the esteem of significant sections of the left and the British working class, who saw him as honest, hard-working and genuinely concerned with their welfare,[9] and he was also respected for improving the administration of the compensation agent's post. In 1974, he was instrumental in organising the miners' strike that led Edward Heath to call a February general election.

[...]

Scargill's statements in the years after becoming NUM president divided left-wing opinion with his support of Soviet Communism, most notably when he refused to support the TUC's positions on the Solidarity union in Poland or on the Soviet shooting of the Korean Air Lines Flight 007.[13] One branch of the NUM, at Amnesley in Nottinghamshire, put forward a vote of no confidence in Scargill in Autumn 1983 following his comments on these matters, but Scargill defeated this at a December meeting and won a vote of confidence instead.
It is suggested and with likelihood that his strikes, such as those on the coal mines during Thatcher years, could have been used by the Soviets and could have had disastrous consequences for national security had they not been countered by British security who were aware of underlying Soviet design.
Nevertheless, by recent talks of his - here, 1, 2, and 3 in favor of Brexit and against the European Union, its common market, etc, in which by contrast to neo-liberal interests, he goes so far as to argue against those who would depict as "racism" his and other's objection to immigration, as it is clearly against the interests of native workers, it seems that it is not quite so easy to depict him as running contrary to native nationalism, let alone his means (left unionization) doing that - at least not at first blush. Forgive the newcomers to this issue. While he may well have an outmoded idea of the sort of work and unionization to be protected, his heart appears now to be in the right place and the concept of unionization seems indeed to prevail as the natural recourse for organizing the people against scabs, the traitors and the downright treacherous - yes, including the treacherous by means of imposing immigration against native nationals; i.e., the concept holds up despite the fact that it has been typically misrepresented, including through him, by geopolitical forces trying to put forth Jewish/Zionist internationalism on the one hand and neo-liberalism on the other - both converging at a prescription of liberalism for native European nationalists; and since both sides are controlled by Jews and right wing objectivists, neither side wants anything like the unionization, the syndicalism of left nationalism for native Europeans and White diaspora as it would threaten their interests.
The concern now, of course, is that he is being used again by forces of neo-liberalism to placate naive native workers with promises of a place in obsolete production and protectionism in order to allow the YKW, Zionists and their Russian and American proxies to control the international market and labor - particularly Asia, as its rising interests would have little common ground with Zionist, Jewish and right wing interests as expressed through the Russian Federation and the United States; but may have a great deal to gain by making common cause with Left ethnonationalism among Europe and her diaspora.
More Silk Road News:
But wouldn't Asians traipsing among Europeans be looked upon as "scabs" in this concept, thus not having common interests and at risk to its adoption? Not if they're also characterizable as an accountable union, as opposed to the unaccountable ruse of objectivism.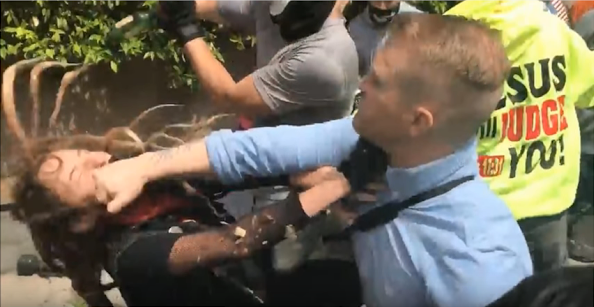 .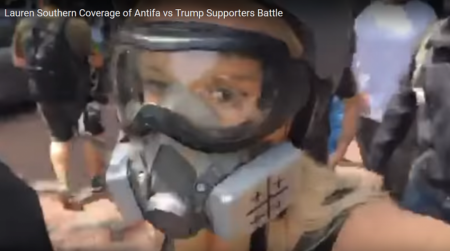 (((Lauren Southern))) equipped with gas mask, helmet and protective eye goggles, ready for the "surprise attack" from anti-fa.
In his discussion, "What Berkeley Means", Richard Spencer characterizes as a seminal event the prepared altercation between "anti-fa" and those gathered to hear Lauren Southern and other Alt-liters/ Alt-Righters ("doesn't make any difference ((())) or )))((( they're all under attack by anti-fa") at their free speech rally in Berkeley. Apparently it doesn't matter either that the bubble-headed Lauren Southern is Jewish and showed up equipped with a gas mask, protective eyewear and helmet; that the YKW are on both sides of this, alt-lite/right and antifa, as can be expected - no, according to Spencer this is to be marked as a day of such historical importance that it might be observed through the ages. Really, its clear that the YKW are on both sides of this one and that it is a continuing part of a strategy to put Whites and YKW on the same side. Spencer has done this before.
What Berkeley Doesn't Mean -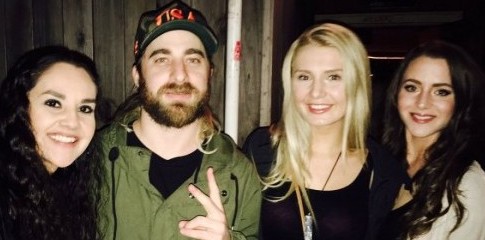 Baked Alaska™, Mike Cernovich, Lauren Southern and Brittany Pettibone - Brittany needs to get away from these right wingers.
It's hardly something like The Battle of Cable Street in reverse, as Spencer would depict it.
He doesn't tell you that Lauren Southern, a key promoter of the Berkeley free speech event, is Jewish; however, he does say that "she and other 'alt-lite' figures are being attacked just the same as 'alt-right' people, therefore they are in the same boat." This is tantamount to saying that Jews are in the same boat as Whites. Clearly there is an agenda to that. He's done this before, as I mentioned in this article - Where and how (((The Alternative Right))) is drawing friend / enemy lines of a coming revolution: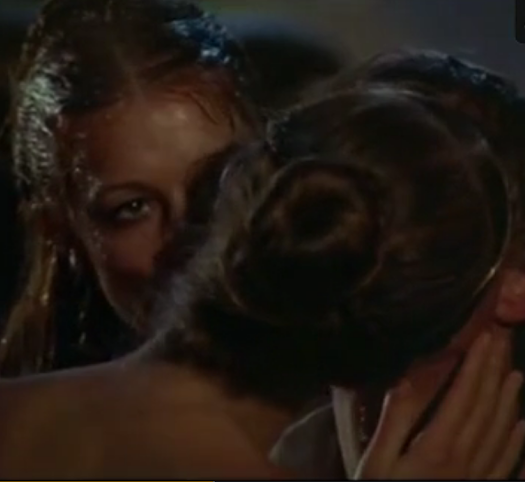 Any truly serious philosophical project, especially an "ontology" project, is going to take into account the phenomenon of homeostasis - the striving of biological systems to maintain an optimal balance of function and equilibrium of themselves and in relation to their environment, social and otherwise.
I have hypothesized that there is something of a mechanistic tension which facilitates "sexiness" of sex for people: that being the tension between brute expression of power, viz., dominance/ submission and the large requirement to submit to that animal drive - compelling sexual enactment in both genders on the one hand - a compulsion which is in further tension of maintaining human dignity, orientation and agency by contrast. There are different stories to tell about sex, but this one, I further hypothesize, helps facilitate additionally the option of a sacral attitude toward sex - because sex is fairly sexy of itself, if the match is appropriate, it can be with a relative minimum of competition and experimentation; i.e., an attitude treating monogamy as serious and a possible option for those more attuned and satisfied with "appropriateness", if not exacting appropriateness and a strong commitment to cooperation on its basis - including turning attention to other matters in life - this in balancing contrast to preoccupation with "betterment" through "better" partners. This option will serve as an aid to systemic homeostasis (incl. "EGI"); as this conscious option would serve to liberate practitioners and the pattern from scientististic facticity; and with it, the liberal cynicism that can otherwise recklessly expend social capital bequeathed of ethnocentrism, the morale and integrity of the system; its diminished incentive to remain loyal and fight for it against opportunistic outsiders seizing upon the vulnerabilities of our sheer, unaccountable liberalism.
Naturally, the Abrahamic religions have been adept at exploiting this void, presenting a pretense of sacrament and conservatism, when really Abrahamism has aided and abetted feudalistic compradores in the East and our hyperbolic liberal predicament in the West to begin with - cucking by Jewish interests, as they now like to say - a most cynical of Trojan horse, an affectation where adopted by Europeans and Asians, disingenuously imposing the Abrahamic agenda of universal dissolution of ethnonational patterns; expropriation of our genetics and resource; destruction upon non-compliance.
To hold up to Abrahamic imposition, the biopower of foreigners imposed under rubric of objectivism, other antagonisms, including our own people's betrayal through cynicism and dissolution through moral weakness, it is necessary that the sacred be identified of our pattern; but that sufficient liberalism within our paradigms also be maintained as important to maintain, to complement that option; and thus provide a full, healthy contrast to the Abrahamics, the liberals, the scientistic and the brutes.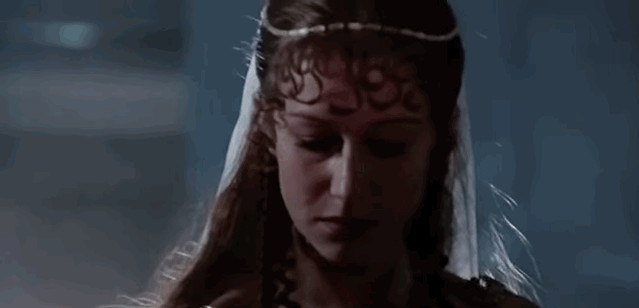 Helen Mirren as Caesonia in "Caligula", 1979
Why all the fuss, you say, won't nature take care of these things without social props? Well, sparing intricate examples and going right to the example of the feral child unable to acquire language after a point neglected, the answer is obviously not necessarily. And if we come back to acknowledge some criteria, and it is not a hermeneutically anchored quest for human ecology and reserving some reverence in assured commitment for time in memorial patterns, but falls into a scientistic cast of sheer Darwinistic competition, it becomes a headlong quest for what is "better" or "best", and then criteria for evaluation becomes a whole lot less clear, less accountable, more subjective than the matter of what might be appropriate. Isn't it natural to want better and more partners, you ask? Yes, and it is also natural for some to want monogamy. People are welcome to be non-monogamous in our societies and to try for better than what they actually bring to the equation - provided they are accountable to acceptable quantity and quality of the pattern - including boundaries and borders thereof; if they choose to go beyond that they must go to their new chosen people, to their lands and their borders; and not burden us with their choice, not impose upon us un-agreed-upon foreign children and adults - as to do so is equivalent to attempted supremaicism and slavery over us; as others have said before, a motion to take away our freedom; and we have the right to reject that.
As opposed to the scientistic inclination to try to propose the unaccountable "this is the way it is" regarding sex and other matters, this is a hermeneutic approach, making use of the expanse of narrative purview to increase the autonomy and authenticity of our individual and human ecological system's coherence, accountability, agency and warrant.
All that is reiteration of things I that have said before - though worth repeating, as often as need be, as these matters are that important - and, as I have also said before, these are topoi of means to maintain the integrity of our system against Abrahamic imposition.
However, I would like to highlight here in particular the importance of this way of treating sex as a means to hold up against the sexual psy-ops of our enemies, whether imposed by Abrahamic interests against ours or by liberals who take the modernist, liberal argument in the name of "nature", that would deny respect or even the possibility for monogamy and fidelity to one's ethnic group; would try to psych us out and condition us to accept our pattern's demise, with us supposedly having no recourse - the idea that "nature is impervious to human agency" and by contrast, "reconsruction of a people can only be backwards, superstitious tradition."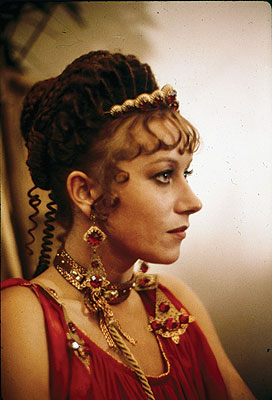 Helen Mirren, the gatekeeper
Coming back to another hypothesis of mine then, that all other factors being equal, the more modern and individualistic a society, the more females are "one-up" in partner selection (ovaries are expensive, sperm is cheap); as group patterns become disrupted by atomizing individualism, so increases her capacity to be "a bully" in the realm of sex. Don't like it? She'll call in other men who will pander to her in what is very much "her market." And her most base tendency to incite genetic competition will be exacerbated as well as she will be solicited and pandered-to not only by men from her in-group trying to prove their strength and liberalness to hold up to universal maturity; she will thus have increased opportunity to act on her inclination to incite genetic competition with outgroups and other races as well.
This is a very powerful position for females - even if primarily as gatekeepers to the most powerful, they can exercise vast prerogative with great confidence and verbosity; even when they are too young to really know what they are talking about and to make a just decision. Motives and incentives to maintain this liberal situation abound and as a result, some percentage of them will flaunt their sexual prerogative to the point of sadistic bullying. It is the unmentioned other side of the old double standard - yes, women are expected to be more chaste, because they can, in an unsporting, bullying way, be very promiscuous. Whereas a man will generally be ostracized as a horrible bully if he uses his physical strength to abuse a woman: a double standard, but having reason.
Along comes liberal and Jewish feminism and none of the downsides to the traditional male situation are recognized, only those who are on top. It is assumed that all of them are there as a result of differentiation of fulfillment on basic Maslowian need levels or that they are there for sheer reserved, albeit often unmerited privilege. None of the traditional advantages to women, i.e., the general occupation of the secure, in between levels on Maslow's hierarchy are recognized; and there is no recognition of an increasing majority of men who are squeezed to the bottom - who are not operating out of differentiation of fulfillment but sublimation of deprivation; nevertheless, their male desperation does impact other levels - notably female security, as the resentment of these males and their sociopathic influence on the top governance of society is overcompensating, without full capacity to exercise power on top levels - they become sociopaths, sellouts or join the ranks of the incompetent men in power, who are there warming a position reserved for them. So, there are three kinds of men on top traditionally: The overcompensating desperado, the the guy who's there because traditional society figured a quota of men were owed this spot; and another kind, the truly deserving, who made it through the school of hard knocks.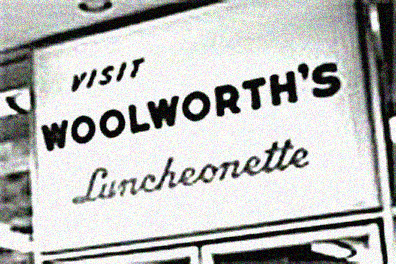 Where you lost the right to discriminate in private business as well.
Women Without Class
Originally Published November 26, 2011 at VoR; republished here for the sake of editorial correction and update - By Daniel Sienkiewicz

It was the ultimate YKW perversion of terms — civil rights, freedom and discrimination — culminating in the Civil Rights Act of 1964: Even a cursory glance over its statutes reveals obsolescence, disingenuousness and evil.
It takes no more than a glance at its statutes. One goes into an American institution and sees a placard looming overhead declaring "discrimination on the basis of race, color, creed, national origin…" to be illegal. Suddenly seeing discrimination rendered pejorative, illegal even, one experiences a vague feeling of dread.
You sense immediately that you are being told not to have so much as eyeballs by way of discriminatory capacity. You are to be utterly defenseless against biological antagonists, to have no present recourse against the destruction of that which is most important.
I) Barred unequal application of voter registration requirements. II) Outlawed discrimination based on race, color, religion or national origin in hotels, motels, restaurants, theaters, and all other public accommodations engaged in interstate commerce; exempted private clubs without defining the term "private." III) Prohibited state and municipal governments from denying access to public facilities on grounds of race, color, religion or national origin. IV) Encouraged the desegregation of public schools and authorized the U.S. Attorney General to file suits to enforce said act. V) Expanded the Civil Rights Commission established by the earlier Civil Rights Act. VI) Prevents discrimination by government agencies that receive federal funds. If an agency is found in violation of Title VI, that agency may lose its federal funding. VII) Prohibits discrimination by covered employers on the basis of race, color, religion, sex or national origin. Title VII also prohibits discrimination against an individual because of his or her association with another individual of a particular race, color, religion, sex, or national origin, such as by an interracial marriage.
In detail this Act is more Byzantine than that, and the ramifications of these prohibitions of discrimination are horrendous.
Even freedom of association, as it does not account for full processual development of those within the class, would not be sufficiently deep by itself, were it allowed. But while that objectivist, rational blindness leveraged by the technology of "civil rights" was bad enough, YKW interests perverted its meaning to violate even freedom of association by means of the Civil Rights Act.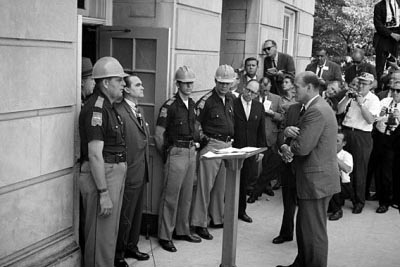 Alabama Governor Wallace confronted by school desegregation in the personification of
D.A. Nicholas Katzenbach
Deputy Attorney General Nicholas Katzenbach, working alongside a Kennedy clan willing to sell out and open its country to catastrophic integration in order to gain power, along with a similarly disposed Lyndon Johnson, making a good bid for worst president ever, sundry other YKW and objectivist Whites, oversaw departmental operations (implementing the 1954 Brown vs Board of Education decision) in desegregating the University of Mississippi in September 1962 and the University of Alabama in June 1963 – where he personally moved Governor Wallace aside to open the door for Blacks; also worked with Congress to ensure the passage of the Voting Rights Act, and had significant help from Javitz and Celler (of 1965 Immigration & Naturalization Act infamy), to pass the 1964 Civil Rights Act.
These initiatives also established precedent for California's Rumford Fair Housing Act of '63 which prohibited discrimination regarding whom one rents or sells property; and the '68 Fair Housing Act which extended that ruling to a national basis.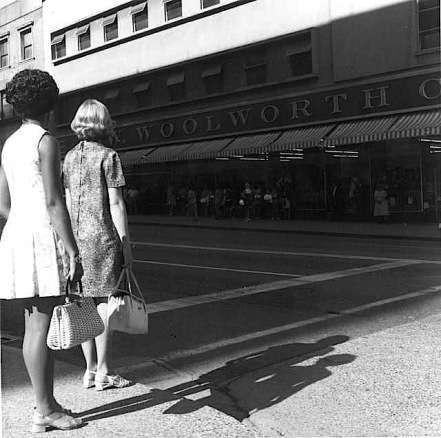 Waiting at Woolworth's
We have here in culmination the ultimate in doublespeak terms: "civil rights" equals being told whose babies we must pay for, with whom we must study, whose children we must educate (with precious knowledge tortuously acquired), to whom we must rent, to whom we must sell, whom we must hire, whom we must serve even in private businesses – and this is called "freedom."
Waiting at Woolworth's
The related decision regarding the Woolworth's Lunch Counter, telling a private business whom they must serve, was always one that caused my mind to glitch, even at a rather young age. M.L. King, with help from YKW overlords organized Blacks and others, including a few no-class White women - such as Joan Trumpauer Mulholland - to "sit-in" at Woolworth's and force a legal decision regarding desegregation of its lunch counters. The decision never made sense to me from the moment I heard about it – not in terms of anything that you can call freedom, anyway. Telling a private business whom they must serve, how, and whom they must hire – that is called "freedom"? It must be a YKW definition. "Freedom marches, freedom riders, civil rights" – right? Wrong. Rather quite civil wrongs.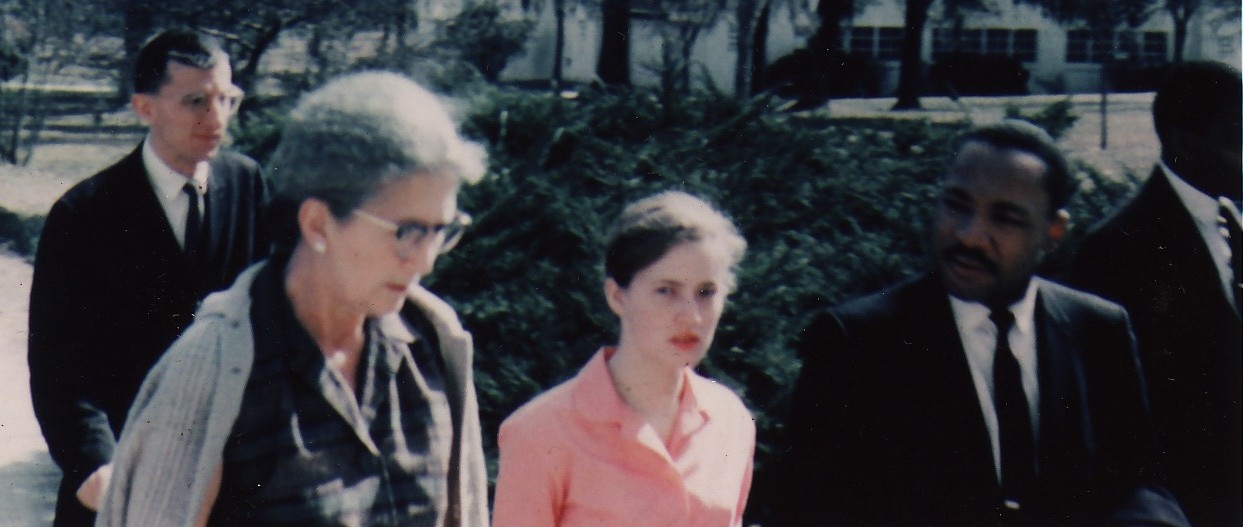 Mulholland and Dr. King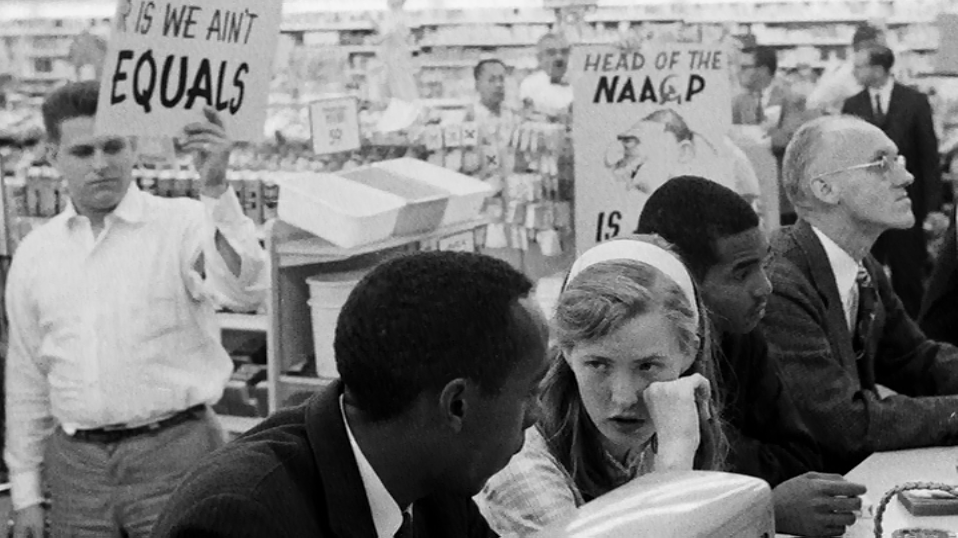 Mulholland participating in the "sit-in" at Woolworth's
The Civil Rights Act of 1964 went further by banning racial segregation "by businesses offering food, lodging, gasoline, or entertainment to the public."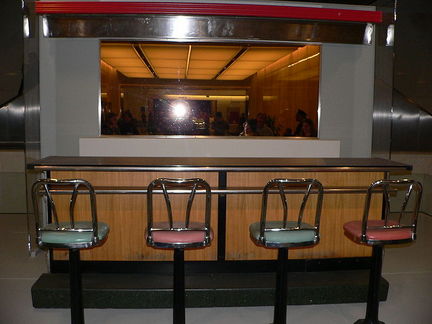 Original Woolworth's sit-in counter enshrined at The Smithsonian Institute
This would seem to be a clear violation of civic freedom, but YKW are skilled at promoting the self-destruction of Whites, who have been high on objectivism, while Blacks are hyper-assertive.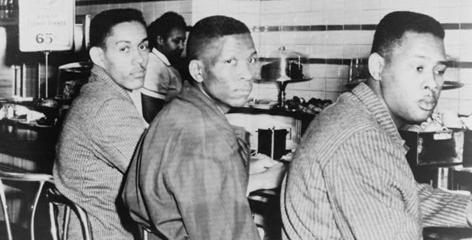 It is a civil right and its opposite is called illegal discrimination punishable by law. Do not discriminate; do not see the terror that you are confronted with; do not see that you are in something like a monkey cage, a planet of the apes (I can tell whether one has or has not been around many, depending upon an indignant response to that analogy or not).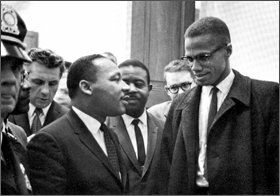 M.L. King Jr. and Malcolm X
In the article on Kant's moral system, I mentioned a kind of anguish bordering on torture that I experienced when I was groping after a moral order: That anguish stemmed from having inherited an obsequious Christian rule structure - the golden rule - by which I was to somehow go up against America's rule structure, lording as it did competition as noble for all and yet presenting me with still another obsequious and imperative rule in the form of the 64 Civil Rights Act; in confrontation with antagonistic demographics. Having experienced more than enough of them through forced busing to go to school with them, their riots of 1967 and 68 in the town of my birth, I was largely convinced that I did not want anything to do with Blacks. I assumed in my young age that it would be my prerogative one day, and that sane people would make the same choice. How could I believe that others, women even, could do other than legitimate separatism after seeing such things?
M.L. King Jr. and Malcolm X were at the U.S. Capitol on March 26, 1964. Both men had come to hear the Senate debate on the bill. This was the only time the two men ever met.
With Blacks rioting in Newark in the summer of 1967, my father's generation repeating the "greatest generation" mantra that 'you can't fight City Hall', the Vietnam War escalating unintelligibly so that no young person with a penis was immune from the draft, yes, I did have a certain yearning for the San Francisco version of that same summer of '67.
Beatle's guitarist George Harrison did go there - to the Summer of Love Be-In festival in San Francisco's Golden Gate Park - but came away with a bad impression having dropped a bad batch of L.S.D. He saw these kids around him hideously spotted and vacuum-cleaner faced. From our perspective now, naturally it does not seem like such a bad scene, certainly the better option in the tale of two cities, Newark and San Francisco 1967. No wonder I was a bit reluctant to let that go, particularly enchanting it was to me as a child. I was a little disappointed when traditional women and men would say that was "all nonsense" or "the source of our problems"; and I was disconcerted to experience similar antagonism from feminists, particularly when the war had ended.
July 1967 Newark riots, left and center images.



Right, "The Summer of Love" follows the "Be-in" in San Francisco, 1967; George Harrison, Pattie (& the vacuum cleaner faces lol).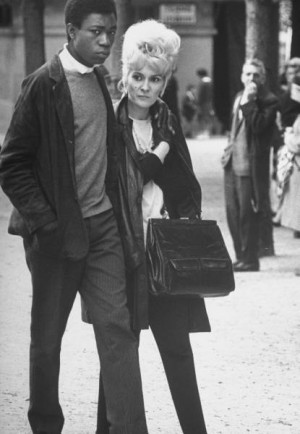 Before the late 80s interracial couples were rare.
The Civil Rights Act of 1964 goes further to say that, "An employer cannot discriminate against a person because of his interracial association with another, such as by an interracial marriage."
Just Great (for non native English speakers, note the sarcasm please): You cannot discriminate against people that you do not like, whom you find immoral and dangerous.
While the dam had not burst through the 60s, 70s, or even into the early 80s, it was a period of ominous buildup, the implications of the rule structure and demographic make-up were pervasive and auguring catastrophe…
Once the Vietnam War had ended, traditional women were rearing their ugly head and feminism went into high gear, steam-rolling any agenda for White male needs, though many boys still had need for being, communal being (midtdasein). I had just assumed that everyone would naturally reject forced integration and charges of "racism" but young women did not seem quite as inclined. Why?
Let's qualify all statements made about young women below to mean, at their worst/most opportune, given defective social structure and pandering. It would be clearly wrong to say that there are not plenty of cool White women. (1)

Thesis: Within the disorder resulting from civil rights (a feature of Enlightenment/Modernity) rupturing of classificatory (racial) bounds, the natural one-up position of young females ("you're so wonderful, may I have a date?"; i.e., an expression of sperm being cheap, ovaries precious) emerges with increased significance as they are less accountable to their inheritance and more competed for, pandered-to even, from males of other groups.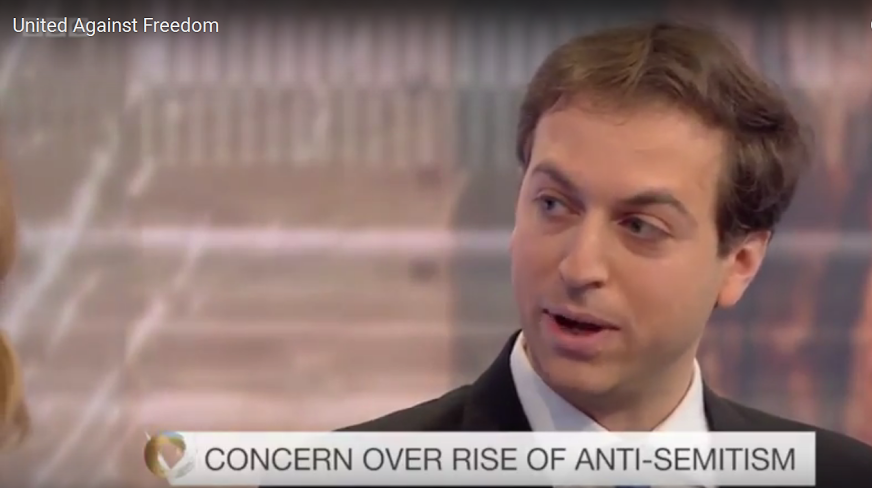 Jeremy Bedford-Turner's case will be re-examined following a 13-month campaign against him.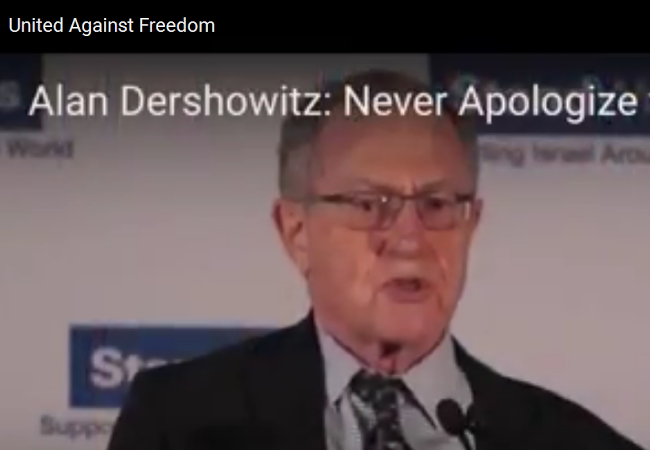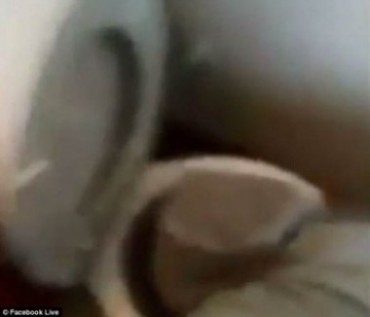 The toilet: where "Civil Rights" would place your senses.
Once you arrive at your destination - The United States Public Institution - there above the portal as you enter Orwellian hall, looms the placard, the ubiquitous injunction to leave your senses behind: "Discrimination on the basis of race, religion, sex, disability, etc, is prohibited by federal law."
You are not to deploy your eyes, ears, sense of touch, senses generally, to discriminate in defense of yourself and your kindred folk's group interests.
In the event that you get any ideas on the way to the public institution, ideas to return to your senses, react, perhaps even "over react", big brother is there with you too, as you make your way via public transportation, U.S.A. - whether bus, tram, train or the waiting rooms - big brother is there to remind you, watching you, reminding you not to come to your senses too rashly - looming ominously, pervasively over your head, right along with cctv cameras and sundry advertisements are the "public service announcements" that "hate crimes" are subject to an additional massive fine and ten years imprisonment.
So as not to forget, there hanging over your head is a reminder of this specially enhanced law, "discrimination on the basis of race, religion, sex, disability" etc, is against the federal civil rights act - you are to be reminded of the compensatory penalties that you will be subject-to if you give way to your senses and react to patterns of black criminality and to the fact that they are rarely charged with this law, even though you know them to be racist, even though they commit vastly more racially motivated crimes against Whites. You are to be reminded not to embark upon that slippery sensible slope, especially because the sloping trail may lead you to the realization that the same can be said about Jews - that they commit vastly more crimes against Whites, viz., if White collar crimes are taken into account; if laws were properly drafted so as to proscribe deliberate or reckless destruction to E.G.I. such as perpetrated through the social engineering of School Integration, the '64 Civil Rights Act, '65 Immigration and Naturalization Act, The Rumford Fair Housing Act, Section 8 Housing, H.U.D. and the subsequent 2008 subprime mortgage crisis.
Of course the objectivists, so proud of this pure system of theirs, wouldn't want to sully it by coming to their senses either - otherwise they might ask, "a crime is a crime, so why the additional penalty in recognition of cultural patterns?"
Alex Linder has a suggestion for them - blacks commit far more interracial crime, therefore, Whites "require" compensatory punishment to balance things out: "Hate crimes are affirmative action for Whites", for their under-representation in interracial criminality. ....he might have added, probably would add, the vastly disproportionate representation by Jews in White collar and social engineering crimes (inasmuch as they could be on the books) committed against Whites and others' EGI.
In regard to the Chicago incident, apparently the fact that the White kid was also mentally disabled facilitated liberal mentality to generate a rare hate-crime charge against black perpetrators: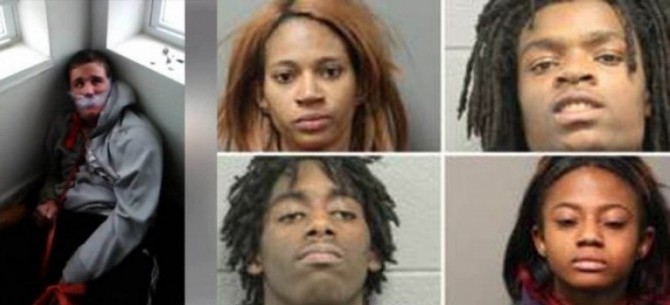 ABC News, "Hate-Crime Charges Filed in Attack on Mentally Disabled Man", 5 Jan 2017:

Four black people were charged with hate crimes Thursday in connection with a video broadcast live on Facebook that showed a mentally disabled white man being beaten and taunted, threatened with a knife and forced to drink from a toilet.

The assault went on for hours, until Chicago police found the disoriented victim walking along a street, authorities said.

The suspects, who were jailed, can be heard on the video using profanities against white people and President-elect Trump.

Police spokesman Anthony Guglielmi said investigators initially concluded that the 18-year-old man was singled out because he has "special needs," not because he was white. But authorities later said the charges resulted from both the suspects' use of racial slurs and their references to the victim's disability.
DM, "Black teens are charged with a HATE CRIME after live-streaming torture of white disabled man who they held prisoner for days before he escaped - as cops reveal they have shown NO remorse," 5 Jan (updated 8 Jan): 2017:

[...]

...that's when the sisters tied him up and the group started torturing him for about six hours. Half an hour of this torture was live-streamed on Facebook, showing the group beating the young man, cutting off a piece of his scalp, forcing him to drink toilet water. At one point in the video, one of the four yells 'f*** Donald Trump. F*** white people' at the victim.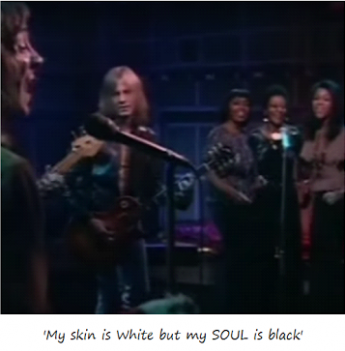 Black Coffee and Humble Pie - Eat It: British musicians quest for authentic organicism in their rock n' roll took a turn to estrangement from Whiteness.
To the British hippie looking to pursue his dream of rock stardom unfettered by the inorganicism of letters and to facilitate his effort to outflank musical competitors by dint of his capacity to assimilate black organicism - black soul - his motives might have appeared one and the same as self actualization in the hippie agenda - appearing as universal expression, absent as it were authentication through confrontation of his own mortality, in the draft and the stark contrast with the reality of MLK's "dream", let alone Malcolm X's.
There was a significant difference in motivation between British and American hippies in that the British context lacked the personal being toward death that confronted American hippies through the Vietnam draft; and the collective being toward death confronting them directly in day to day life with blacks in numbers; especially absent, as Americans were, the deep, historically confirmed social group of their (White) people and place, which British hippies took for granted.
Taking that for granted, the British hippies had a distorted view on blacks, largely seeing the pleasantly presented musical aspects of blacks, initially by ((Chess Records))); or representations in (((American and British media))) of blacks as "arbitrarily" oppressed. Without the lived experience of having to deal with blacks in numbers, on equal nationalist footing (actually not equal - blacks had an advantage in the sense that they were allowed to organize in their group interests, having had strident and powerful Jewish backing as such), but by contrast, given British hippies' capacity to rely on the superior warrant of their White historical people and place, their native experience lacked the existential circumstances of crisis which made for the profound element of hippiedom - its quest for midtdasein - especially for the White male part.
It is not that I lack of sympathy for their mistake, since when I was yet to be confronted on the precarious recourse of civic nationalism by blacks in numbers - as I would be in a few years, with "school integration" - I myself looked upon American southerner's "prejudice" against blacks as "abhorrent." I didn't know from experience, but rather from what (((TV))) had told me. In fact, I incredulously asked my cousins from Alabama "why southerners were prejudiced against blacks?"
But whereas I merely needed to be bused to the black side of town, as I would be in 1971, to learn my lesson and eat humble pie, it could take considerably more to disabuse a British musician of his dream of being a part of the British rock n' roll invasion of America. He had brushed-up for months on his black licks while he spun Howlin' Wolf and Muddy Waters records as an isolated variable in his house - safely ensconced in a White nation (while perhaps envious of American success and seeing his superior lack of prejudice as means to rise above the crude, nouveau riche Americans) - removed from the American black movement's disconcerting contrast with the hippies' weird, organic expressions of White male midtdasein. On the one hand, there was the contrast of the intimidating aggression of black power as compared to the hippie goal for peaceful communal being; and on the other hand there was the awkwardness of the weird and unkempt hippies by contrast to the studied dress and manner (horn-rimmed glasses, thin ties and uniform black suits) that the Marxist Highlander School of Tennessee taught black civil rights activists to carry themselves with - an air prim and proper, full of "integrity" and "dignity" was to be projected with black "civil rights activism."
To the British hippie looking to pursue his dream of rock stardom unfettered by the inorganicism of letters and to facilitate his effort to outflank musical competitors by dint of his capacity to assimilate black organicism - black soul - his motives might have appeared one and the same as self actualization in the hippie agenda - appearing as universal expression, absent as it were authentication through confrontation of his own mortality, in the draft and the stark contrast with the reality of MLK's "dream", let alone Malcolm X's.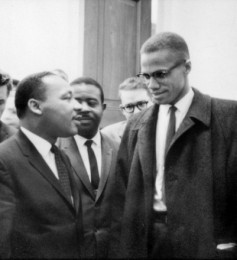 While sleeping with White whores, Marxist trained MLK projected innocence and promoted "a dream" to the naive and disingenuous, that black and White children could blend to no harm; black Muslim trained Malcolm X preached to the black power militancy of his own, proclaiming along with Elijah Muhammad that "the black man would rule."
He was not quite getting that the emulation of black organic being lacked the requisite delimitation of White midtdasein, the authentic, organic expression of its peoplehood; at that time organic White male being sought crucial reprieve from the habit of war, alleviation from monocultural (nee universal) male rites of passage and the overcompensating traditional male role of tribal aggression as a result. Having his ancient national recourse to duck the repercussions and the direct experience of living with blacks pursuing their own power nationalism and civic motives made it harder to dismiss the Enlightenment's prejudice against prejudice and the Jewish hard-sell misrepresentation of prejudice against blacks was invalid. The British rock musician could more easily fancy his grand tour of The US market as a gospel barnstorm; imagine his band on an evangelical mission, to demonstrate non-prejudice and good will toward blacks et al; he could not fully appreciate that his vision was a controlled illusion of (((The Western Media and Powers That-Be, generally))) that might be woken up to reality if only cold water were thrown in his small face by tour's end, when it was time to retreat home.
Still there was this great pitfall besides brackets for White males in their pursuit of authentic Being at this point. Their pursuit of midtdasein in correction of past over compensations that resulted of didactic incitement to arbitrary competition remained stigmatic against traditional gender roles - midtdasein was not only going against the male role of aggressive competitor, but against his pursuit of sheer victory and achievement, going against the pinnacle of stand-out actualization above society, or rather atop, but still comfortably aligned, which was the linear traditional direction of male quest.
Moving beyond mere custom and habit of tradition, to reject this quest of pinnacle actualization as a priority nevertheless remained stigmatic from the newly hegemonic modernist standpoint also - its sanctioned pursuit of self actualization as a universal good and in a universal context, transcendent of group interests, was the offered reward for any man who'd compete for it and win it - but offering no sympathetic rest for midtdasein. No, the naively anti-social, a-historical, a-contextual pursuit of self actualization was not only the upshot of traditional objectivism itself, but exploited and exacerbated by Jewish tribal interests who maintained group organization for themselves while inciting profound group competition for others: pandering to female inclination to incite genetic competition in modernist feminism; and otherwise distorting beyond reason the modernist rule structure; saliently, by means of "civil individual rights" and the prohibition of group classification and discrimination by Whites as "racism"; i.e., aiding out-groups, and leaving midtdasein a highly unsympathetic quest by contrast.
But another large pitfall of the hippie movement and why it did not succeed in becoming articulate in promulgating its organic motive of midtdasein, its profound importance, was that in an initial phase, at least, Being would move toward organic synthesis and against analysis - rebelling against the artificial divisions of analysis, whether the analysis facilitated by mere words or the more baroque analysis of academia and its traditions. Furthermore, males, especially in the disorder of modernity, tended not to be in the addressive position (how are you? can I have a date? Oh, I care about your feelings, why did he hurt you? etc.), a position that contributes to becoming articulate, a position that females occupy increasingly with the upshot of modernity, with the assumption that their intrinsic feelings and thoughts are worth consideration and worth more on the market - with incentive to maintain that increasingly competed for one up position through didactic incitement. Lacking that second person addressive position by contrast and incitement, males would tend to overcompensate, seeking stilted prosthesis in the detached third person position - e.g., a rock star to his audience.
This could result in a kind of estrangement, superficiality and naivete in the pursuit of authentic self actualization, particularly when pursued by alpha male musicians flouting education, "jive-talk" (as opposed to the basic talk), flouting the awkward sublimation, the nerdishness that is characteristic of a good part of authentic White male being. Again, this European soul, as it were, was distinct form the black power and civil rights movement which would view White organic variants as geeky White jive, lacking in the black man's "sou- ee oo - ee ou—- ooouwel - oou - ouwhel" and "in-teg-ritae."
Itchycoo Park: Over Bridges of Sighs.To rest my eyes in shades of green. Under Dreaming Spires. To Itchycoo Park, that's where I've been. What did you do there? - I got high. What did you feel there? - Well I cried. But why the tears there? - I'll tell you why - yyyyy. It's all too beautiful, It's all too beautiful. It's all too beautiful, It's all too beautiful. I feel inclined to blow my mind. Get hung up, feed the ducks with a bun. They all come out to groove about. Be nice and have fun. in the sun. I'll tell you what I'll do - What will you do? I'd like to go there now with you. You can miss out school. Won't that be cool. Why go to learn the words of fools? What will we do there? We'll get high. What will we touch there? We'll touch the sky. But why..
Because authentic White male being will manifest the quirkiness of our optimal sublimation, the appreciation of which is a part of our K selection strategy, its authentic expression was revealed in initial spontaneous, organic expression - that is essential to why this celebration of the weird was a part of hippiedom as well. Blacks, and R selectors generally, are not circumspect enough in their concerns to be weird in the flighty way that Whites are - blacks are cool and overly comfortable, at home in the world, their patterns are too old, stable, masculine and no-nonsensical to be weird in the White way. If sufficiently understood, the appreciation of this optimal White male sublimation would serve to gauge authentic praxis, between the Cartesian extremes of empirical myopia and abstract universalism. This median male sublimation, as opposed to over-confidence, gives us sufficient empathy and pause to spawn intellectual creativity. But within the inciting context of modernity, the pursuit of midtdasein for White males, was but a flicker that was extinguished when it was no longer required consolation against the absurdity of the Vietnam war.