Majorityrights Central > Category: IQ and Heredity
Tom Sunic
Below is my response to "A New Chapter in the Fascist Internationale" by Alexander Reid Ross, in Counterpunch, September 16, 2015.

Mr. Alexander Reid Ross, Counterpunch
Dear Mr. Ross:
I read with great interest your article, "A New Chapter in the Fascist Internationale," published in Counterpunch and must commend you on your polished syntax and a good, albeit somewhat hasty summary of what is awkwardly termed the "World National-Conservative Movement." As a long time reader and admirer of some Counterpunch authors who dispel the myth of progress and who tackle the liberal mystique of permanent economic growth, it is quite possible that we have more in common than what may appear in my critical remarks. Having ties with many so-called "White nationalists" in all parts of the world, and being also a Director of the American Freedom Party, let me try to put things into a short conceptual and linguistic perspective first.
The words 'Fascism' and 'Nazism' are constantly used as weapons to vilify people who identify as White and have a sense of White interests, to the point that these words have now become meaningless. Both have been so much subject to semantic distortions over the last 70 years, to the point that there is no longer any meaningful relationship between current movements labeled with those terms and the cultural-political movements in the Europe of the early twentieth century. (I am sure Noam Chomsky would partly agree with that). Instead, the term 'Fascism' is tossed around today as a generic locution in order to criminalize and pathologize any non-conformist White person or any group of White people by implying that they are nothing more than xenophobic haters.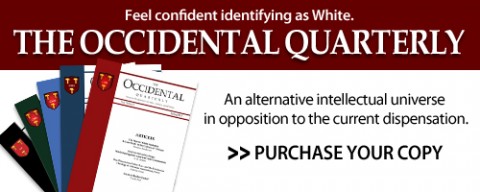 Hence, if we look at Fascism or National Socialism through such demonological glasses, we run the risk of landing in the realms of the ancient Greek underworld, more worthy of the Hesiod's and Homer's prose and certainly not into a dispassionate Elysian field of objective historical narrative. I am probably acutely (and sadly) aware of the "antifascist meta-language," having grown up in what was known as communist Yugoslavia. Back then "Fascist beasts," "Croat Fascist monsters," "Nazi terrorists," were a central part of the Communist Party vernacular, and any non-conformist thinker was routinely and permanently consigned to this home-grown bestiary. Alas, what I am witnessing now in the USA and EU media, as well as in higher education, is a recapitulation of these paleo-communist memes, albeit dressed up in more attractive attire and blessed with the legitimacy that only the elite media can confer.
I hope you have read some of the authors mentioned in your article. Otherwise, again, one runs the risk of entangling oneself in the dialogue of the deaf. Apart from books by "mainstream" scholars such as Zeev Sternhell and Ernst Nolte, it is very difficult to find any other contemporary authors who more or less objectively document the intellectual origins of Fascism or Nationalism Socialism. Rather than describing the very real problems confronting these societies or attempting an honest appraisal of the popular appeal and economic achievements of these cultures, we see little more than gratuitous moralizing while at the same time the monstrous police states and mass murder perpetrated by the Left* during the same period are ignored. Without wishing to sound pretentious with my own intellectual baggage, there is no way one can fully grasp the birth of the "conservative revolution," or Fascism, or National Socialism without being fully proficient in the German and the French languages and knowing very well the cultural heritage of Europe prior to 1922 and 1933.
The fears and concerns motivating the current increase in what you would call fascist parties stem from the tidal waves of non-European immigration that are affecting almost all European countries. These fears and concerns are quite different than those that gave rise to fascism in the 1920s and 1930s, and they are quite legitimate. The attitude of the left* is that people are essentially interchangeable, so that it makes no difference who immigrates to the US or Europe, and the native Whites of those areas have no legitimate interests in preserving their political, demographic and cultural dominance. This is simply not the case.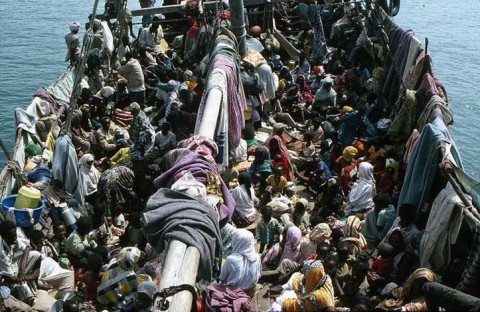 The immigration issue is critical. The US is projected to be majority non-White in just a few years, and even European countries like the UK that have had relatively homogeneous populations deriving from what is a relatively homogeneous European gene pool for thousands of years are projected to be majority non-White within the century. The ongoing crisis centered most glaringly in Germany promises to speed the day when native Germans, whose ancestors have dominated Central Europe for well over 1000 years will become a minority.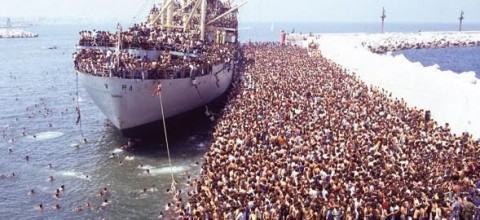 The view that immigrants are interchangeable ignores the costs of multiculturalism in terms of increased conflict, lack of willingness to contribute to public goods like health care, and social cohesion. Thus it's one thing for the US to have immigrants from various parts of Europe; they have assimilated very well. It's quite another thing to have immigrants from the Middle East and Africa with very different cultures and very different psychological traits (including IQ levels), and strong tendencies not to assimilate.

This view also ignores the long history of ethnic conflict in multi-ethnic, multicultural societies. The idea that societies where Whites become a minority will live in peace and harmony is Utopian to say the least, especially given the fact that Whites are now being blamed for all the problems of non-White groups, including the educational failures of Blacks and other immigrant groups (an argument that ignores the success of East Asians in Western societies). The hostility toward Whites with their history of colonialism and expansion will not end when Whites become a minority. It is a very real fear among a great many Whites that these changes are absolutely not in their long-term interests. It is quite reasonable and makes the appeal of populist politicians like Donald Trump in the US understandable.
On the personal level, yes, I must admit, I feel more at ease talking to working class Americans when visiting a village in the Ozarks, or being a guest of honor at a simple farmer's house in the German Harz. One finds that the common sense and political judgment of these people often surpass those of many modern scholars focused solely on demonizing movements they do not understand and promoting utopian projects that ignore human nature in favor of creating multicultural societies that are not only prone to ethnic conflict, but violate the legitimate interests of Whites who have dominated these areas for hundreds or, in the case Europe, thousands of years.
Regardless of our possible disagreements and despite the fact that you will likely dismiss me by simply classifying me as a "White supremacist" or "White nationalist" or whatever, I must point out the following: The ongoing balkanization of the USA (where voting patterns increasingly reflect racial divides) bears remarkable similarity to what occurred in the former Yugoslavia shortly before it broke down in 1991. The current EU and the floods of non-European immigrants in Europe — and yes, at this very moment there is a quasi-state of emergency resulting from the migrants/invaders swamping my native Croatia — do not bode well for a starry-eyed project of multiracial and ecumenical conviviality. When the proverbial push comes to shove, one no longer needs to study diverse Levantine or African haplotypes or immerse oneself in the books of cultural pessimists. One must then be ready to weather the storm either by voting for Donald Trump or the American Freedom Party's Bob Whitaker, or whoever is willing to salvage one's heritage. I am sure that in a case of emergency you will also figure out which side of the fence it is better to sit on.
Best wishes,
Tom Sunic, PhD
www.tomsunic.com
http://american3rdposition.com/

* Editor's note: Sunic is talking about the Red Left here, and its liberal prescriptions for Whites. He is Not talking about the White Left
.......................................................
Tramp steamers leaving for Italy from Libya. Photos courtesy Louis Beam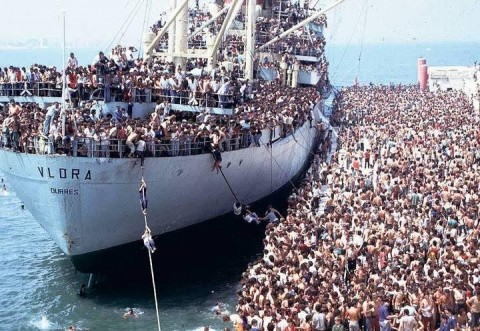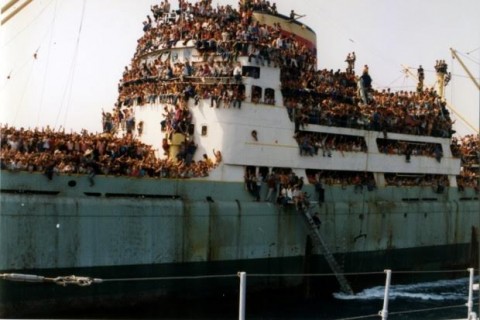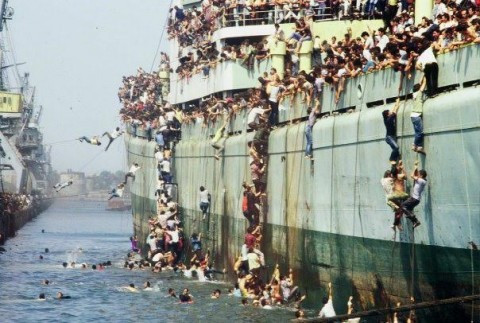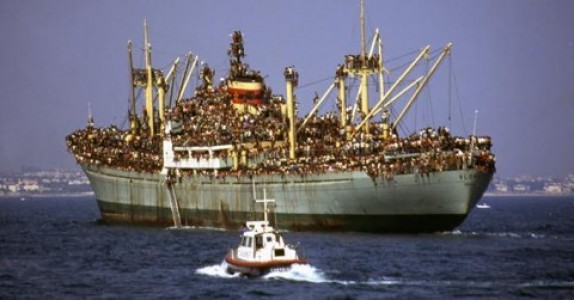 A couple of days ago I happened across a PDF of Murray's 2003 opus, Human Accomplishment: The Pursuit of Excellence in the Arts and Sciences, 800 B.C. To 1950. Some may view it as an unwieldy attempt to produce an objective analysis from deeply subjective values and tastes. But it is also a beautifully written account of the unsurpassed creativity of the European Mind, and an eloquent retort to those who bandy around notions of human equality above the neck.
The PDF is here.
https://www.gwern.net/docs/2003-murray-human-accomplishment.pdf
There cannot be many of us who do not owe a debt of gratitude to Phil Rushton, both for his theoretical brilliance, allied to an unswerving devotion in most difficult professional circumstances to the cause of unpopular scientific truths, and for his steadfast, loyal European heart. How much poorer would we all have been had Rushton not possessed these qualities ... had he merely shied away from the race question and lived an ordinary academic's life, a quiet life, the life of an unquestioning product of his political times.
I did not discover Rushton until early in 2003. It was at that time when I had decided to contribute something to the cause of white survival. There was a particular question which troubled me, and which I saw as holding a key to changing the fortunes of white advocacy. To answer it I needed a crucible, and to get that ... to construct something people would feel worthwhile writing for and reading ... I had to generate some kind of internet presence.
Cue Race, Evolution, and Behaviour. When I came across it at Rushton's own Darwin site, it had already been published eight years, and Rushton himself had said that he had run out of opponents to debate. I certainly hadn't, though. I had found what I needed, and promptly devoured it in one sitting, reading in bed until the small hours. For the next fourteen or fifteen months I blasted around the political blogosphere provoking every liberal, every racial egalitarian, every race-denier, every anti-racist I could into a hopeless battle about human differences and hereditarianism (hopeless courtesy of Rushton's superb analysis), psychometrics, and gene issues generally.
A surprising number of my opponents knew of Rushton, and had a ready put-down - second- or third-hand of course. I do not believe that a single one of them escaped the shredder. REB's central theory of r/K and child development was just too perfect in its internal fit. Most of the liberal rif-raff, of course, didn't know about this "controversial" (meaning courageous) Anglo-Canadian psychology professor, born on the Dorset-Hampshire border a couple of miles from my own birthplace and eight years distant in time. They would, in any case, have considered their political truths inviolable to attack by one supposed racist using the theories of another. They never had a chance. There was metaphorical blood everywhere.
Thanks to the carnage I had something to gesture towards when the moment came, in the summer of 2004, to put together a slate of writers for a website to be titled majorityrights.com. I never knew Rushton, and only corresponded with him very briefly. I wish now I had had the opportunity to explain how much I extracted from his thesis and to what purpose I had put it. He would probably have wanted to know, like most scientists, if I had correctly and faithfully represented his thought. The answer was that REB was so beautifully and clearly written, that was an easy task.
There is not another Phil Rushton in this world. White Nationalism has lost a true champion. He did not live nearly long enough - gone at just 68. But for his life and his talents and his work we equally loyal-hearted sons and daughters of old Europe can be extraordinarily grateful. I know I am.
A recent proposal has argued that nationalists should try to seek reproduction with higher IQ whites so that:
"They will naturally rise to the highest levels of society and victory will be inevitable. This is how the white race will be saved."
The prospects can be empirically evaluated. Richard Lynn has extensively summarized IQ studies on Jews. Most studies are non-representative. A representative American study reported a Jewish (Ashkenazi) verbal IQ of 107.5. Two representative British studies have reported Jewish (Ashkenazi) IQs as 108.5 and 107.7 (verbal = 107.3, non-verbal = 108.0). The best reading of American and British Ashkenazi IQ is 110. The average white IQ in these regions is 100.
In the U.S., there are about 200 million whites and 6.5 million Jews. Assuming a standard deviation of 15 in both populations, we get the following.
Approximate number of Jewish and white Americans with IQs greater than specified scores

IQ greater than
Jews
Whites
x Times whites outnumber Jews
Percent Jews in a random sample of Jews and whites in America
120
1,641,202
18,242,244
11.1
8.3
130
592,873
4,550,026
7.7
11.5
145
63,800
269,980
4.2
19.1
160
2,789
6,334
2.3
30.6
180
10
10
1.0
50.0
As anyone can see, Jews haven't achieved their spectacular success (e.g., control of the mainstream media, ZOG, etc.) as a result of IQ; they achieved it by acquiring control of the money supply. Nationalists are advised to target getting back control of the money supply instead of trying to increase IQ. I'm not against increasing IQ, but IQ just isn't relevant to the matter.
Henry Harpending and Gregory Cochran's recent book, The 10,000 Year Explosion: How Civilization Accelerated Human Evolution, puts to rest the Left's anecdotal assertions that genes don't matter and that evolution ceased prior to humans leaving Africa 50~100 thousand years ago. In addition, they expound on Kevin MacDonald's work on the history of Jewish culture and traditions that created the eugenic program of the Ashkenazi Jews in the Diaspora. They also explain the correlation between the recessive genes that contribute to modern Ashkenazi Jews' high intelligence and genetic disease—genes that were beneficial in the highly literate niche that Jews dominated for hundreds of years.
They assert, "Stephen Jay Gould's position that 50,000 or 100,000 years is an 'eye blink,' far too short a time to see 'anything in the way of evolutionary difference,' is simply incorrect. We are surrounded by cases in which selection has caused big changes over shorter time spans, often far shorter; everything from the dog at your feet to corn on the cob is the product of recent evolution." And, there is no difference between natural and artificial selection—they both change gene frequencies within populations under varying ecological conditions. The mechanisms are identical whether breeding dogs, humans, or urban rats.
They point out that "evolution has taken a different course in different populations. Over time, we have become more and more unlike one another as differences among populations have accumulated." Humans have increasingly differentiated themselves into specialized ecological niches—from new cults to occupational specialization to radical differences in exposure to technology versus exposure to deprivation. Humans both within nations and between nations are exposed to ever increasing differences in how they go about conducting their lives, with genetic changes following closely behind.
Richard Lynn, sometimes along with Tatu Vanhanen, has been publishing books challenging the economists and social scientists to look at average national intelligence as an important factor in how well off a nation is including health, wealth, earnings, democracy, etc.
This latest book is an excellent source to give someone who is doubtful about racial hierarchies around the world. Country by country Lynn looks at the races making up a country and explains historically how they became what they are today. Over and over again such themes such as when slavery ended in different parts of the world, Blacks refused to work, and usually East Asians and/or Asian Indians were brought in to do the manual labor, and eventually moved up taking over entrepreneurial sectors of the economy.
This pattern was also shown by Amy Chua in "World on Fire," though that was not the intent of her book. Lynn shows that wherever there is a mixture of races the pecking order follows the average intelligence of each group: Ashkenazim Jews, East Asians, Whites, mestizos of different hybrids, Amerindians, and Blacks—to name just a few. Only aggressive affirmative action in many of these countries can keep the smaller, more intelligent minority from totally dominating the economy.
Again, of Lynn's books, this is probably the easiest read and the most convincing arrangement of arguments to convince the skeptic that intelligence does matter and that it is highly genetic.
The book Before The Dawn: Recovering The Lost History Of Our Ancestors by Nicholas Wade, 2006, has some interesting observations with regards to European evolution that seems to have passed without much notice. If not, then I apologize for my own failure to catch the items below.
Wade pints out that "The question of behavioral modernity is of great significance because it appears to be the last major step in the emergence of the ancestral human population. The components of modern behavior appear most prominently around 45,000 years ago in Europe. At sites throughout Europe, the staid culture of the Neanderthals begins to yield to a set of new and more inventive techniques. There is a new set of stone tools, more carefully crafted to attain specific shapes. There are complex tools made of bone, antler and ivory. The bringers of the new culture made personal ornaments, of materials such as punctured teeth, shells and ivory beads. They played bird-bone flutes. Their missile technology was much improved. They were avid hunters who could take down large and dangerous game. They buried their dead with rituals. They could support denser populations. They developed trade networks through which they obtained distant materials."
Two arguments about the maths gap, spotted by John Ray - the first from World Science:-
It's been a long, sometimes vicious controversy: are boys better at math than girls? Some say they are, because boys tend to outscore girls in math. Opponents blame that on sexist upbringing.

New studies may be shedding light on the issue. In a nutshell, some of the latest research points to three conclusions that offer something to satisfy both sides but overall paint a bright picture for those eager to see more women enter mathematics and sciences. The key findings: Girls are as good at math as boys given the proper environment.
Males may have an edge in spatial thinking abilities, which are useful in math, evolutionarily speaking, and this advantage may be very ancient.
Deep-rooted though this difference may be, females can surmount it with just a little work. "The so-called gender gap in math skills seems to be at least partially correlated to environmental factors," said Paola Sapienza of The Kellogg School of Management at Northwestern University in Illinois. "The gap doesn't exist in countries in which men and women have access to similar resources and opportunities," added Sapienza, summarizing the results of a new study published in the May 30 issue of the research journal Science.
In it, Sapienza and colleagues analyzed data from more than 276,000 children in 40 countries who took an internationally standardized test of math, reading, science and problem-solving. The data came from the 2003 Organisation for Economic Cooperation and Development Programme for International Student Assessment.
The researchers found that globally, boys outperformed girls in math by 10.5 points on average on this test. But this advantage vanished in some of the most progressive and gender-equal countries such as Iceland, Sweden and Norway.
Now that the apparent good news is out, does this mean anyone who dared suggest the existence of natural gender differences in math was being sexist?
Not necessarily, if one believes other studies suggesting sexism isn't the only reason for the math gap. Some research has attributed that gap to a deeper discrepancy in spatial reasoning abilities. One new study even suggests an evolutionary reason: better spatial reasoning in males might be related to larger range size in their ancestral environment.
This discrepancy may extend all the way down the evolutionary tree to invertebrates, according to the research, which focused on cuttlefish and appears in the May 27 online issue of the research journal Proceedings of the Royal Society B.
"Evidence of sex differences in spatial cognition have been reported in a wide range of vertebrate species," but never the simpler invetebrates, the authors wrote. The investigators found that male cuttlefish both range over a larger area, and have better orienting abilities than female cuttlefish. "The data conform to the predictions of the range size hypothesis," they wrote.
Nevertheless, differences in spatial cognition are easily surmountable, if one believes yet a third study, which might help explain why ultimately girls and boys can perform equally in math. Published in last October's issue of the journal Psychological Science, this study found that malefemale differences in some tasks requiring spatial skills are largely eliminated after both groups play a video game for 10 hours.
"On average, women are not quite as good at rapidly switching attention among different objects and this may be one reason why women do not do as well on spatial tasks," said the lead author, University of Toronto psychology doctoral student Jing Feng. But "both men and women can improve their spatial skills by playing a video game," he added, and "the women catch up to the men. Moreover, the improved performance of both sexes was maintained when we assessed them again after five months." The game used was a first-person shootemup game, "Medal of Honor: Pacific Assault."
The game "may cause the expression of previously inactive genes which control the development of neural [brain] connections that are necessary for spatial attention," said Ian Spence, director of the university's engineering psychology laboratory. "Clearly, something dramatic is happening in the brain" thanks to the playing.
"One important application of this research could be in helping to attract more women to the mathematical sciences and engineering," he added. "Since spatial skills play an important role in these professions, bringing the spatial skills of young women up to the level of their male counterparts could help to change the gender balance in these fields that are so important to our economic health."
And now for the demolition:-