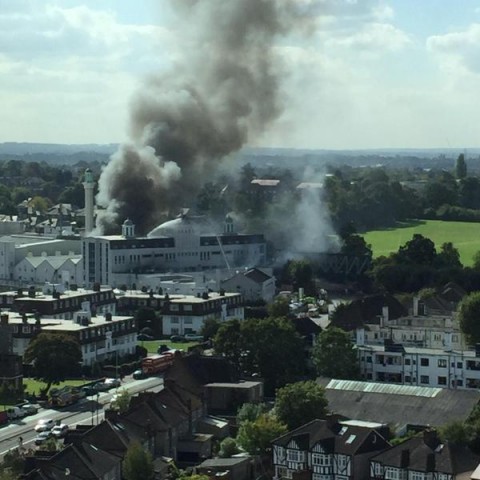 Some were calling it 'good news' others were calling it 'activism'
The Baitul Futuh Mosque in London caught fire. Half of its ground floor and first floor are in flames. Seventy firefighters and 10 fire engines are reported to be tackling the blaze.

A fire has broken out at the mosque located in London Road in Morden, in the south of the British capital, a London Fire Brigade (LFB) spokesman said on Saturday, according to local media.

Baitul Futuh mosque was completed in 2003, and its construction reportedly cost £5.5million ($83.5 million). It is believed to be the largest in Western Europe with a capacity to house up to 10,000 people.
oops.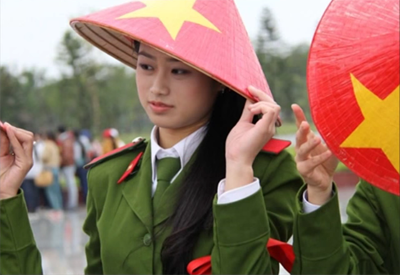 Why not? Seriously, why not? It's all the same to the conservatives at the National Review, right? That's what they themselves are saying! So let's do this.
After being heckled on Twitter for being an apparent 'cuckservative' or something to that effect, National Review contributor David French decided to take to the safe space that is whatever CMS the National Review uses, to write out a long and rambling article where he claims that the 'far-right' and the 'far-left' are the same thing because they both disagree with him on the racialised-classised nature of reality itself, and they both disagree with him on the exact same issue for the exact same reason.
It has not crossed David French's mind yet that the reason that both the 'far-right' and the 'far-left' disagree with the National Review, is because the National Review is denying biological realities while clinging desperately to a portrait of Jesus of Nazareth.
It's almost like no one at the National Review has even the slightest sense of self-awareness.
Not even a little bit.
See here:
The National Review / David French, ''Cuckservative' Has Got to Go', 18 Sep 2015 (emphasis added):

[...]

Conservatives should reject those on both extremes of the spectrum. We defend a culture, not a race. The foundation of that culture is a faith that makes no distinction among races but rather declares, unequivocally, "All are one, in Christ Jesus." Shunning the slur disempowers the trolls and forces the radical Left to confront the race hatred that fuels its own rage.
The last time conservatives tried that one, they got punched in the head from both sides. That's what happens when their argument is trash.
But since 'far-right' and 'far-left' are all the same to David French now, I might as well quote Leon Trotsky being correct about a thing which is obvious, since it doesn't really matter which side of the spectrum I choose to source this argument from:
Leon Trotsky, 'Their Morals and Ours', 01 Jun 1938 (emphasis added):

And who are all these democratic moralists? Ideologists of intermediary layers who have fallen, or are in fear of falling between the two fires. The chief traits of the prophets of this type are alienism to great historical movements, a hardened conservative mentality, smug narrowness, and a most primitive political cowardice. More than anything moralists wish that history should leave them in peace with their petty books, little magazines, subscribers, common sense, and moral copy books. But history does not leave them in peace. It cuffs them now from the left, now from the right. 'Clearly' – revolution and reaction, Czarism and Bolshevism, communism and fascism, Stalinism and Trotskyism – are all 'twins'. Whoever doubts this may feel the symmetrical skull bumps upon both the right and left sides of these very moralists.

[...]

Moralists of the Anglo-Saxon type, in so far as they do not confine themselves to rationalist utilitarianism, the ethics of bourgeois bookkeeping, appear conscious or unconscious students of Viscount Shaftesbury, who at the beginning of the 18th century deduced moral judgments from a special "moral sense" supposedly once and for all given to man. Supra-class morality inevitably leads to the acknowledgment of a special substance, of a ''moral sense'', ''conscience'', some kind of absolute which is nothing more than the philosophic-cowardly pseudonym for god. Independent of "ends", that is, of society, morality, whether we deduce it from eternal truths or from the "nature of man", proves in the end to be a form of "natural theology". Heaven remains the only fortified position for military operations against dialectic materialism.

[...]

Classical philosophic idealism in so far as it aimed in its time to secularize morality, that is, to free it from religious sanction, represented a tremendous step forward (Hegel). But having torn from heaven, moral philosophy had to find earthly roots. To discover these roots was one of the tasks of materialism. After Shaftesbury came Darwin, after Hegel—Marx. To appeal now to "eternal moral truths" signifies attempting to turn the wheels backward.
That's completely applicable as a description of what the National Review is doing.
Of course, Leon Trotsky is not the only person who has said this. Much like how Leon Trotsky is not the only person who has announced that fire is hot.
Since conservatives, or 'cuckservatives' if you like, refuse to learn the basic building blocks of reality and apply them, I anticipate that we will all meet David French once again somewhere out there, and David French will once again find himself being punched on both sides of his face, from both the left and the right.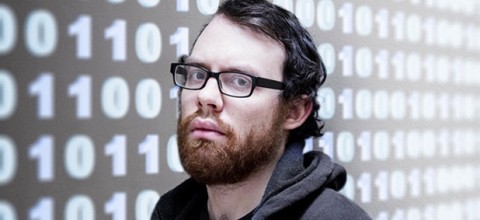 Weev on the players and the technological transformation of war: will be massively a-symmetric and robotic.

Any man who causes the name of a website called "Gay Niggers of America" to appear on the front page of the website of US presidential candidate (and US president to be) Barack Obama, cannot be all bad. lolllzzzzllllolllzzzzzz indeed.
On February 11, 2007, an attack was launched on the website of US presidential candidate (and future US president) Barack Obama, where the group's name was caused to appear on the website's front page
Study Finds Students Underperform in Schools With Large Black Populations:

Federal study sheds new light on racial achievement gap in schools.

As concerns mount over the resegregation of the nation's public schools, a new federal study shows that black and white students at schools with a high density of black students perform worse than those at schools with a lower density of black students.

The report, released Thursday by the National Center for Education Statistics, the research arm of the U.S. Department of Education, sheds new light on the achievement gap between white and black students and bolsters policymakers' fears about the ramifications of increasingly segregated schools.

"I think that we all have some sort of anecdotal sense that racial isolation or the resegregation of schools going in that direction is not a good thing," says acting NCES Commissioner Peggy Carr. "It's not good for anyone. But being able to define it and put your finger on it … and be more diagnostic about the probable impact was really eye-opening for me."

The report found that, on average, white students attended schools that were 9 percent black while black students attended schools that were 48 percent black.

Achievement was lower for both black and white students in schools where black students accounted for more than 40% of the student body, compared to schools where black students accounted for less than 20 percent of the student body.
"Students underperform in schools with large black populations" - that's supposed to be a surprise, I guess.
Students underperform in schools with large black populations / including both black and White students - but "its not good for anyone to have school resegregation".
Can anyone make sense of this Jewish / liberal "reasoning" ??????

Getting bused to go to an integrated school back in the early 70s was a nightmare. When school wasn't like being in a monkey cage, it was like being in planet of the apes.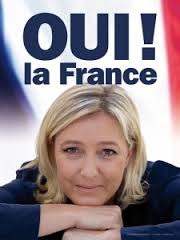 The YKW clamp down to silence self defense of the ancient, native peoples of Europe..

France's obscene legislation against its own national defense forces Marine Le Pen to court:

Marine Le Pen, the president of France's far-right Front National party, is to appear in court for allegedly inciting racial hatred over comments in which she compared Muslims praying in the streets to the Nazi occupation.

The FN leader made the comments in a speech during a party rally in Lyon in 2010. Asked on Tuesday about being summoned to appear in court on 20 October, Le Pen told Agence France-Presse: "Of course, I'm not going to miss such an occasion."

Later, she told Europe 1 it was "scandalous to be prosecuted for having a political opinion in the country of freedom of expression."


At the time she made the remarks, Le Pen was campaigning to become FN president, succeeding her father, Jean-Marie Le Pen, himself no stranger to charges of provoking racial hatred.

At the rally, Le Pen made reference to "street prayers" after reports of Muslims praying in public in three French cities, including Paris, because of a lack of mosques or a lack of space in local prayer rooms. The French government later clamped down on the "illegal" use of the public space for prayers.

"I'm sorry, but for those who really like to talk about the second world war, if we're talking about occupation, we can also talk about this while we're at it, because this is an occupation of territory," she told supporters, prompting waves of applause.

"It's an occupation of swaths of territory, of areas in which religious laws apply … for sure, there are no tanks, no soldiers, but it's an occupation all the same and it weighs on people."

Despite numerous complaints from anti-racist organisations, a preliminary inquiry by the authorities in Lyon was dropped in 2011. However, one association pursued the legal complaint, and when the European parliament lifted Le Pen's parliamentary immunity in July 2013, a preliminary inquiry was opened. In September 2014, the prosecutor's office announced she would be sent before a judge.

As of 2011, Jean-Marie Le Pen's speeches had led to 18 convictions, five for repeating that the Holocaust was a mere "point of detail" of the second world war.

Marine Le Pen has been credited with "de-demonising" the FN and throwing out its more xenophobic and extremist elements since taking control of the party in January 2011. Critics accused her of swapping the FN's historic antisemitism for Islamophobia.

Le Pen's deputy, Florian Philippot, reacted angrily on Twitter to her summons. "The only people who should be sent before the court are those who allow prayers in the street that are illegal and against the principle of secularism!" he wrote.

Philippot accused the French authorities of trying to smear Le Pen before regional elections to be held in December.

Le Pen also expressed her anger on Twitter. "We're quicker to prosecute those who denounce the illegal behaviour of fundamentalists … than to prosecute the fundamentalists behaving illegally," she wrote.

The penalty for inciting racial hatred in France is up to a year in prison and a €45,000 fine.


* France's Front National has also been charged with fraud in an election finance inquiry.
Going for the coup de grâce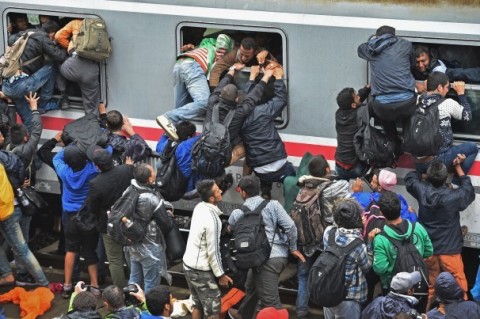 Our enemies have instigated and abetted a torrential invasion of all Europe

E.U. votes to distribute 120,000 asylum seekers across Europe:
BRUSSELS — With Europe's refugee crisis escalating, European leaders on Tuesday approved a plan to spread asylum seekers across the continent over the objection of Central European nations.

The plan to distribute 120,000 migrants across Europe is a first step toward easing the plight of the men, women and children who have been shunted from one European nation to another in recent weeks, a grim procession of human need in one of the world's richest regions.

But the decision to override the dissenters means the European Union will be sending thousands of people to nations that do not want them, raising questions about both the future of the ­28-nation bloc and the well-being of the asylum seekers consigned to those countries. Hungary, Romania, the Czech Republic and Slovakia voted against the measure, a rare note of discord for a body that usually operates by consensus on key matters of national sovereignty. Finland abstained.

For all the controversy, the plan would find homes for just 20 days' worth of new arrivals to Europe, a measure of the scale of the crisis and the baby steps the continent has taken to address it. E.U. leaders will meet in Brussels on Wednesday to discuss broader measures to stem the flow, including bolstering the region's border controls and stepping up support for the overburdened refugee camps along Syria's borders.

But after Tuesday's bitter vote, it was unclear how much common ground remained among leaders.

"Some people will say today that Europe is divided because the decision was not taken by consensus," said Jean Asselborn, the foreign minister of Luxembourg. "If we had not done this, Europe would have been even more divided and its credibility would have been even more undermined."

Wealthy nations such as Germany have faced tens of thousands of asylum seekers arriving every week. Leaders there have welcomed Syrians fleeing their war-ravaged country, but have also said they cannot shoulder the entire burden on their own.

"We are doing this out of solidarity and responsibility, but also out of our own interest," German Interior Minister Thomas de Maizière said after the meeting. He said the agreement would "prevent more people who are currently in Greece from coming to Germany." The country expects up to 1 million asylum seekers this year alone.

A first step

Proponents of the plan acknowledged Tuesday that it was just a first step to address the much bigger crisis. According to the U.N. refugee agency, more than 477,000 people have arrived in Europe so far this year via often-dangerous sea crossings, and 6,000 now land on Europe's shores every day —up sharply even from August, when the figure stood around 4,200 a day.

Germany's national railway company announced Tuesday that it was suspending rail service to Austria because its trains have been overwhelmed with refugees. It was the latest example of national infrastructure apparently unable to meet the challenge.

Central European leaders condemned the vote, warning that Europe would suffer as a result of the plan to force them to accept asylum seekers.

Breaking down Europe's migrant crisis

A look at the numbers behind the stream of refugees flowing into Europe as political leaders struggle to ease the burden.

"Very soon we will see that the emperor has no clothes," Czech Interior Minister Milan Chovanec said on Twitter. "Common sense lost today."

The numbers will be drawn from Syrians, Iraqis and Eritreans coming ashore in Greece and Italy. Germany, France and Spain will take the most. Of the 120,000 spots approved on Tuesday, only 66,000 were immediately assigned to specific countries, with the rest to be assigned later. An additional 40,000 slots were agreed to earlier in the summer.

The final agreement did not include an earlier proposal to penalize countries that did not take in asylum seekers, so it was not immediately clear how the E.U. would deal with nations that refuse to comply with the plan.

At least one country, Slovakia, said after the decision that it would not take in any of the migrants.

"As long as I am prime minister, mandatory quotas will not be implemented on Slovak territory," Slovak Prime Minister Robert Fico told his parliament's E.U. affairs committee.

Almost 1,300 people will be sent to Hungary, where Prime Minister Viktor Orban has crusaded against the mostly Muslim asylum seekers, saying they are on a campaign to de-Christianize Europe. He has built a 109-mile ­razor-tipped fence to keep them away from his country's frontier with Serbia and in recent days has started to expand this barrier to the borders with Romania and Croatia.

Despite Hungary's opposition to the asylum seekers, a government spokesman, Zoltan Kovacs, said Tuesday that his country would abide by the plan.

"This is a compulsory decision, and we are going to respect it," said Kovacs. He said Hungary's leaders looked forward to discussing the "real causes" of the crisis on Wednesday, adding that solutions include reestablishing border controls and improving the refugee camps closer to Syria.

Refugee preferences

Under the distribution effort, each nation would continue to make its own decisions about whether to grant asylum to individual applicants. Hungary, which grants just a tiny fraction of asylum requests, could continue to be far harsher than Germany, which is relatively generous, particularly to Syrians.

There are few guarantees that asylum seekers would actually stay in the country to which they're assigned, especially given the lack of border controls between most E.U. nations. Migrants would risk losing benefits if they left one country for another, but, for example, few may want to stay in Poland, next door to Germany's high wages.

Nor was it clear how E.U. policymakers would take into account the refugees' preferences. Some countries offer far more generous benefits than others. Many refugees also want to be reunited with family members who already live in Europe.

"They say when you are in Vienna, you can go anywhere," said Wassim, 28, from Aleppo, Syria, who made it through a bustling border crossing at Nickelsdorf on the Austria-Hungary frontier. He hoped to travel quickly onward to the Netherlands. He gave only his first name out of fear of possible reprisals against relatives in Syria.

Ahead of the E.U. decision, the U.N. refugee agency had pushed hard for action, saying that further delays would create an even more dangerous situation for the streams of people fleeing the Syrian conflict. More than 4 million Syrians have already moved to the neighboring countries of Lebanon, Jordan and Turkey.

"It's very, very clear that there is a need for a united common response from European countries," said Adrian Edwards, a spokesman for the U.N. refugee agency.

Despite Europe's divisions, some refugee advocates said policymakers seem to be slowly coming to terms with the crisis.

"What is widely acknowledged now is that the conditions in Lebanon, Turkey and Jordan are going to become untenable for a large number of people," said Madeline Garlick, a guest researcher at the Center for Migration Law at Radboud University in the Netherlands. "We are further than we were some time ago."
Lech Poznan fans protest immigration of refugees by boycotting Europa League opener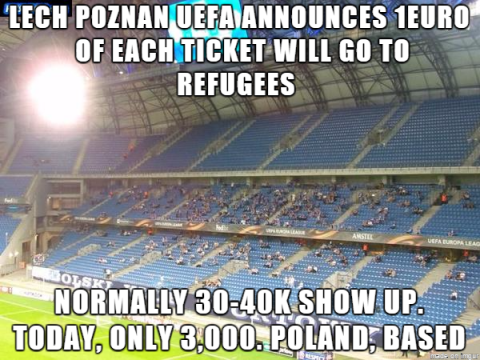 Poznan (Poland) stadium: UEFA announced 1Euro of each ticket goes to #refugees #nrx THIS is white identity on display
While most of the clubs across Europe are showing their support towards the refugees, Polish football club Lech Poznan is completely against the cause, The Guardian reported. The supporters carried out a planned boycott during the Europa League match against Portuguese club Belenenses, as they were against UEFA's decision to donate a euro from every ticket sold to the refugee cause.

The Inea Stadium which had an average attendance of 20,000 people last season, saw a small crowd of 3,000 supporters on the day. The match ended in a tie, with both teams finishing goalless.

The fans were clearly against the idea of refugees moving to Poland and put up a banner which read "Stop Islamization" over one of the stadium entrances. This though was not the first time that the team's supporters committed such an act. On a previous occasion, the team hung a banner that read "This is obvious and simple for us, we do not want refugees in Poland".

While Poznan was the only club to participate in a boycott, cases of the anti-refugee movement have also been reported in Olympique Lyonnais from Ligue 1 and Maccabi Tel Aviv. The Bundesliga and the Premier League teams though do not share this sentiment and have shown their support towards refugees on several occasions.



Lech Poznan display their hostility towards refugees in Poland (Image source: 101GreatGoals)
To draw the lines of friends and enemies properly this time and then to find the martial spirit which knows no compassion for an enemy that will not comply with the requirements of our existence and well being.
To lose compassion, to lose anti-racism, which is anti - viz. against - social classification (and group discrimination accordingly), to find the will to "other" even their fairly benign individuals, classifying them as being of the mortal group pattern and finding the will to smash them, as need be, on our behalf, anything to drive them away from any imposition upon us - but most of all, losing compassion for those who would bring them upon us.

On African population explosion,
Steve Sailer, September 19, 2015


African Population Explosion: The Graph That Explains the 2015 Migrant Crisis:

Population-1950-2015


The demographers of the United Nation's Population Division have quietly released their World Population Prospects: 2015 Revision report.

Above is a graph I put together from their new data that explains much about the "Migrant Crisis" of 2015.

As you can see, way back in 1950, the population of the Middle East was only 18% as great as the population of Europe, while Sub-Saharan Africa was only 33% as large. Even in 2000, the Middle East had only 49% of the population of Europe, while Africa had almost caught up to Europe with 88% of its population.

But from 2000 to 2015, the Middle East added 124 million people, making it now 65% as populous as Europe.

In this century alone, Sub-Saharan Africa has added 320 million people, making it 130% as populated as Europe.

Some of this information about the past is new. For example, the U.N.'s estimate of the population of the continent of Africa back in 2010 has grown by 13 million people, or over 1% between the 2012 Revision and the 2015 Revision. When it comes to population, the past just isn't what it used to be.

But what about the future?

As a general pattern, the U.N. has found, the completeness of the counts tends to be worse in the fastest growing countries. Thus, the harder the U.N. has looked at Africa in this decade, the more people and more new babies it keeps uncovering.

It turns out that while the total fertility rate in Africa is falling, it's falling quite a bit more slowly than the U.N. had expected as recently as back in the previous decade. Sub-Saharan Africa simply isn't behaving like the rest of the world.

The upward adjustment in Africa's population projections in the 2012 Revision of World Population Prospects came as a shock. But the 2015 Revision forecasts Africa's population in 2100, about one lifetime from now, to be another 5% higher than the U.N. projected just back in 2012.

Here's my graph of the 2015 numbers:

Population-1950-2100

Wow.

The U.N. now projects that, despite lower fertility in some Muslim countries such as Iran, the population of the Middle East will surpass that of Europe in 2045 and reach 937 million by 2100.

As for Sub-Saharan Africa, the U.N. foresees the population growing to 3,935,000,000 (3.9 billion and change) by 2100. (The total population of Africa and the Middle East will be 4,872,000,000.)

That's probably not going to happen due to some combination of (A) intelligent self-restraint, (B) mass migration, and (C) Malthusian Nightmares (war, famine, disease, etc. etc.) keeping the population of Sub-Saharan Africa in 2100 from being more than six times as great as Europe, which would be an 18-fold increase in 150 years.

Keep in mind that there's not a one to one relationship between population growth and emigration. In general, people try to assess whether the future at home looks brighter than the present. But people in Africa and the Middle East can see their countries' futures will be more crowded and constrained.

Personally, I hope the reason that this graph doesn't prove accurate is largely (A) intelligent self-restraint. But at present, white people don't seem to be making much of an effort to facilitate and encourage reasonable family planning in Africa. Because that would be, you know, racist.

Which is the worst thing in the world, much worse than the U.N.'s population forecast.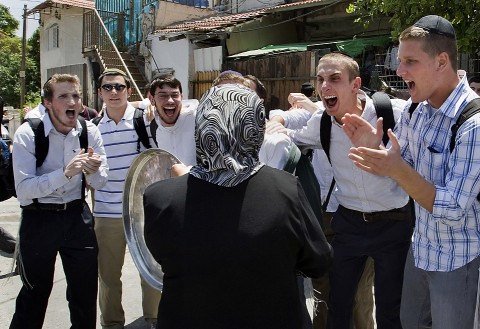 Page 108 of 109 | First Page | Previous Page | [ 106 ] [ 107 ] [ 108 ] [ 109 ] | Next Page